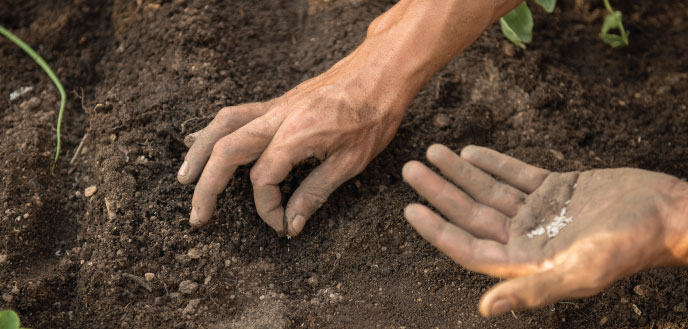 From gardens and galleries to glaciers and green funds, "sustainability" means change across the Oxy landscape
By Jim Tranquada | Photos by Marc Campos
When neighbors walk their dogs past Oxy's student garden at the corner of Campus and A.G. Coons roads, they see raised planting beds, two chicken coops, and a tool shed. What Dylan Bruce '16 sees—a view nurtured by three years of helping to run the garden—is an entire ecosystem of innovation.
He sees an outdoor laboratory where students learn about soil ecology and microbiology, pick up practical gardening and cooking skills, help the College reduce green waste and water use, and help themselves by relieving stress. At some point, he hopes, it also could become a reliable source of fresh produce for Campus Dining. "The work we're doing points to the way people think about sustainability today," says Bruce, a biology major from Ferryville, Wis. (population: 176). "It's no longer an optional feel-good thing. It's becoming integrated into the way we live and study."
All across the Oxy campus, sustainability is being woven into the academic life of the College as well as in its day-to-day operations. Look beyond such longtime practices as recycling and more efficient energy use, though, and you'll find sustainability being explored by undergrads and faculty wherever their studies might take them—from chemistry labs to art galleries, from Los Angeles City Hall to the White House, off the Southern California coast to the United Nations.
"Sustainability is an integral part of being a 21st-century liberal arts college," says President Jonathan Veitch, a dedicated bicyclist (he rode 12 miles to his old job in Manhattan) whose official College car is a fuel-efficient Fiat 500. "Major initiatives such as our solar array, Green Revolving Fund, and new landscape master plan we're developing represent only one facet of the kind of strategic approach we're taking."
"Sustainability and the related work we are doing on and off campus are integrated into a number of Oxy's other strategic goals—developing innovative teaching spaces, community engagement, our relationship with Los Angeles, and such high-impact practices as undergraduate research and overseas study," he says. "It's the kind of cross-cutting, interdisciplinary work that increasingly characterizes Oxy's approach to teaching and research."
It's also an approach squarely in keeping with this year's academic theme of Sustainability, which defines the issue as implicit not only in people's relationship to the planet, but to one another. "We hope to broadly explore the concept of sustainability by looking at the challenges—material, social, philosophical, aesthetic—of living in a world of interdependence and finite resources," says Core coordinator Edmond Johnson.
To kick off the year's conversation, members of the Class of 2019 were asked to read Elizabeth Kolbert's The Sixth Extinction: An Unnatural History, the Pulitzer Prize-winning book that examines previous mass extinctions and posits that we are in the midst of a sixth such episode. The fourth year of severe drought in Southern California has provided a compelling backdrop to the discussion, one that Jet Propulsion Laboratory senior water scientist Jay Famiglietti framed in sobering detail in September. "California has been losing water for decades. We're running out of water … One El Niño winter isn't going to do it," said Famiglietti, the first in a yearlong series of Core Studies speakers who will address everything from water policy to the links between the environment and spirituality.
Sustainability is not new to Occidental: Major water and energy conservation efforts are about to enter their third decade, recycling has been a matter of campus policy since 1992, and the 2006 campus master plan calls for Oxy to "seize every opportunity to integrate sustainability measures into the renovation and construction of new campus buildings, landscapes, and utility systems."
But the pace has quickened over the last several years, fueled by a mix of policy and pragmatism. "In the long run, sustainable practices are often more cost-effective," says Amos Himmelstein, vice president for finance and planning. Since commencing operation in March 2013, Oxy's 1-megawatt hillside solar array has become an iconic ­visual symbol of the College's commitment to living in a world of finite resources.
It also helped to inspire the Board of Trustees' decision in 2014 to create a $3.5-million Green Revolving Fund to invest in energy and water-efficiency upgrades, renewable energy, and other cost-saving sustainability projects—one of the largest such college or university endowment funds of its kind. Last October, Veitch signed the Real Food Challenge Commitment, expanding Campus Dining's 7-year-old participation in the program by pledging to purchase 30 percent of the College's food from sources identified as local and community-based, ecologically sound, and humane and fair trade by 2020. 
This fall, completion of the new Hameetman Career Center on the ground floor of the Arthur G. Coons Administrative Center offered a glimpse of the future of campus landscaping. Outside the center, eucalyptus trees, ivy, and a conventional lawn have been replaced with live oaks, western redbud, dwarf ceanothus, and other drought-resistant native species by Santa Barbara landscape architect Susan Van Atta. Van Atta is now putting the finishing touches on a landscape master plan for campus that not only incorporates water-wise planting but designs that help capture stormwater runoff and percolate it back into the groundwater system.
Southern California's drought has heightened awareness of sustainability issues, accelerating a major shift in attitudes. "The conversation has shifted from this strange thing we have to make an effort to think about to how do we design the surroundings of our daily lives with sustainable options," says Mark Vallianatos, policy director for Oxy's Urban and Environmental Policy Institute. "That's how things like the drought become opportunities to reinvent the way we live and the places we live in."
Urban and Environmental Policy faculty and students have long been leaders in shaping sustainability policy both on and off campus. Through classes, research, and advocacy with local, regional, and national partners, UEP has pioneered clean alternatives to conventional dry-cleaning, helped create the farm-to-school movement, and worked to reimagine the Los Angeles River, increase ­access to clean water, and broaden urban transit options. "At UEPI, our thinking extends beyond resource use—it's also a social and political conversation," Vallianatos says.
The latest conversation was held on campus early in October, when Vallianatos and his students from UEP 210, Transportation and Living Streets, hosted the NELA Plan­athon for residents of Northeast Los Angeles to offer feedback on what should be included in the new Northeast L.A. Community Plan—part of a citywide effort to create the first comprehensive revision of the city zoning code in almost 70 years. "We want to give a broader set of options to people and make them forward-looking, rather than just inheriting past assumptions about how people should live," says Vallianatos, who was appointed to the city's zoning advisory committee in December 2013.
Today, in true liberal arts fashion, the conversation about sustainability at Oxy ­extends far beyond UEP, mixing science and philosophy, the arts and economics, and the classroom and the community on every level, from local to international. A student-managed Renewable Energy and Sustainability Fund provides up to $40,000 per year to support student-initiated sustainability projects on campus, including the Bike Share program, green campus tours (which highlight sustainability measures), and Food Justice Month programming.
"Many different disciplinary approaches are needed—our obligations to non-human nature are only one aspect of sustainability," assistant professor of philosophy and environmental ethics expert Clair Morrissey told the Class of 2019 at Convocation. "We must also think about what we owe each other. To make progress, we need to consider how we fairly allocate resources. Should we focus on mitigation or adaptation? How do we prioritize? What are our standards for getting it right?"
Environmental economist and associate professor of economics Bevin Ashenmiller spent the 2012-13 academic year trying to get it right in Washington, D.C. As a senior economist for energy and environment on the president's Council of Economic Advisers, Ashenmiller was responsible for reviewing all proposed regulations from the Environmental Protection Agency and the departments of Energy and Transportation. "Economic incentives can be more powerful than moral considerations," Ashenmiller says. "What we really need to do is make people understand that all of these things people don't think are about energy actually are."
That conclusion led to her current project: Green Schoolyards America. Urban public school systems, its turns out, are often one of the biggest property owners in a city—property largely covered with asphalt. "We need to reduce the heat island effect and increase shade and the capture of storm water by removing hardscape," says Ashenmiller, who hopes to turn her own children's campus at nearby Eagle Rock Elementary School into a model. "These school districts present a huge opportunity for change that simultaneously helps the city, state, and country, as well as children who attend public schools that disproportionally serve low-income families."
In the three years since Ashenmiller reported to Washington, students in the Kahane United Nations Program in New York have been working on the U.N.'s Sustainable Development Goals, which were unveiled in September. "Every student has touched on this at some point during their U.N. experience, whether in the classroom or in their internships," says Doug Gardner, ­director of the U.N. program.
At the same time, Sanjeev Khagram, Oxy's John Parke Young Chair in Global Economy, has played a key role in organizing the new Global Partnership for Sustainable Development Data. The Sustainable Development Goals were adopted to address poverty, climate change, and inequality worldwide. "In order to translate that vision into reality, we need data, and that's what the partnership aims to deliver," Khagram says.
Donovan Dennis '16, a geology major from Great Falls, Minn., spent last summer traversing more than 150 miles of the Juneau Icefield, a complex of glaciers stretching from the Alaskan panhandle into British Columbia, to reconstruct ancient temperature and climate records by measuring oxygen and hydrogen isotopes present in samples drawn from the rapidly shrinking glaciers.
"This data is particularly useful because it provides insight into the health of the icefield and models how glaciers may respond to changes in climate," says Dennis, who will base his senior comp project on his summer research (supported by a grant from Oxy's International Program Office). Seeing the impact of climate change firsthand "makes you passionate about the issue," he adds. "We are the ones who have to change this."
Closer to home, Oxy faculty and students are pursuing sustainability in the lab and offshore. Chemistry professor Eileen Spain is investigating the chemical and physical properties of perfluorinated compounds (PFCs), whose water- and fat-repelling properties and chemical inertness have made them a standard ingredient in non-stick coatings and in the textile industry. "But it is these same desirable properties that don't allow them to biodegrade," Spain says. "Recent research indicates that low levels of these compounds are ubiquitous in the environment. It's not fully understood how they interact with their local surroundings on a molecular scale, and that inspires my work."  
Newly appointed assistant biology professor Amanda Zellmer is using the data compiled by the Vantuna Research Group's remarkable long-term study of rocky reef fishes off Southern California to evaluate the use of controversial Marine Protected Areas as a means of protecting the sustainability of marine life populations. "Are fishers clustered on the remaining fish habitats or do the protected areas cause fishers to spread out more broadly?" Zellmer asks. "These different spatial patterns may influence the sustainability of our offshore fisheries."
In the arts, the latest documentary from associate professor of art history and visual arts Broderick Fox, Zen & the Art of Dying, treats the natural death care movement, which includes the idea of green burials with embalming-free mortuary practices and cardboard coffins. (His film screened at the Austin Film Festival in October.) And in keeping with the sustainability theme, next spring Fox's colleague, associate professor Nancy Marie Mithlo, will curate a one-person show titled Emily Arthur—Endangered featuring the work of the Wisconsin printmaker in Weingart Gallery.
Dennis argues that a broad-based education that encompasses both the arts and the sciences is the best preparation for addressing sustainability issues. "To be a good scientist today means more than doing good science; it's also about how to communicate effectively," says the budding glaciologist, who drew on the landscape art seminar he took with Professor Eric Frank for a recent campus presentation on his research.
Trustee David Anderson '63, the pioneering environmental law attorney who continues to play a key role in land conservation efforts in the western United States, agrees. "My career didn't exist when I was an Oxy student," Anderson told first-year students at Convocation. "One of the advantages of an Occidental education is that it prepares you for the unknown."