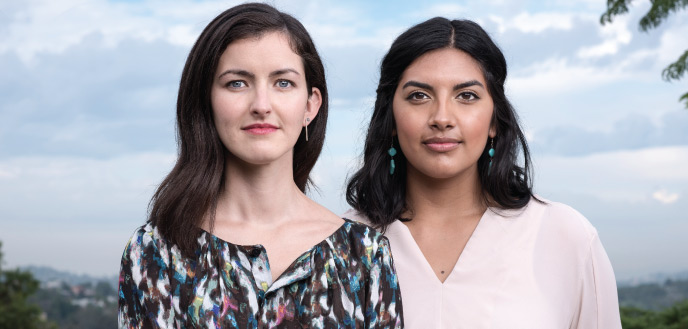 By getting out the message early and often, turning bystanders into Upstanders, and facilitating conversations across various constituencies, Oxy takes a proactive approach to preventing sexual violence on campus
By Samantha B. Bonar '90 | Photos by Marc Campos
Before the long bookstore lines, before the march into Thorne Hall for Convocation, and well before the first all-nighter to finish a paper, preventative education begins at Occidental. Because statistics show that more than half of sexual assaults happen during students' first year at college, freshmen are the focus of the College's prevention and education programs at the outset of their Oxy experience.
Spearheading the College's efforts is Project SAFE (Sexual Assault-Free Environment), a prevention and intervention support program under the aegis of Emmons Wellness Center that provides resources, advocacy, and educational programming related to issues of sexual assault, dating violence, and stalking. In an effort to make preventive education as comprehensive as possible, "We try to make sure that we engage with students at a lot of different points," says Marianne Frapwell, Project SAFE program coordinator and prevention education specialist.
First-years, like all Oxy students, cannot register for classes until they go through an online education program. At Orientation they receive Upstander intervention training (mobilizing bystanders in an effort to end assaults). An Orientation keynote speaker (this year it was cultural theorist Jackson Katz) addresses violence prevention, gender identity, and the campus environment. As the academic year progresses, programming assistants coordinate training and activities with a broad swath of student groups, from Greek organizations and athletic teams to resident advisers and O-Team members.
If there's a complaint about Project SAFE's methods, it's redundancy: "Having heard a presentation from Project SAFE at Orientation, then again hearing it at a required first-year seminar, students get tired of hearing the same thing presented in the same manner over and over again," says Alayna Schwartz '19 of Plymouth, Mich.
But that suggests that the message is getting through. "We want things to be purposefully redundant—because we know that it can take a few times of hearing something for all of the details to set in," says Frapwell, a clinical social worker who joined the College in July. "The students in front of you might already know 70 to 80 percent of the things you're talking about. How do you engage them and pull them into that last 20 to 30 percent? We're trying to make our presentations and our trainings more interactive, engaging, and activity-based.
"Our goal is to go beyond compliance," she adds. "Our job is to prevent sexual violence on campus."
The Project SAFE office is located next to the Center for Gender Equity in the Stewie Lower Lounge, a mostly freshman dorm. The welcoming space includes a table stacked with informative cards, brochures, and one-sheets that explain such issues as healthy relationships, the Upstander program, and resources for sexual assault survivors.
"Sexual violence prevention is not just a campus issue; it's a larger cultural and societal issue," Frapwell says. "I would like this space to be a safe place for students, where they feel like they can talk to peers or their RAs or the administration or our office or a survivor advocate here on campus, or any group in the outside community."
"Prevention work can pathologize students or communities: 'Don't do this!' 'Don't do that!' 'This is unhealthy!'" adds full-time survivor advocate and program manager Karla Aguilar. "We're finding ways to build healthier narratives and practices among students—coping strategies, healthier ways to support a friend. There's this really positive shift toward empowerment."
The idea behind Upstander intervention is a simple one: Friends and peers look out for one another. If someone perceives someone else to be in a potentially dangerous situation, they either intervene or find someone who will. While about 95 percent of students may never perpetuate sexual violence, Project SAFE estimates that for every attempted or completed sexual assault, there are 40 bystanders. The Upstander strategy is simple: "Be Upfront, Distract, or Entrust."
"This is a really good approach, because a majority of people aren't sexually assaulted, but a majority of people know someone who has been," says first-year Schwartz. "It was a prevention strategy that I hadn't heard of or seen before when discussing sexual assault, but I think it can be really effective."
"I think the program did a very appropriate job of respecting people and their experiences," adds Michelle Levitt '19 of Carlsbad. "I found the most helpful points made by a FYRE (First Year Residence Experience) leader to be the idea of allowing the victim to find their own voice, not pushing to develop their story and actions for them through your own words."
Over the last two years, the College has overhauled its sexual violence prevention efforts with new staff, a new online education program (Think About It, a 2½-hour interactive course), and new Orientation education sessions. Project SAFE's year-round initiatives include club and organization presentations as well as staff retreats and training. The office is currently working to create new presentations and retool existing presentations to focus on issues that are relevant to different groups on campus. Frapwell explains: "We're really trying to find activities, spaces, microtopics within our larger area of expertise that resonate with whatever group we're working with."
Under Title IX, for instance, RAs are responsible employees who must take any report to the Title IX office, "so we provide a training for them specifically about being a first responder," Frapwell says. O-Team members get training "so that they can facilitate potentially sensitive group conversations after the Project SAFE training at Orientation," she adds.
Another new emphasis is training for athletics and Greek organizations, which Frapwell sees as an opportunity for community-building. "The stereotype of athletes as perpetrators is out there," she says. "Athletics and the Greek system can be amazing allies, and we need to make them feel welcome to be a part of this conversation."
Micol Garinkol '19 of Boston agrees. "We must be more explicit about how Greek life, drinking, and hook-up culture can contribute to unsafe campuses across the country on the basis of gender," she says. "Oxy has wonderful Greek and sports programs. Let's use them as an asset to promote sexual safety."
In addition to working with individual groups, the office sponsors Empowerment Week each fall during Domestic Violence Awareness Month and Take Back the Week each spring during Sexual Assault Awareness Month. During Empowerment Week (October 19-23), for example, the campus hosted a dance company from New York City that does workshops for survivors of domestic violence in shelters. Members of the company talked about their work, then led a workshop with students. A trauma-informed yoga instructor also gave a presentation and led a yoga class.
"Coming from a background as a clinical social worker and working with survivors of trauma, I think what Occidental is doing is incredibly comprehensive," Frapwell says. "Compared with other universities that I'm familiar with, Oxy is putting a lot of effort into the right places."
Prevention efforts, unfortunately, will not prove effective every time. Frapwell works closely with Aguilar, who provides confidential crisis support and resource options to students who experience sexual and power-based violence. Aguilar, also a social worker, operates within an empowerment model of support, aiming to provide survivors with on- and off-campus resources and supporting whichever path the survivor feels will be most helpful in their healing.
"We're a team," Aguilar says. "Marianne works more broadly with students. I tend to meet with students one on one. It may be a student who has experienced sexual violence, dating violence, or stalking, who is seeking validation, resources, or emotional support. My role essentially is to provide a confidential space to process experiences of violence and empower students with choices and transparency. I'm also there to coordinate any immediate crisis resources that they may need, and to let students know about their rights."
Working with the Oxy Assault Advocacy and Case Management team—a group that includes Emmons psychologist Jenny Heetderks and lead physicians' assistant Ann Martella—Aguilar assists survivors with all steps of the Oxy adjudication process, including accompanying survivors to rape-treatment centers and around-the-clock medical services. Independent of the Title IX office, OAACM provides a comprehensive and confidential support system to sexual assault survivors that includes advocacy, counseling and medical services, as well as information about forensic exams, housing, and academic accommodations.
"We really try and want to be operating from this empowerment model of helping. We don't want to be telling anyone what to do," Frapwell says. "If you're a survivor, you've potentially gone through a situation where power has been taken away from you and you felt helpless. So our goal is to provide a survivor options and say, 'Which one of these feels best to you? Where do you feel like you'll find healing?'"
"Project SAFE has been doing great work, and now I think it is time to expand with our programming and education, and dive deeper into rape culture and ridding our campus of these problems," says Project SAFE programming assistant Jay Miller '17, an urban and environmental policy major from Los Angeles. "Our office is past blaming an individual for being raped, as if it were their fault. We focus more on the community and creating a culture where we look out for one another and step in before something happens."
"Putting this into practice here at Oxy will probably start within my friend group," first-year Schwartz says of what she learned at Orientation. "When I go out, I'm going to try to use the strategies we learned about Upstander intervention. As easy as it sounds, I think sticking up in your group of friends and applying what you've learned about sexual assault is one of the hardest things to do. Sometimes, to do what you've learned is embarrassing for some people, especially when they're at a party with their friends. But you could be saving someone from sexual assault, and I think it's worth it."
"The best feelings are when individuals come up to me saying 'I intervened' or 'I checked in' or even 'I entrusted someone else,'" Miller says. "We are creating this new culture at Oxy where everyone cares about their classmates and is looking out for each other."