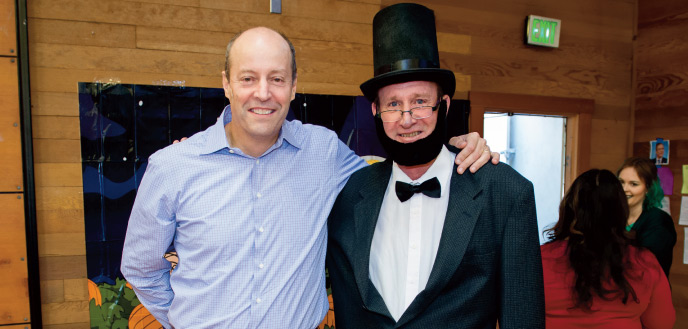 After more than 2,300 days into the job, President Jonathan Veitch shares some of the lessons he's learned
"There's a deep satisfaction in building an institution," says Jonathan Veitch, who arrived at Oxy as president in July 2009 and is well into his seventh year at the helm. "It's like raising a teen­ager," says the father of three. "Day to day, they drive you crazy, but there's a real satisfaction in seeing something that was not there before as a result of your effort." Among the lessons he's learned on the job:
You can't just will something to be so. Even if you have the world's strongest will, you still face the challenges of institutional interia. You have to figure out a way for the people in the institutional machinery to fulfill that goal. You have to pursuade, you have to build a better mousetrap, and you have to raise money. President Remsen Bird used to comment that he never wanted to wake up without hearing the sound of a jackhammer. I've tried to keep that in mind, and I think we've been mostly successful.
The liberal arts is a precious enterprise. One of the surprises for me as president was having to articulate what a liberal arts education was to people who presumably had been the beneficiaries of that. If it's not fully understood, it can't be fully embraced.
Fundraising is misunderstood as holding out a tin cup. Fundraising probably takes up two-thirds of my time, but it's far more enjoyable than I initially thought it would be. It's about making the case for the institution. And if you do it right, the money follows fairly readily. People get excited and want to participate.
You have to earn a reputation for being straightforward. There's always the temptation to take a controversial issue and shade it a little bit differently, depending on your audience. You cannot do that, because people compare notes. 
Incremental decisions should not be overlooked. A seemingly minor hire or policy change can make an institution better if you're alive to the intellectual stakes involved and think about more than just the big things.
The closest thing to this job is being mayor of a small to medium-sized city. There are a lot of stakeholders, but there's the same level of lack of control.
I've walked a mile in Oswald's shoes, and it wasn't pretty. One time I wore the mascot costume for a video, and for anyone who's wondering, it smells like the inside of a gym sock.