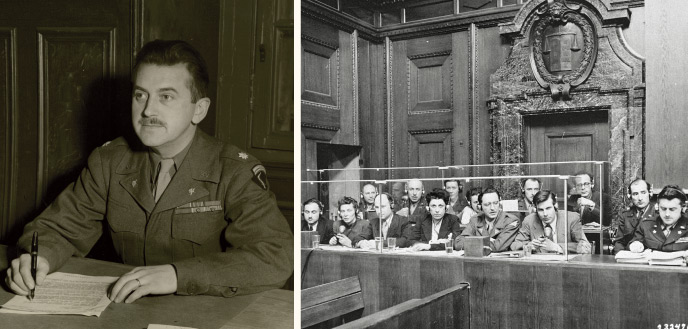 Orphaned before World War I and befriended by an American regiment, Dostert engineered the simultaneous translation system used at Nuremberg and the United Nations—and even sparked the creation of Oxy's study abroad program. You couldn't make his story up.
By Paul Robert Walker '75
In November 1945, six months after Germany's surrender in World War II, world attention focused on a crowded courtroom in the Nuremberg Palace of Justice, where—for the first time in history—military and civilian leaders faced trial for crimes committed during wartime.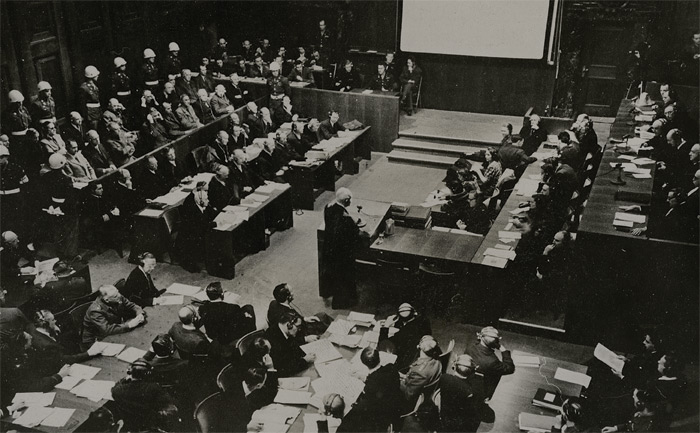 The 21 German defendants sat stoically, guarded by military police and facing their judges from the United States, Great Britain, France, and Russia. The defense attorneys sat in front of the defendants, and the prosecutors occupied four long tables to their right, one for each victorious nation. Against the far back wall, behind low glass partitions—close to the defendants and the ­witness box—sat a dozen interpreters, who simultaneously translated every spoken word into three other languages.
During the first six months of the trial, a short, dapper Frenchman in an American ­officer's uniform could be seen sitting in the monitor's position, switching the channels feeding into his headset to listen to the accuracy, speed, and energy of the translations. He was Col. Léon Dostert '28, Gen. Dwight D. Eisenhower's personal interpreter and one of the most significant linguists of the 20th century—the architect of the unprecedented simultaneous translation system that made the trial possible.
The language challenges of the Nuremberg trials were recognized immediately by the chief American prosecutor, Supreme Court Justice Robert H. Jackson, who led a team of 23 U.S. lawyers assigned to the case. "Unless this problem is solved," he wrote, "the trial will be such a confusion of tongues that it will be ridiculous." While Jackson was in ­Europe preparing for the trial during the summer of 1945, Dostert—working at the Pentagon—had the bold idea that it was ­possible to ­simultaneously interpret across multiple ­languages using existing IBM equipment, ­essentially a multi-channel switcher with headphones and microphones.
Dostert arranged a demonstration at the Pentagon for Navy Ensign William Jackson (Justice Jackson's son) and assistant Charles Horsky, who reported favorably on the results. ­Jackson was quickly convinced; the delegations from France, Great Britain, and the ­Soviet Union resisted, but the judge's commitment and Dostert's absolute certainty ­carried the day—he insisted that it would work for the simple reason that otherwise the trial would never end.
The system as implemented at the trial involved three teams of 12 interpreters each, with two teams rotating on any given day, and the third team resting from the painstaking task of translating testimony of wartime atrocities. The 12 interpreters on duty were divided into four "desks" of three interpreters, each responsible for one-way translation from one of the other languages into the language of their desk. When a German defendant was speaking, for example, the German desk was silent, and the German ­interpreters at the English, French, and Russian desks translated from German into the appropriate language. Anyone in the courtroom with a headset could listen to the language of his or her choosing.
After the trial began, Reich Marshal Hermann Göring—who spoke English as well as German—exclaimed, "This system is very ­efficient, but it will also shorten my life!" (Göring, who was one of 12 defendants sentenced to death, died after ingesting smuggled cyanide on Oct. 15, 1946, a day before he was scheduled to be hung.)
In the spring of 1946, while the Nuremberg trials were still underway, Dostert moved on to New York to consult with officials at the newly formed United Nations. He convinced the budget subcommittee that simultaneous interpretation would not only be faster but could save millions of dollars. (His biggest resistance came from the interpreters themselves, who enjoyed the spotlight afforded by consecutive interpretation and were loathe to be moved to glass booths behind the scenes.) "They gave me $100,000 to recruit and set up a team of 20 interpreters as a temporary service, and be ready for a trial in three months," Dostert told The Saturday Evening Post. "On the face of it, this was impossible."
Dostert's first test was a disaster, as the electronic equipment malfunctioned. A second test was successful, but it took all of the colonel's persuasive powers and a loan of 2,500 wireless receivers from IBM before simultaneous interpretation was adopted by the U.N. General Assembly. (Today, simultaneous interpretation is offered across six ­official languages: Arabic, Chinese, English, French, Russian, and Spanish.)
In the Post article, one of Dostert's interpreters offered a colorful description of the little French-American who walked fearlessly into international arenas. "Where the colonel passes, there's a whirlwind. Everything is upset and reorganized. Wherever he goes, he leaves a pack of devoted friends … and a pack of devoted enemies."
Dostert was born on May 14, 1904, in Longwy, France, a fortress town near the borders of Belgium and Luxembourg.  His father disappeared early on, and his mother died when he was very young, leaving his aunt and grandmother responsible for his upbringing. He later cited his humble beginnings as the driving force behind his ambition.
In late August 1914, during the opening battles of World War I, the Germans marched into Longwy after a devastating bombardment that left the fortress and parts of the town in ruins. Ten-year-old Dostert was forced to attend German schools for the next four years, ­effectively beginning his education in foreign languages. He proved so adept at German that when he was put to work after finishing elementary school, he was relieved of his duties loading cargo and given a cushier job as secretary to a German officer and translator between the Germans and the French. He remembered translating the Germans' request for a light bulb and feeling such a thrill when the lights came on that he decided then and there to study languages.
When American soldiers arrived in 1918, Dostert quickly picked up English and became a "mascot" for an Army regiment stationed in Longwy. Among the soldiers was Henri St. Pierre '21, who was so impressed with the French teenager that he arranged for him to emigrate to California in the spring of 1921. Living with the St. Pierre family in South Pasadena, Dostert worked at a grocery store and attended South Pasadena High School, where he graduated in three years and competed on the state champion debate team. (As colleague R. Ross MacDonald noted in a 1967 tribute to Dostert, "he was excused from taking courses in English grammar and composition because his formal English was markedly superior to that of his American classmates.")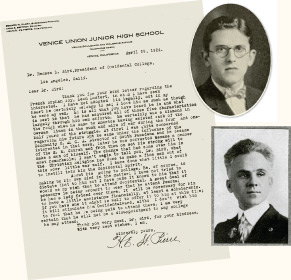 In April 1924, Henri St. Pierre (left, below) wrote to Occidental President Remsen Bird in reply to his letter "regarding the French orphan boy, Léon Dostert." "I have not adopted him legally," St. Pierre explained, "but in my heart he certainly belongs to me. He is all that you have heard he is and what is best is that he has acquired all those fine characteristics largely through his own efforts. He certainly was a diamond in the rough when he came to America having existed back of the German lines in the muck and mire of war during the four and a half years of the struggle. … I have done what little I could to instill into him the Occidental Spirit."
Dostert matriculated at Occidental in January 1925, joining a group of freshmen that looked to be "one of the best oratorical teams ever entered into a Southern California college," according to the yearbook. He quickly made his mark, placing second as a freshman in an oratorical competition on the topic of "Peace." A student newspaper story that March recounted his experiences during World War I—he told the reporter that his father had died fighting the Germans—and the friendship with St. Pierre that brought him to America. ("Incidentally," the article noted, "he speaks four languages fluently.")
As a sophomore, Dostert competed on both the oratory and debate teams, joined the OMA fraternity and the Tau Kappa Alpha honorary forensic fraternity, served as sophomore class secretary, and was one of the few male students in the French Club.
After two years at Oxy, however, Dostert transferred to Georgetown University to study language and diplomacy, subjects in which the Jesuit school excelled due to its ­location in Washington, D.C. He served as a French instructor to pay his expenses and graduated with a B.S. in foreign service in 1928. He earned a bachelor of philosophy in 1930 and a master's in 1931. He worked ­toward a Ph.D. in languages at Johns Hopkins, but never completed his thesis.
Dostert married an American woman, Mildred Baker, in October 1928, and they had four children: Léon Émile Jr., Anne, Pierre, and François. Throughout the 1930s, he taught at Georgetown, serving as chairman of the languages department from 1936 to 1939. One of the many friendships he forged during this time was with Thomas J. Watson Sr., chairman and CEO of IBM, who would become a key supporter of Dostert's work. Writing in 1965, Dostert described this period as a "Belle Epoque … those good years before the storm of World War II transformed our world so much."
The "storm" proved to be as much a crucible for Dostert as was World War I. He served in the French Army for two years as an attaché at the French embassy in Washington before becoming a U.S. citizen in August 1941. After teaching French civilization and culture for a year at Scripps College, Dostert joined the U.S. Army as a major assigned to the Office of Strategic Services, a precursor to the CIA led by another Dostert friend, "Wild Bill" Donovan.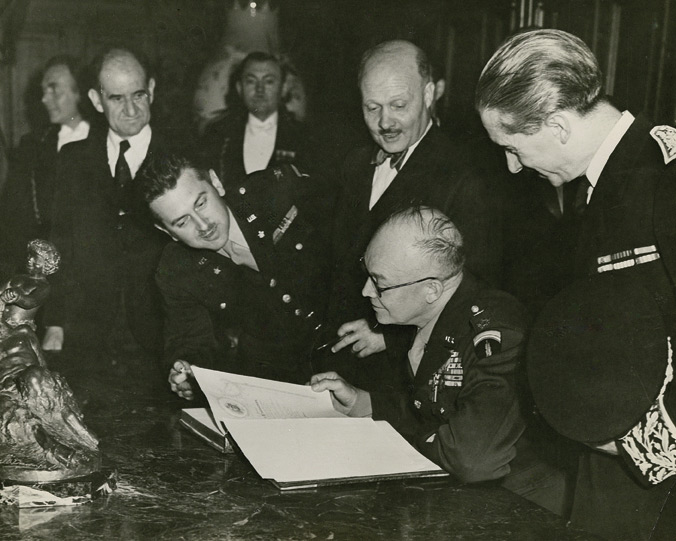 The newly minted American major was deployed to North Africa, where he served as a liaison officer to French Commander-in-Chief Henri Giraud, and a staff officer and interpreter for Gen. Eisenhower in negotiations with Giraud and Gen. Charles de Gaulle. By the end of the war Dostert had been promoted to full colonel and received military honors from the United States, France, Tunisia, and Morocco.
After his work at Nuremberg and the United Nations, Dostert returned to Georgetown in 1949, where he collaborated with Rev. Edmund A. Walsh, founder of the School of Foreign Service, to launch the Institute of Languages and Linguistics. The institute ­featured the first modern language lab, using tape recorders and oscilloscopes; practical language mastery was emphasized, and students were required to complete a year abroad. Dostert served as director for the next decade, while expanding his reach into other areas, including language programs in Yugoslavia and Turkey.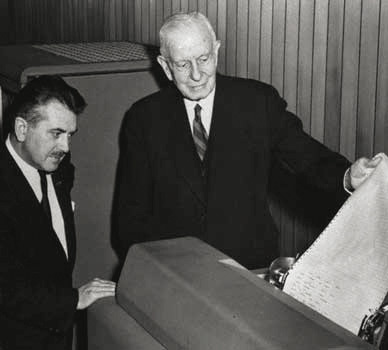 Dostert became interested in the potential for machine translation after attending a conference at MIT in June 1952. Until then, the concept had been discussed in purely theoretical terms, and Dostert—who was more interested in practical applications than theory—used his IBM and Georgetown connections to stage the first practical demonstration of machine translation at IBM's New York headquarters on Jan. 7, 1954.
The great language challenge of the time was the lack of Russian translators for technical materials, so the limited test used short Russian sentences from an organic chemistry textbook together with some longer sentences of general interest. The Russian sentences were input onto punch cards by a young woman who knew no Russian, and the cards were then fed through the new IBM 701 computer. "For nine silent seconds, the machine mulled over the message," Newsweek reported. "Then its automatic typewriter pounded out the English translation." This was not only the first demonstration of machine translation; it was also the first time that a computer had been used to process "natural language" rather than numbers.
The official IBM press release featured an overly optimistic prediction from Dostert that within three to five years, "interlingual meaning conversion by electronic process in important functional areas of several languages may well be an accomplished fact." Further in the release, however, the visionary professor offered a more realistic view, calling the experiment "a Kitty Hawk of electronic translation."
In 1955, Dostert founded the Machine Translation Research Project at Georgetown, funded by the National Science Foundation and the CIA (led by yet another Dostert friend, Allen Dulles). A much more comprehensive demonstration in June 1958, featuring 100,000 words of Russian organic chemistry text, proved that large-scale continuous machine translation was possible but also stimulated resistance as the challenges became more apparent. At Congressional hearings in 1960, Dostert secured funding for another three years, but he was in the midst of a personal crisis that precipitated his departure from Georgetown by the time the funding ran out.
As a Catholic university, Georgetown had a policy prohibiting divorced faculty members, but it had not been enforced until 1958, when Dostert, then chairman of the department of foreign languages, was ordered to fire four colleagues in the middle of the school year. This was painful for a man who deeply valued his personal relationships, and he soon faced the same issue himself when his wife, Mildred, from whom he had been separated for many years, suddenly filed for divorce. Dostert lost both his professorship and his position as director of the Institute of Language and Linguistics. He retained leadership of the Machine Translation project, but his office was moved off campus. He threw himself into other projects, including a pioneering program teaching foreign languages to the blind, but he began to look for a new start.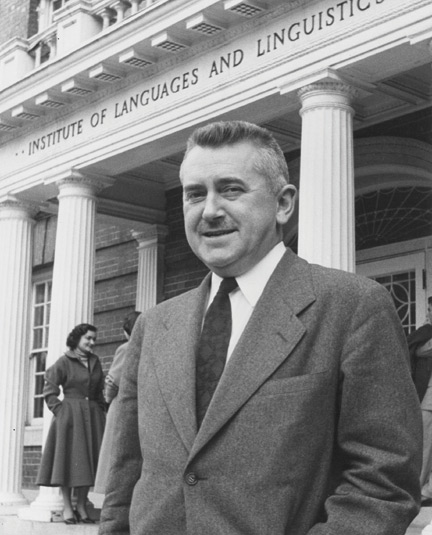 During Occidental's Founders Day celebration in 1960—the year after the changes at Georgetown—the College awarded Dostert an honorary doctor of letters. "I have always felt deeply indebted to Occidental College for giving me my first appreciation of the importance of learning and of scholarship," he wrote in a letter to President Arthur G. Coons '20. "And the first impressions are the ones which last and to which we remain forever indebted."
In fall 1963, Dostert joined the Occidental faculty as professor of French and chairman of the foreign languages department. Adding an internationally renowned scholar and researcher was a coup for the College, and it was the right place for Dostert at this stage of his life. "Oxy was always his 'ace in the hole' in the back of his mind when things got tough at Georgetown," Dostert's secretary and research assistant Muriel Vasconcellos recalls in a recent email. "The whole time I knew him, he would now and then bring up the idea of giving it all up and going back to Oxy."
As he did wherever he went, Dostert changed the status quo during his six years at Oxy. At his suggestion, the department was renamed the Department of Foreign Languages and Linguistics. He initiated a master's program in 1964, established a special program for teaching English to Spanish-speaking students, and pushed his younger colleagues to launch Oxy's modern-day study-abroad program—which today is a vital component of the undergraduate experience.
"Léon Dostert wasn't the most organized department chair," recalls Annabelle Rea, professor of French emerita, "but he was the one with the most inspired ideas—mostly ideas for which he expected others to do the work. He introduced me to another colleague as someone who was going to create an Occidental program in France…well ­before I was officially hired, and I certainly hadn't volunteered to do such a thing!" (She started the Occidental-in-France year abroad in 1969.)
"The Oxy Abroad program started with 'Occidental in Germany' as a result of my visiting professorship at the University of Saarbrücken in 1968," adds Erich Frey, professor of German emeritus. "During general faculty meetings, colleagues from other departments could witness Professor Dostert's remarkable oratory skills. He certainly put our department on the map."
In November 1967, Dostert was the subject of a collection of essays and articles ­titled Papers in Linguistics in Honor of Léon Dostert, prepared by fellow linguists as a tribute to his many achievements in the field. In his dedication, Professor William M. Austin of the Illinois Institute of Technology wrote of his longtime Georgetown colleague: "There is hardly a major linguist today in this country or Europe who does not know him personally, hardly a segment of linguistic endeavor that has not been touched by his thought, guidance, or initiated programs."
At the mandatory age of 65, Dostert stepped down from Oxy in 1969 with the title of professor emeritus. He lived happily in retirement with his second wife, a young Polish linguist named Bozena Henisz, whom he married on the Oxy campus in May 1965. In September 1971, shortly after presenting a paper at a professional conference, Dostert died unexpectedly in Bucharest, Romania. His remains were returned to Occidental for a service on campus. Frey recalls the memorial as "very impressive and unusual. Léon must have been very much attached to ­Occidental."
The breadth of Dostert's legacy is dizzying, and his colleagues differ as to his most significant achievement. Writing presciently in 1967, Austin pointed to "the introduction of natural language to the computer" in the Georgetown-IBM experiment of 1954. "Most of linguistic, and much of computational, ­activity since has been sparked by that event. ... Perhaps the most important scientific task for the remainder of this century, and probably the next, will be the enabling of computers to handle natural language."
Writing with hindsight in a recent email, Vasconcellos hailed Dostert as "the father of simultaneous interpretation at the United ­Nations. It was his vision, his ability to win over people in high places, and his determination to see his projects through that made the difference. He was unstoppable."
It's tempting to overstate the importance of a single individual, but the way we communicate across cultures—even the way we use computers—might be very different today had a young French orphan named Léon Dostert never met an Oxy student-soldier. As Austin wrote, "Without him, who knows?"  
Paul Robert Walker wrote "Civil Disobedience" in the Fall 2014 issue. For further reading, he recommends The Origins of Simultaneous Interpretation: The Nuremberg Trial, by Francesca Gaiba.