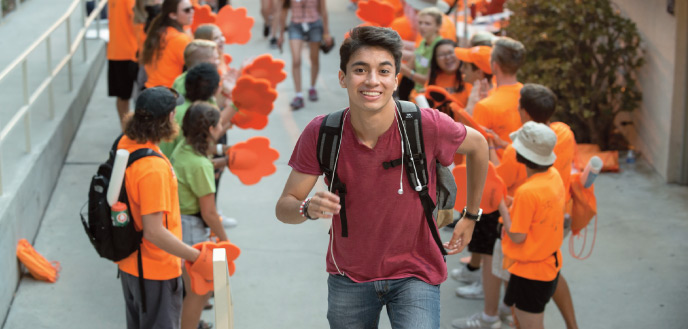 What does it take to get the College experience off to a roaring start? Sixty oversized paws, a strong pair of lungs, and lots of caffeine
For the 60-some members of O-Team—Oxy's supergroup of undergrads who introduce first-years and transfers to the wonders of Oxy life at the dawn of every school year—sleep is not a priority. "Today I got up at 4:30 in the morning, walked to campus, got here by 5, and have been going non-stop since," says Sophie Gabel-Scheinbaum '17, an urban and environmental policy major from El Cerrito and part of the O-Core (the seven students who oversee O-Team). But, she adds, "Parents will come up to me and say 'Thank you so much, this means so much to our family and our student. We know that you put so much time into this and we feel so welcomed,' and that makes it all worth it."
What makes O-Team tick, and stay awake through it all? In addition to Sophie, a three-year veteran, we talked to two-time O-Teamer Griffin Morita '18 (an art history and visual arts major from Fairport, N.Y.) and senior newbies Olivia Davis (a theater major from Los Angeles) and Brandon Rodrigues '17 ( a religious studies major from Coconut Creek, Fla.) about Oxy's most enthusiastic liaisons.
What made you want to join O-Team?
Olivia: When I was studying abroad, I was really homesick and missed Oxy. And I thought, What better way to jump right in and be 100 percent Oxy when I get back than to be on O-Team?
Griffin: Being on O-Team is really the first contact you have at Oxy, and I think it's important to bring a lot of positive energy and really welcome people into the community.
Brandon: I wanted the opportunity to be a mentor and someone that they could feel comfortable talking to and walk them through all the difficult dialogue that we take them through when they first come into college.
What's the hardest thing about being an O-Team leader?
Brandon: You want everyone in your O-Team to be friends, but you also need their respect and attention when going through the difficult issues that we talk about. So balancing that relationship with them is a challenge, but I think it's been really well done.
Olivia: The energy levels. Having to be on constantly is really tiring.
How do you keep the energy going?
Olivia: The other O-Team leaders, that's where my energy comes from. When I'm alone, I'm, like, dead. But when we're together, we pump each other up.
Sophie: It's incredible to me the energy that everyone brings. There's this amazing group mentality of "We're doing it, we're here, we're going to give it our all, we're going to scream until we lose our voices." My own voice is just coming back from this week of training, to be honest.
What's the most enjoyable part?
Griffin: I love getting to meet new people, and I think it's nice that a lot of the O-Team leaders become very close through training and orientation. It really shows the feeling of community in my eyes.
What's the best piece of advice that you're giving to the first-years?
Griffin: That would have to be one of the O-Team ground rules: No shame, no ego. Nobody on campus is too cool to hang out with you, and nobody is unapproachable. In my experience, everyone enjoys being here and really wants to better the community.
Brandon: To be open-minded to multiple perspectives. Fifty percent of the people here come from more than 500 or more miles away, so there are a lot of different perspectives within that.
What's one thing you want first-years to take away from being in your group?
Olivia: I hope they learn something! I want us to learn together, learn more about ourselves, and learn more about the community. This isn't just for our academics but opening them up to seeing college as a learning experience for all parts of their lives.
Sophie: When I showed up for Orientation as a first-year, we were driving around in our car and my mom was like, "Oh my gosh, let's say hi to all those friendly people!" I was like, "Mom, don't you dare stop, don't pull over!" And now I'm one of them.—JASMINE TERÁN