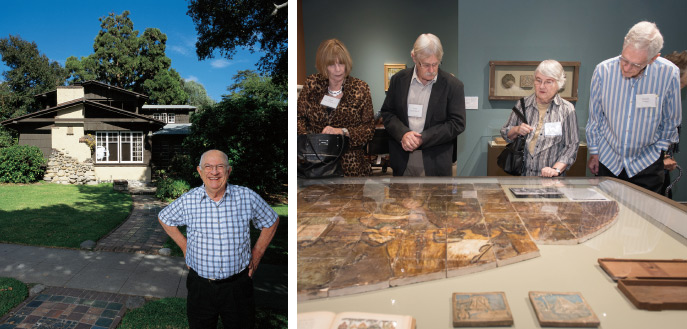 One Pasadena legend (professor emeritus Bob Winter) pays tribute to another (tilemaker Ernest Batchelder) in a new museum exhibition
The first time he saw a Batchelder tile fireplace, "I did one of my phony fainting acts," says Robert Winter, Arthur G. Coons Professor of the History of Ideas Emeritus. It was the fireplace that belonged to esteemed Pasadena tilemaker Ernest Batchelder himself, personalized in 1913 as a wedding gift to his bride, concert pianist Alice Coleman.
Winter's "little demonstration" made an impression on the home's owner, landscape designer Francis Dean. In 1972, when Dean decided to sell the house—built in 1909 and added to the National Register of Historic Places in 1978—"he phoned me and suggested a price," Winter recalls. After some haggling, they agreed on $46,500. (Winter's home today has a market value of around $1.5 million.)
Alice and Ernest Batchelder have long been a subject of interest to Winter, and it's not just because the Arts and Crafts Movement is one of his specialties. He published Batchelder Tilemaker, a lavishly illustrated 112-page biography, in 1999, and he recently ­donated a portion of his collection of Batchelder tiles (about 200) and archives to the Pasadena Museum of History. To commemorate that gift, the museum has mounted an exhibition titled Batchelder: Tilemaker, with artifacts on loan from more than a dozen collectors. Winter is the exhibition's curator.
"Some of them are scratched; that makes them less valuable to the dealers, but to me it's a wonderful thing because they've been used. As a historian I like that," Winter says of his collection.
"It is difficult for me to remember when I first became interested in Ernest Batchelder and his tilemaking," adds the 92-year-old ­architecture historian, who joined the faculty at Occidental in 1963, retired in 1994, and received an honorary degree from the College in 2014. He says he thinks it was "around the time I became involved with a group of Arts and Crafts addicts" in the late 1960s.
Batchelder moved to California from Massachusetts in 1902 to teach the manual arts at Throop Polytechnic Institute (now Caltech), where he stayed for seven years. Using a small portable kiln, he began to produce tiles in the backyard of his Pasadena home on the banks of the Arroyo Seco in 1910, literally as a "backyard experiment." He decorated his own home with them first, but also produced them for local architects like Greene & Greene.
As Batchelder's business grew (and his neighbors objected to the smoke), the firm was incorporated as Batchelder & Brown Inc. in 1912 and moved to headquarters on South Arroyo Parkway in Pasadena (relocating to a much larger, seven-acre space in Los Angeles as the Batchelder-Wilson Company in 1920). Its first catalog contained a wide range of designs, from biblical and medieval to Renaissance and Art Nouveau motifs, many based on illustrations found in Batchelder's book collection. The distinctive muted, earthy colors of the tiles, with their matte finish, went well with the Craftsman architecture that was popular at the time.
Batchelder's tiles were hand-wrought— his motto was "No two tiles the same." After a paper design was drawn and reproduced in clay, a master mold was made. From this master mold, plaster production molds were crafted. In the early years, clay was hand-pressed into the molds, then air-dried before firing.
Batchelder tiles were used in fireplaces, fountains, and bathrooms, and for paving and tabletops. Images of lions, peacocks, pomegranates, and California scrub oaks, as well as geometric shapes, were popular. "All his tiles reflect Batchelder's interest in a broad range of subjects—nature, music, ­architecture, and folklore," Winter says. "His earliest tiles, those made in the 'teens, were in earth tones, touched with traces of blue-green. In the 1920s, when American taste turned to various architectural revivals, Batchelder's palette broadened to colorful production and even Mayan imagery—but the finish remained muted, soft."
The company expanded throughout the 1920s, opening showrooms in Chicago, New York City, and Oakland. Batchelder tiles ­appear on the walls and floors of many Manhattan apartment house lobbies, and can be found in properties big and small throughout the United States. "Batchelder tiles, while not inexpensive, were easily affordable to people of modest means. Thus they are not rare," Winter says. "Hundreds of homes in Southern California and, indeed, the rest of the United States and Canada are endowed with beautiful Batchelder fireplaces and fountains."
His elaborate installation for the Dutch Chocolate Shop at 217 West Sixth Street in downtown Los Angeles was immortalized in the 1918 Dorothy Gish film The Hope Chest and was designated a Historic-Cultural Monument by the city's Cultural Heritage Commission in 1975. One of Batchelder's last and largest projects was the Hotel Hershey in Hershey, Pa., built by chocolatier Milton Hershey (with interior design by Robert von Ezdorf) in 1930.
The 1929 stock market crash spelled doom for the company. Its lender foreclosed in 1935, selling it to Bauer Pottery, which continued to make the tiles until 1939. Batchelder continued to create pottery in a small shop in Pasadena until the early 1950s (he died in 1957).
Years after turning Batchelder's onetime studio behind his house into a museum of sorts commemorating his work (amassed from dealers, collectors, swap meets, and donors), Winter relishes the thought of exposing a new audience to the master tilemaker. "The understatement of his work is so beautiful," he says, "especially compared to what else was being produced at the time."
One of the favorites in his collection is an "extremely valuable" large tile of a medieval knight on horseback given to him by an Occidental trustee at a party at Winter's home many years ago. "Do you know what this is worth?" Winter asked him. "I don't care," the trustee replied.
That tile is only on loan to the museum for the exhibition. "It looks nice in my living room," Winter says.