Sam Farmer '88 has angered kickers, climbed mountains with a commissioner, and covered the NFL in a city without a team. Now the Rams have come home to Los Angeles—and he's still outrunning the competition.
It had been 21 years since a National Football League game was played in Los Angeles—two decades of frustration for NFL fans abandoned after the 1994 season, when the Rams bailed for St. Louis (after 49 years) and the Raiders returned to Oakland (after a scant 13 years). Then, last January 12, after dozens of failed efforts and plans for new stadiums had been left on the drawing board, the NFL was finally going to make a move.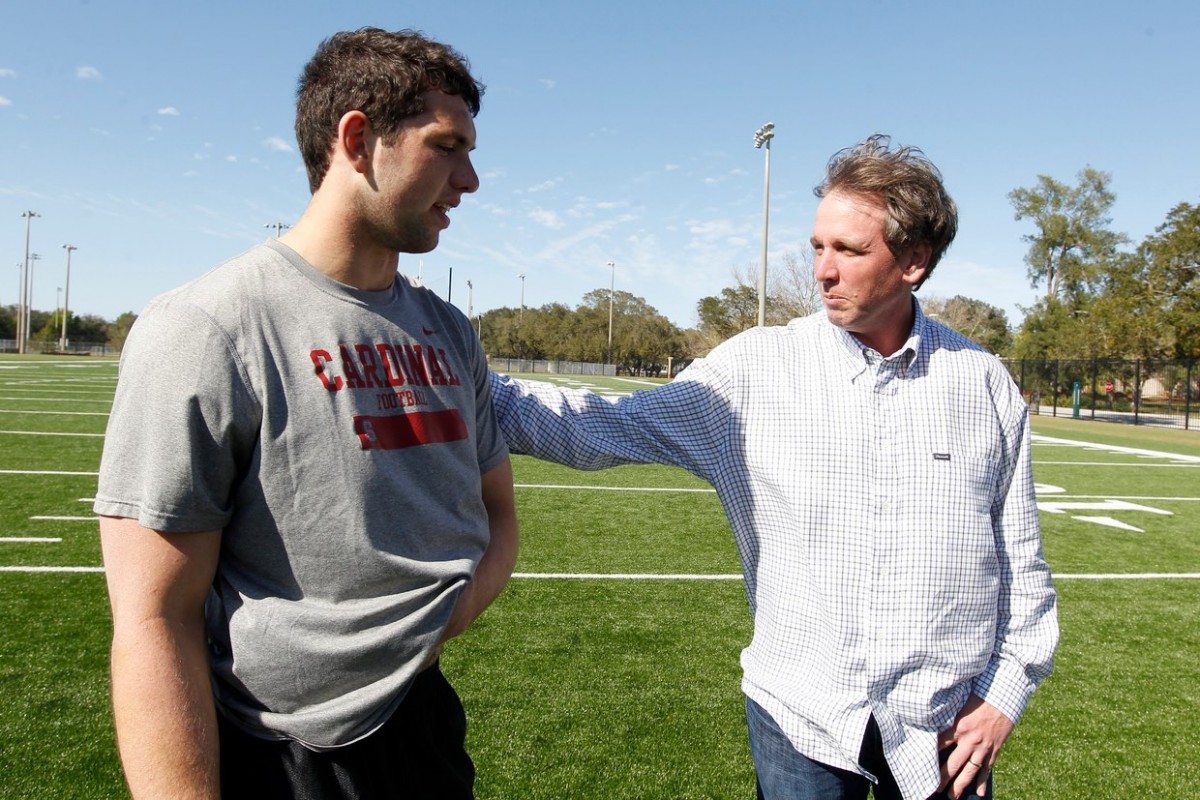 Inside a heavily secured ballroom in the Westin Houston Memorial City hotel, owners of the NFL's 32 teams met for 11 hours to decide between two competing proposals: The Rams wanted to come home to play in a stadium to be built in Inglewood; the Raiders and San Diego Chargers wanted to share a ­facility to be built in Carson.
One floor below, in even more crowded quarters, hundreds of newspaper, magazine, and Internet reporters scrambled alongside scores of TV and radio crews for any scraps of information. The atmosphere was hectic and tense, as befitting one of the biggest stories in L.A. sports history.
Sam Farmer '88, meanwhile, was in his hotel room.
Farmer, the Los Angeles Times' NFL columnist, had chronicled this story more closely than any journalist in the country for the last 16 years. Along with Times colleague Nathan Fenno, he had decided to leave the madding crowd and work on the story in private.
His game plan paid off. Owners promptly texted Farmer developments from the meeting room, and he used Twitter and posted updates to the Times' website to convey each bit of news. He became more assured that the stories he had filed earlier—that the Rams' proposal was the likely winner—were correct. That ran contrary to the thinking in the media room downstairs. One St. Louis sportscaster even went on camera blasting Farmer's initial reports as false and irresponsible.
But Farmer had something virtually none of his peers had: access to inside information. "I had owners who were texting me minute by minute," Farmer says. "I knew the reporters in the media room were not getting the same texts. I was tweeting out information, and the Twitter world was devouring it. Over the course of an hour, my Twitter following grew by 8,000."
Finally, Farmer got a text that owners had approved the Rams' move to the former Hollywood Park site in Inglewood, giving the Chargers a one-year option to join them. He posted the information and beat the rest of the world by 20 minutes. More important, he was right.
Just before the final vote, Hall of Fame running back Eric Dickerson called Farmer to ask what was happening. So did Chargers quarterback Philip Rivers, who hoped he was staying in San Diego but wanted to know if he was moving to L.A. 
"As soon as I tweeted the news of the vote, I called Dickerson back and got an instant raw reaction from perhaps the most popular player in L.A. Rams history," Farmer says. "It was a special moment."
That day in Houston demonstrated one reason why Farmer is regarded as one of the nation's top sports journalists. Last year, he was named Sportswriter of the Year in California by the National Sportscasters and Sportswriters Association, and was awarded first place in the prestigious beat-writing category for his NFL coverage by the Associated Press Sports Editors.
Farmer has never followed the crowd, ­always searching for stories that no one else is doing, all the while negotiating the sometimes difficult relationships between journalists themselves, as well as journalists and the individuals they write about, with an honesty and directness that encourages people to trust him and talk to him.
"I've never had such a positive collaborative relationship in the 18 years I've been a journalist," Fenno says of working with Farmer on the NFL/L.A. story. "In the final month, Sam and I probably talked to each other more than we talked to our wives."
Fenno recalls running into Dallas Cowboys owner Jerry Jones and Jones' son, Stephen, in an elevator during a break in the meeting that January day: "I introduced myself and mentioned I was working with Sam. His name was like a secret handshake; they immediately opened up."
Farmer enrolled at Occidental planning to become a doctor, but after his first chemistry class realized he was much more interested in writing than spending time in science labs. He became an English major.
"With the emphasis on writing and such small classes, you couldn't hide at Occidental," Farmer says, crediting professors Eric Newhall '67 and Lewis J. Owen in particular for their influence. "They really took the time to challenge you, to push you to become a better writer. Of course, my writing evolved as a professional, but I started off with a very strong foundation from Occidental."
By his junior year, Farmer had figured out how to combine a lifelong love of sports with writing, thanks to help from Gary Klein, whom he had known casually for years. Klein, who now covers the L.A. Rams for the Times, was then working for the paper in the San Fernando Valley edition. He arranged an interview for Farmer with the sports editor. Soon, Farmer was covering high school sports in the Valley as a freelancer.
"It wasn't until I talked with Gary that I thought about becoming a journalist," Farmer says. "It was a great college job, going out and making $50 on a Friday night to cover a game and doing something I loved, watching sports."
From 1990 to 1995, he covered University of Washington football and the Seattle SuperSonics for two papers in Washington, then in 1995 began covering the Raiders for the San Jose Mercury News. In 2000, he signed on with the Times to cover UCLA and then the NFL.
Farmer's Occidental connection has continued through his career. He has often talked football with 1957 classmates Jack Kemp, Ron Botchan, and Jim Mora. "I try to be available whenever Sam needs something, and I know he'll be available if I need him for anything," says Mora, who coached the Tigers for three years before going on to a 15-year NFL coaching career. "I've always liked him and respected him as a person and a writer. I consider him a good friend."
His reporting philosophy has always been to surprise readers with compelling stories they don't expect and to give them information they can't get elsewhere. The Super Bowl presents an annual challenge. With thousands of reporters getting the same limited access to players and coaches each day for a week, stories across the country tend to have an almost inevitable sameness to them.
Farmer has covered 18 of the last 19 Super Bowls, missing only the 2010 game when he was on the UCLA beat. "Each Super Bowl, my No. 1 goal is to tell one story no one else will get," he says. "Once, when the Raiders were playing the Buccaneers, I found that quarterback Rich Gannon's aunt was a football-crazy nun. Crazy about the Raiders, no less. Rich loved talking about that story to me alone, a really fun story.
"Another time, when Seattle was playing Pittsburgh, I broke the story that the NFL was going to use a new football on every single snap in the first half and auction those balls later. ... But the participating quarterbacks hated that because they would have a waxy, slick football on each snap. They complained loudly, and when the broadcast opened, it was the first topic John Madden raised."
When coaches John and Jim Harbaugh faced each other in the 2011 Super Bowl, Farmer was the only writer among thousands covering the event to report that Jim Harbaugh's son was an intern for the Ravens on brother John's staff. "The only way that son was going to get a Super Bowl ring was by beating his dad," Farmer says.
Most fans assume a sportswriter's job is a dream career, filled with going to games and talking to athletes. The reality, of course, is different.
"There's a saying: Sportswriting kills the fan in you," Farmer says. "And it does. I do like sports, and I love my job, but I see sports from the business side, and you see how lots of public figures act when the TV lights click off. Some people are cooler than you thought; some, too many to mention, aren't cool at all."
Still, Farmer's career has taken him places and introduced him to people who have left memorable impressions. He traveled in Europe with former NFL Commissioner Paul Tagliabue, visiting troops who had come back from Iraq. He frequently visited with legendary UCLA basketball coach John Wooden at Wooden's cluttered condo in Encino. Farmer fondly remembers sitting on a bed in a Santa Monica hotel room with Archie Manning as the former star Mississippi and NFL quarterback nervously watched son Peyton play an exhibition game. 
Archie remembers that day fondly as well. "I enjoy Sam; he's honest," he says. "I've always told him I feel sorry for him because he's an NFL writer with no team. I don't feel sorry for him anymore."
And in 2009, Farmer hiked up Mount Rainier with NFL Commissioner Roger Goodell, though Farmer went only so far as base camp. Goodell grants that kind of access to a select few.
"Sam is an excellent storyteller who is passionate about the subjects he writes," Goodell writes by email. "We may not always agree with his take on every story, but he is fair and respects the facts. He's not a bad mountain climber, either … even though he didn't go all the way to the top of Mount Rainier with us."
There have been equally memorable, though far less pleasant, experiences as well. Early in his NFL career, Raiders kicker Sebastian Janikowski was well known for his off-field problems. Farmer received a reliable tip that Janikowski had been seen in a San Francisco bar late the evening before a game—something the team prohibited. After Farmer questioned him about it in the Raiders' parking lot, Janikowski got in his car, gunned it, and drove straight at Farmer.
"I had to jump between cars to avoid getting squashed," Farmer says. "I don't know if he would have swerved at the last second, but it scared the heck out of me."
The most difficult stories have happened away from the field, including a ­series on fatalities at all levels of football in the wake of Minnesota Vikings lineman Korey Stringer's death brought on by heat stroke. As part of that project, Farmer traveled to Monticello, Ga., to interview the parents of a 13-year-old boy who had died on the football practice field. The family welcomed him into their home and spoke openly; the football coaches who arrived shortly thereafter refused to even look at him.
"You sometimes get people in these incredibly private and vulnerable situations and you have to sort of inject yourself into their narrative," Farmer says. "You see people at their best and their worst. My uncle said the best way to show people you care about them is to care about them: Be sincere, listen to someone's story, and try not to put it through your filter."
Farmer added, referring to his career at the Times: "When I've been pushed outside my comfort zone and asked to do stories that made me lose sleep and stressed me out, those are the stories I'm proudest of, and those are the stories where I had the most growth."
Perhaps Farmer's greatest challenge is juggling the demands of a job that requires him to be available 24/7 with those of his family: wife Paige and children Thomas, 17, and Claire, 14. The journalism world is littered with people who haven't managed to do that. Farmer has.
"Sam's a really good listener, he's responsive," Paige says. And with the advent of the Internet and the 24-hour news cycle, Sam is always at the mercy of his cellphone. "He's the kind of dad who knows when it's back-to-school night. And before he books anything, he looks at our family calendar because he doesn't want to miss out on stuff."
The wall in the dining area of the kitchen in the Farmers' Glendale home is testament to that. A dozen or so framed photos show smiling family members on vacation in Berlin, Amsterdam, Prague, and Snow Summit. There's only one sports-related shot: of Thomas and father-in-law Gary Olson at last February's Super Bowl. Sam makes a point of trying to include the family at major events whenever possible.
Sam's sports photos and mementos of his career? That stuff is in the garage, with a computer, large TV screen, and a well-worn couch. And recently, there was a reminder of just what a big NFL deal Sam is on the home front. "Claire told me the other day, 'Dad, I don't read anyone else's stories,'" Farmer says. "And then she said, 'I don't read yours either.'"
Many others do, including competitor Peter King, the former Sports Illustrated writer and NFL expert who runs the website Monday Morning Quarterback. He ends each Monday column with an Adieu Haiku. In mid-August, he signed off with:
"All's right with the world.
"Sam Farmer has a home team.
"Still, St. Louis seethes." 
Mike James retired as sports editor of the Los Angeles Times in 2014. He lives in Brea. Photo by Max S. Gerber.