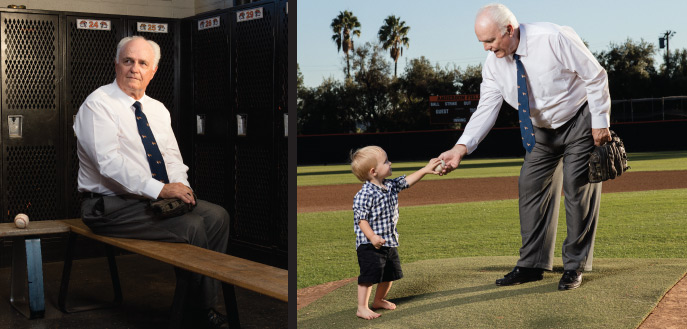 With a 23-1 varsity record, Don Hagen '64 was the finest Oxy hurler of his generation. And he chose a Tigers jersey against the advice of his coach, Grant Dunlap '46
By Dick Anderson | Photo by Max S. Gerber
It could be said of many athletes that they lived for the game 24/7. But in the case of Oxy Hall of Famer Don Hagen '64, he literally slept at Anderson Baseball Field—claiming top bunk in a triple carved out of a storage room in Spencer Field House along with teammates Bob Ruffner '64, his catcher since their days at Glendale High School, and Bud Barker '64.
"Our job, in order to earn this, was that we took care of the field," says Hagen, who took to the pitcher's mound (a generous 42 inches high in those days—more than three times its current height) as the Tigers' ace during the 1962 and 1963 seasons. Hagen threw two no-hitters in the same week as a sophomore, including the only perfect game in Oxy history against Redlands. He would go 23-1 in his two-year career, with an earned run average of 1.05 and the best strikeouts-to-walks ratio (13:2) of any Tigers pitcher.
 "I never took the field in a game where Don pitched that I thought we were going to lose," says first baseman Doug Beacham '64. "In the three years that I took batting practice from him, I hit one ball out of the ballpark, because I guessed right about where he was going to throw it. I danced all the way around the bases. And Don said, 'I knew I shouldn't have thrown it there.' I don't think he knew how to pitch half-speed. Ask anybody that played with him at Oxy, and they'd probably all say the same thing."
"I started playing baseball when I was 8," Hagen recalls at his home in Palm Desert. "I told my parents when I was 10 that I was going to be a professional baseball player, and they did their best not to laugh out loud."
"If that's what you want to do, focus," Ben Hagen '37 told his son. "Give it your best. If it happens, great—but complete your education." ("He was so right," Don says.)
As a high school player, Hagen had been recruited by USC, Stanford, and Oxy—and Tigers coach Grant Dunlap '46 gave him an honest assessment of his prospects. "Grant kept telling me, 'Go to USC, because you'll have a greater opportunity if you wish to go into professional sports,'" Hagen recalls.
"But Grant made a terrible mistake," he adds. "The right choice was coming to Oxy. It wasn't SC. It wasn't Stanford. Because education became paramount. Baseball became secondary. Grant didn't realize that this was where this kid belonged."
With Ruffner behind the plate ("He gave me the nickname Donnie Rob") for every pitch of his college career, Hagen's one loss in a varsity uniform came against USC in 1962 in a 10-0 blowout. "Don got hit pretty hard that game," Beacham says. "They humiliated us, and that didn't sit too well with us. From that point forward, we were focused on beating those guys the next year."
The following season, on the Trojans' home diamond, Hagen led the Tigers to take down the eventual 1963 national champs. Going into the game, Hagen led the entire nation in ERA and was No. 2 in strikeouts. With 19 pro scouts in the stands, the Oxy right-hander struck out 15 batters, all on fastballs. He allowed his only hit in the eighth inning when USC's Darryl Wilkins homered over the right-center field just at the 360-feet sign—only Hagen's second earned run of the season.
"That's the best pitching performance I've personally ever seen," says Beacham, who knocked in a pair of runs against the Trojans (Hagen himself contributed a third) in the Tigers' 4-1 victory. "All of us who played in that game feel like we experienced a moment in time that would probably never happen again—where everything came together in one day."
There was little doubt that Hagen would sign a pro contract after his junior year. He pitched for four years in the minors (including three years with the St. Louis Cardinals), notching a record of 33-22 with an ERA of 2.92. "I was very fortunate in being part of the Cardinals organization, and it was a dream come true," he says. The day after a 1966 contest at Texas-Arlington Stadium (a game he won, 3-1) "I couldn't move my arm," he says. "I don't know what happened, but I threw my arm out. So that was the end of my professional career."
But it marked the beginning of a 46-year career in education as a teacher, a high school principal, and finally as an adjunct professor in the California State University System. "His purpose in life was high school students," says son Wes. "Every conversation, every chance he's got, he makes you better."
"It was our great pleasure to play with a remarkable athlete and a class human being," Beacham says of his teammate and lifelong friend. "We all had a lot of fun."
Hagen has many fond memories of his teammates, and of the mentor he found in Dunlap, who died in 2014. "Grant talked baseball in an incredibly intelligent manner," he says. "He called me Super Thyroid. Grant would come out to the mound and talk to me, and I would never hear a word he said. I just wanted the ball."