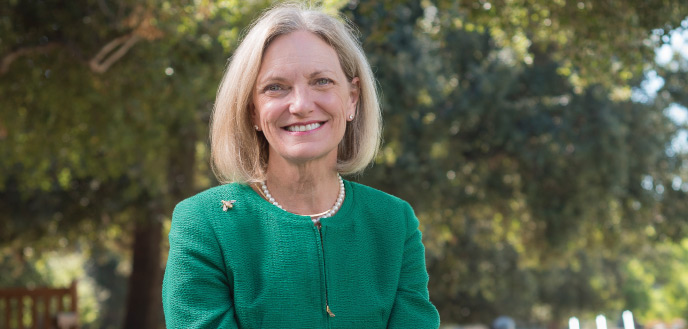 New Board of Trustees chair Susan Howell Mallory '76 M'78 discusses the College's priorities, her favorite professors, and the rewards of her Oxy education
As a master's student at Occidental 40 years ago, Susan Howell Mallory '76 M'78 came to know Elizabeth Pickett Chevalier, who established the Chevalier Program in Diplomacy and World Affairs in 1957 in memory of her late husband, Oxy trustee Stuart Chevalier. "The master's students were expected to drive her to various engagements, and I had the pleasure of accompanying her to a number of events, mostly Oxy-related," Mallory recalls. "She was quite a lady."
After eight years as a trustee herself, Mallory recently succeeded Chris Calkins '67 as chair of the Occidental Board of Trustees. "Susan brings a real devotion to her alma mater, coupled with thoughtful leadership and a wry sense of humor," says President Jonathan Veitch. "I look forward to working with her to continue to build an institution we all care about deeply." 
With a B.A. in history and a master's in DWA, she initially planned on a career in the foreign service, but was exposed to banking through a summer job and never left the field. Today she is the head of wealth management banking for Northern Trust, a leading global asset management, fund administration, and banking institution headquartered in Chicago.
Why did you come to Oxy? 
I grew up in San Diego and went to The Bishop's School, at the time a girls' boarding and day school. My college counselor encouraged me to attend a rural women's college outside of Boston, and while I valued the academic experience, after two years I decided to transfer to a college closer to an urban area with a more diverse student body. I was about to send in my deposit to Scripps College, where my sister was attending, when I visited Oxy. I fell in love the minute I saw the campus, met some students, and learned more about the broad academic programs and proximity to Los Angeles. I never looked back.
What professors influenced you the most?
Emeritus Professor of History Brice Harris opened my eyes more broadly to the "real issues" in the Middle East. Today, when I read or hear about the challenges faced in the region, I often think of him and the discussions we had in classes around religion, social norms, culture, and conflict. 
Emeritus Professor of History Wellington Chan intensified my fascination with and knowledge of Asia, specifically Chinese art. I will always be grateful to him for exposing me to Buddhist ritual bronzes and deepening my knowledge and appreciation of the meaning of these magical works of art. 
Chevalier Professor of Diplomacy and World Affairs Edward Mill was especially influential. I first met him during my senior year when I took his class on the United Nations. I loved and flourished in that class, and it was then that I became enamored with potentially pursuing a career in the foreign service. In the class, I chose to be the U.N. representative to the People's Republic of China. Subsequently, Dr. Mill invited me to obtain an M.A. and to be his fellow in my first year as a DWA master's candidate. 
Sadly, he unexpectedly died between my first and second years in graduate school. I never did make it to Washington or to the State Department, but the foundation I ­acquired as a result of the DWA program was transformational both personally and professionally. 
How has your Oxy education served you after graduation?
Not a day has gone by which has not been influenced by what I learned or did at this wonderful place. My time at the College exposed me to all kinds of experiences that have helped to form my independence from traditional norms and thinking. I learned how to contextualize and not take what I read as fact, but rather interpretation. 
Now, in my profession as a banker, I work with a lot of analysts and those who look at "facts." The story behind those facts and their historical context are where I often find myself in discussions. 
My personal connections with clients are not through numbers, performance metrics, or industry comparisons. They are through common interests—reading, history, politics, global events, and other liberal arts topics. 
How would you compare Oxy today with your own undergraduate experience?
In my day, there were great professors who encouraged and embraced expression of different perspectives. There were movements and protests, debates and discussions, political groups and clubs, sororities and fraternities. Los Angeles was a place of engagement and discovery for those willing to explore its many opportunities. Those things which attracted me to the College back then are still evident today, and diversity—not just in the traditional sense, but also diversity of thought—is clearly present.
How did you get involved with the Board?
I was a volunteer for Oxy for a number of years with the alumni group in San Diego. When my husband and I moved to Los Angeles nine years ago, my friend Chris Calkins invited me to join the Board. It's been a wonderful journey, and I have been involved with many different aspects of the Board's work. The trustees are a diverse group of highly accomplished individuals, and they are deeply and selflessly committed to the success of the College and its constituents.
What do you see as the role of the Board in steering the direction of the College?
President Veitch is responsible for running Occidental and implementing the strategy to fulfill the mission of the College. The role of the Board of Trustees is to set that strategy in partnership with other constituents, ensure strong leadership, and secure the financial stability and viability of the institution. 
What are the Board's goals for the coming year? 
Specific goals for 2016-17 include monitoring and supporting the strategic plan and updating it where appropriate, defining and measuring success internally and externally using key performance indicators, and building a long-term plan to substantially grow our endowment. We have others, but these are among the key priorities.
What are the biggest challenges facing Oxy as we move ahead?
The cost of higher education has skyrocketed far beyond the cost of other goods and services. As I recall, my annual tuition at Oxy was in the $3,000 range. Now the tuition for a four-year, nonprofit, private liberal arts college is well beyond $50,000. That is a significant financial burden, and without financial assistance, most families cannot afford these costs. I believe the single most important challenge facing Oxy is to build the endowment to a level where the College is able to fund tuition for any student needing assistance.
Dean Knauer is retired, and the statute of limitations has expired. Is there anything about your undergraduate years that you now feel free to share?
Oh, boy! I remember doing a few things I would never admit to—perfectly legal, but not for public consumption, even now. I also lived off campus for most of my time at Oxy, so I did not feel so much under the watchful eye of Dean Knauer. Let's just say, my friends and I not only studied hard, but we also had our share of fun.
What's sitting on your bedside table, waiting to be read?
I read a lot for my work, but one of my greatest joys is having four or five books to look forward to. Right now, the following are ­sitting on my bedside table: The Map That Changed the World by Simon Winchester, Shakespeare's A Winter's Tale, Brunelleschi's Dome by Ross King, A Truck Full of Money by Tracy Kidder—and Goodnight Moon by Margaret Wise Brown, which I love to read to my grandson.