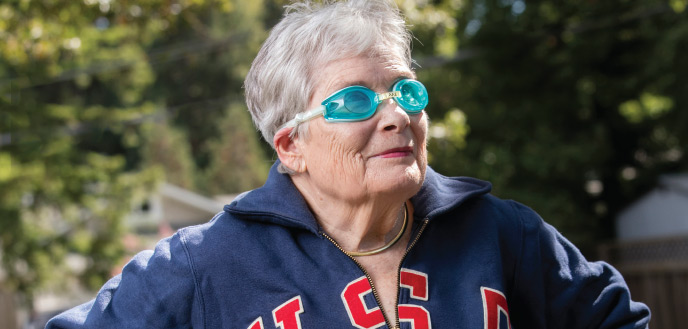 From the age of 12, Jo Ann Brobst Hirsch '58 dreamed of going to the Olympics. She did that and so much more, traveling the globe as an underwater ambassador
"I did not know I was called the 'Oxy Water Queen,'" Jo Ann Brobst Hirsch '58 says with a laugh at her home in Alamo. It's been 60 years since Hirsch and her teammates from the Athens Athletic Club in Oakland entertained audiences worldwide, including the Summer Olym­pics in Melbourne, as ambassadors for synchronized swimming—but Hirsch made an impression on her schoolmates not only with her skills in the pool, but as the unlikely inspiration for Mexico City's signature statue.
From the time she was 12—when a diver from the Athens club came back from the Olympics with a silver medal in the springboard event—Hirsch set her mind on going to the Games. Her opportunity came in a sport whose roots date back to 1907, when Australian swimmer and vaudeville star Annette Kellermann dazzled audiences with her "underwater ballerina" routines in a glass tank at New York City's Hippodrome Thea­tre. Esther Williams later popularized synchronized swimming in the movies as a contract player for MGM (she even played Kellermann in the 1952 biopic Million Dollar Mermaid).
In 1941, the American Athletic Union added synchronized swimming as an ­official competitive sport for duet and team events, holding the first national team champion­ships five years later. "After World War II, a man came in and started the Athens Water Follies at my club," Hirsch recalls. "There was another girl my age, and we did a little act: She had on a lifejacket sort of thing, and I pretended to fall in the pool and call for help."
First by bus, and later by train, Hirsch traveled with her teammates to AAU contests across the country, even winning the Canadian national championship in 1955. "I liked the competition, and I enjoyed performing in front of people," she says.
"Joey" to her classmates, Hirsch attended Oxy in an era when women had to all but create their own opportunities to play sports. As a freshman, she took a bus every Saturday morning from Eagle Rock to the Hollywood Athletic Club, where she worked out with a swimming coach. One of her first jobs at Oxy was as a lifeguard at Taylor Pool. "I used to go out on dates with wet hair and bloodshot eyes," she says. "Those are the things you put up with."
A political science major, Hirsch got a call from the Athens club as a sophomore inviting her to join a new team to compete for the national championship in synchronized swimming—with the winning squad going on a three-month world tour, sponsored by the AAU and the State Department, culminating with the Olympics. To participate meant leaving Oxy for a semester to practice with the team—which she did only after being assured by the dean of women that she could return to finish her studies.
In September 1956, after win­ning the champion­ship, the team commenced its tour with a party at the New York Athletic Club, followed by a show at West Point. From there, they flew to the Netherlands, then on to Denmark, Sweden, Paris, London, and Switzerland. They landed in Egypt prior to bombings by the French and the English at the outbreak of the nine-day Suez Crisis, and performed only one exhibition before U.S. officials decided that they needed to be evacuated. Hirsch and her teammates spent three days aboard a U.S. Navy ship with other evacuees en route to Malta. From there they went on to Rome, India, Pakistan, Sri Lanka, Thailand, Jakarta, and then to Melbourne, where they performed their routines at the Olympic pool to start each evening. "In all of these places we put on clinics to introduce synchronized swimming," she says. "We were pioneers of the sport. And I really did see the world."
And to this day, Hirsch's likeness towers over Mexico City, high on a 155-foot column. That story begins on a 1957 trip with her teammates to the Mexican national cham­pionships, when Hirsch was approached at the pool by "a gentleman who asked me to lift my arm," she recalls. With her chaperone in tow, Hirsch visited the studio of sculptor José Fernández Urbina, who took photos of her in a swimsuit as the model for the Angel of Independence—a statue commemorating Mexico's independence that had been damaged during an earthquake in 1956.
After pictures of Hirsch appeared in the Mexican press, "There were some angry sentiments about picking an American girl to be the model," she says. In response, Urbina insisted that the statue would be a conglomeration of several models. Even so, to Hirsch's surprise she faced a flurry of reporters back at Oxy, which is how she wound up in the pages of the Los Angeles Times and Newsweek.
On a trip to Mexico City in the 1970s, Hirsch and husband Vin saw the restored statue, shiny and golden, up close. "The arms are definitely mine and the legs are mine," she recalls, "but the torso wasn't mine."