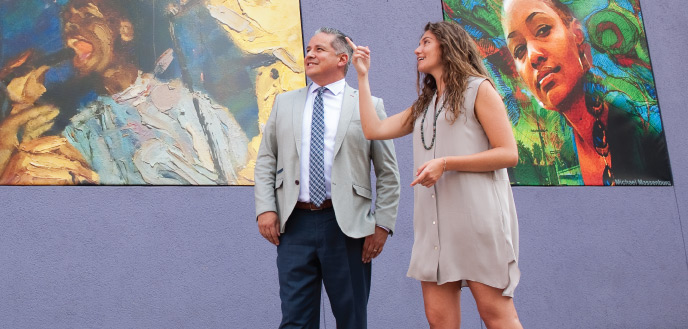 Eduardo Santana '99 and Eve Critton '15 lead the ground force to renew, reinvent, and revivify downtown L.A.'s Pershing Square
Los Angeles has famously been accused of being 40 suburbs in search of a city. That may be debatable, but the historic, still-beating heart of L.A. proper is downtown, and the center of that is Pershing Square.
The five-acre plot, which is actually a rectangle, is positively Jurassic by local standards. Its origins date back to 1866, when Mayor Cristobal Aguilar dedicated the space as La Plaza Abaja. Since then it's been rechristened and redesigned a number of times. Through its evolution, the square has acted as a bucolic social hub; a backdrop for civic celebrations; a stage for protests, panhandlers, and soapbox preachers; and a place for the homeless to sleep.
As the suburbs grew and sapped downtown's vitality after World War II, the city's oldest park began a lengthy decline. It became neglected, unsafe, and charmless. In 1952, the entire park was excavated, a subterranean parking garage was built, and the square was reconstituted on a thin layer of dirt atop the concrete that had replaced grass. Palm trees were removed (many ended up at Disneyland, gracing the Jungle Cruise). Despite a 1994 renovation adding music and film events and other activities, Pershing Square hasn't fulfilled its potential for the rapidly changing face of downtown Los Angeles and its growing community. "Once a cool jungle paradise in the heart of downtown, Pershing Square has been modernized into a hot five-acre rooftop," L.A. architect Charles Moore once scoffed.
Eduardo Santana '99, executive director of the nonprofit Pershing Square Renew project, is leading the charge to rectify that. He has guided the mission since its inception two years ago, and in May, a new design was finally unveiled after an international competition. The winning team was led by Agence Ter, a French landscape architecture firm, and includes L.A.-based SALT Landscape Architects. The plan will cost at least $50 million and is slated for completion in 2020.
Though Santana is at the helm of this massive undertaking, there was a time when Pershing Square was little more than a curiosity to him. "My first job out of Oxy was at a web development company here in downtown," he says, sitting at a café on Olive Street directly across from the square. "I used to drive from southeast L.A. and through Skid Row—it was always the best route 'cause there was hardly any traffic—and I'd drive by Pershing Square and never really knew what it was. I just saw the walls and the big tower and was like, 'I wonder what's in there?'"
The L.A. native grew up in Bell Gardens, one of eight children to parents who had emigrated from Mexico. Santana spent his early years as an apprentice under his father, a drywall hanger, on construction sites throughout the Southland, an early link to his chosen field of real estate development.
After high school and a year at Northfield Mount Hermon School in Massachusetts, Santana enrolled at Oxy as a public policy major. "I delved deeply into sociology, economics, public policy, and politics, and shaped a curriculum that collectively guided my professional pursuits," Santana says. "I fell in love with the community and the people and the brilliant professors and the spirit of the school, and being closer to the core of Los Angeles." (That's not all he fell in love with: Meeting his wife of nine years, Claudia Delgado '01, "was the biggest blessing of my time at Oxy," he adds.)
Santana's inherent passion for the City of Angels took flight at the College as well. Among his favorite classes was a course taught by Harold Meyerson, a keen Los Angeles historian brought in by E.P. Clapp Distinguished Professor of Politics Peter Dreier as an adjunct professor. "He was the editor of LA Weekly at the time, and it was interesting to learn about the city through his eyes," Santana recalls. "It got me interested in looking to how I could impact the city's development over time."
While working as a fundraiser at the USC Lusk Center for Real Estate, Santana studied for an MBA in real estate development and finance at USC's Marshall School of Business, graduating in 2006. A succession of jobs in real estate led to a position as a development consultant for MacFarlane Partners, a pioneer in the urban investment concept in real estate management.
In 2014, working on a Pershing-adjacent property—a 99,000-square-foot parcel of land at the northeast corner of Fifth and Olive streets—the company began a dialogue with the city to seed a nonprofit to transform Pershing Square. "It had so much potential," Santana says. Turning to 14th District City Councilman José Huizar, who oversaw a task force to revitalize the space, Santana said, "That's me right there. I'll make that happen for you."
"You need people on all sides who can communicate, implement, and execute plans, and Eduardo brings that to the table from the private sector side," says Huizar, whose district also includes Eagle Rock and the Oxy campus. "He is also a very easygoing guy—and that helps I think when you have to communicate and do so effectively with so many different people. He's been a solid partner in that respect as well."
Eve Critton '15 sits with Santana across from the square, sipping an iced tea, gazing into the future. "Most of what you see now will be eliminated. I'm looking at fences and walls and can't really see inside of the park. If I was sitting here a few years from now I'd be able to look across and see the building on the other side. It'll be flat and green."
Critton, who grew up in flat and green Rumson, N.J., graduated from Oxy with a degree in diplomacy and world affairs and began working with Santana last January as the project's development and external relations coordinator. They both have Occidental to thank for their professional union, which came through classmate Alex Keat '15.
"It was the craziest day when I first met Eduardo," recalls Critton. "I had just moved into my new apartment and my car had just been delivered from the East Coast. I get this call and a man's voice says, 'Hi Eve, it's Eduardo, Alex's friend. Can you be downtown in 40 minutes?' I was like, 'OK, yeah!'"
The next day Critton accompanied Santana to a class at Oxy taught by Sherry Simpson Dean, adjunct lecturer in diplomacy and world affairs. Santana was sharing his experiences with the Pershing Square project with Dean's students—and his talk sold Critton as well. "What attracted me most was his passion for it," she says. "You could tell how invested he was in the rejuvenation of downtown and Pershing Square as a people project, not just a design project. I've always been interested in urban life and community development, and I thought what Eduardo was doing was a great way to get involved with this new era of downtown."
"When I think of Eduardo, I'd put his humanity at the top of my list," says Dean. "He's concerned with the impact that the Renew project will have on everyone. It's not just about personal gain, it's about community with Eduardo, and I think that illustrates his willingness to engage with the Oxy community as well."
Dean adds that the Santana/Critton presence at the Renew project exemplifies the power of the Oxy network. "Students like Eve are the kind of people you want working in your company. It's really about wanting to make a difference in the world. Eve went in looking to be part of something, and that's what they've created together."
What they've created appears to be working. "Eve's in the trenches with me every day," Santana says. "She's in every critical conversation, and she manages several aspects of what we do, including our social media. In a lot of ways I view myself as her mentor. She has tremendous potential to grow into a very effective and influential leader."
"He's really helped me to have the presence to play ball with the big boys," Critton says of Santana. "I can't imagine learning more then I have here in the last eight months. It's been incredible, the career skills that I've gained."
A stroll through present-day Pershing Square is no walk in the park. "As a woman, at night I don't go there, absolutely not," Critton says. "A lot of my friends who work downtown, even during the day won't walk through it. And it doesn't have the greatest smell all the time."
The smell is but one thing about the square that will change. Pershing Square "is a crucial element in the transformation of downtown from an office park to a true city," says Renew board member Robert Jernigan, regional managing principal at Gensler,  one of the world's largest architecture and design firms. "What you've got to do is get people to live down here, and you have to have parks and green space. Eduardo is a great consensus builder. He knows what needs to get done."
The plan proposed by Agence Ter will presumably do the job, according to Christopher Hawthorne, Los Angeles Times architecture critic and an adjunct professor of urban and environmental policy at Oxy.
"The winning design focuses on opening the park directly to the sidewalks around it, replacing concrete with grass and providing extensive new pockets of shade," he wrote in the Times earlier this year. "It is very much a reaction to, if not an outright apology for, the visual clutter of present-day Pershing Square, which remains a conspicuous dead space in an otherwise revived and money-soaked downtown."
"People vote with their feet," Santana says. "We'd go on a beautiful day, and the square was largely empty and underutilized. I saw it as a huge opportunity for the city and the community that was coming as downtown transitioned."
And how will the current re-do differ from the last effort, which was less than successful? "We know what downtown is becoming," Santana says. "Because of that we can make decisions for that future. In 1994, people didn't have a sense of what it could become. It was the world's largest office park, where people drove in to work and then spent their quality hours in suburban communities. That's no longer the case."
"Eduardo is a really an extraordinary human being," says Fred Kent, founder and president of New York City-based Project for Public Spaces and an adviser on the Pershing plan. "He's on track to supply the city with a dynamic place that everyone is looking for but they don't know what it is. He's a visionary."
At the moment, Santana's vision is of the current, less-than-idyllic Pershing Square as he strolls through the storied space, passing a wide swath of Astroturf. "The square has tremendous potential and irreplaceable assets," he says, "namely the historic L.A. skyline around it."
Framed by the grand Biltmore Hotel and other structures of vintage Los Angeles, you see what he's talking about. The square could and should be a living, vibrant thing once again, a significant part of the fabric in this enduring place. "It really wants to be the city square," Santana says—"the most important public space in the city."
Peter Gilstrap wrote "The Book of Shtulman" in the Spring issue. Photo by Kevin Burke.