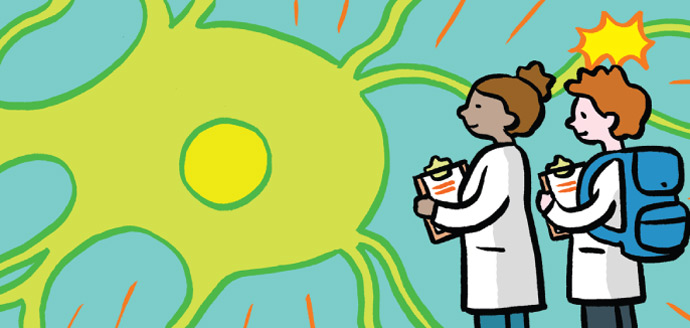 Faculty interest and student demand fuel a mini-boom in academic minors at the College
There's been a major development in academic minors at Oxy: With little fanfare, five new programs have been approved by faculty over the last six years, in subjects ranging from computer science to public health.
The growth is the result of an organic faculty- and student-driven process, according to Kerry Thompson, associate professor of biology and interim vice president for ­academic affairs and dean of the College.
"Minors at Occidental tend to be interdisciplinary—subjects that lie at the intersection of several different fields," says Thompson, who helped create the successful proposal for a neuroscience minor three years ago. "That gives us the flexibility to draw on existing resources and create new programming in a meaningful way."
Minors also enable the College to ­address emerging areas of study fueled by faculty interest and student demand, Thompson notes, adding that each proposal for a new minor includes extensive research on similar programs offered at peer institutions. "If other schools are offering related programming to their students, that can inform our decision-making process."
Any student is allowed to declare an academic minor, consisting of at least 20 units chosen from a list determined by participating departments, no later than the fall semester of their senior year. In addition to being able to declare a minor in any academic major, Oxy now has nine programs in which only a minor is offered.
Gender, women, and sexuality studies (GWSS), approved by faculty last May, is the newest minor, but represents a revival of Oxy's women's studies program, launched as a minor in 1980, approved as a major in 1991, and phased out in 2008 with the addition of the critical theory and social justice major.
Student demand drove the process to create the GWSS minor; the proposal pointed out that 16 of 18 colleges on Oxy's official comparison group list already offered a minor or major in the field. On the other hand, interdisciplinary writing—currently the most popular minor—appears to be unique among Oxy's peers. "I've been asked to go and talk on other campuses about it," says Julie Prebel, program chair, associate professor of writing and rhetoric, and director of writing programs. "Most of our classes are full after the first day of registration."—JIM TRANQUADA
New minors at Oxy since 2011
Computer science (22 students)
Gender, women, and sexuality studies (5 students—new this semester)
Interdisciplinary writing (31 students)
Neuroscience (19 students)
Public health (22 students)