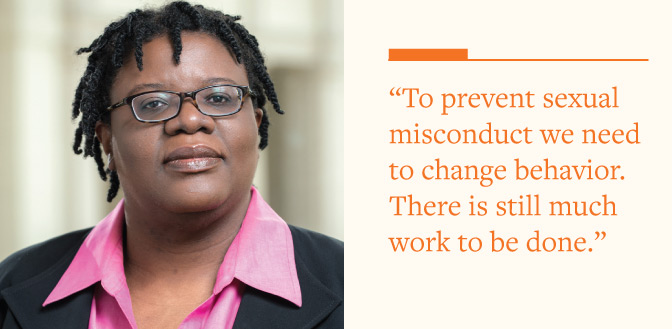 As Oxy's first full-time Title IX coordinator, Ruth Jones championed transparency in dealing with sexual misconduct and gender equity 
When Ruth Jones arrived on campus in February 2014 as the College's first full-time Title IX coordinator, Oxy was in the midst of a painful and very public debate over its handling of sexual assault. When she left in August to begin the next chapter of her life, new policies and procedures were in place, a major investigation by the U.S. Department of Education had been resolved, and a new level of transparency had been achieved.
"Ruth has had an enormous impact on the College's response to sexual violence, harassment, and other equity issues," said President Jonathan Veitch. "Her integrity, her empathy and wisdom, her patience and skill in cultivating trust, and the collaborative approach she has fostered have inspired us and moved us forward."
Before her final day on campus, Jones sat down to discuss not only the evolution of Oxy's response to sexual misconduct but what's ahead on the national level.
Where are we today in the fight against sexual misconduct? I took this position because I believed that we were at a unique time in history, when the motivation to address sexual violence on campus and within the broader society was very high. It was a chance to really confront some of the underlying causes of sexual ­assault and shape an appropriate response.
In order to solve this, we have to collectively think about how to support survivors, what a fair process looks like, how to manage a process that sometimes gives us results we are unhappy with, and how to address the underlying causes of sexual violence and design effective prevention programs.
That window may be quickly closing. I fear that the Trump administration will be focused on a misguided effort to incorporate criminal law due-process requirements into college administrative processes.
What's the difference between the administrative process used in campus sexual misconduct cases and criminal law? During the last few years, colleges have been accused of not providing sufficient due-process protections to those accused of sexual violence by comparing due-process protections that students receive to protections against criminal defendants.
But the colleges' process is not designed to determine if a student has violated criminal law. Rather, colleges determine if an individual has violated the college's policies or student code. During this administrative process, students have due process rights but not the same rights as a criminal defendant. Courts, including the U.S. Supreme Court, have held that due process in college administrative proceedings generally means notice of the allegations and an opportunity to be heard—that is, to challenge the evidence.
How do you think we're doing relative to other campuses? I'm not sure it's helpful to compare ourselves to other schools. At Oxy, I think awareness today might be greater—people know we have a policy and an affirmative-consent standard. But that has been insufficient to get people to change their behavior. We need to have a climate in which students actually seek affirmative consent, rather than just knowing how to define it. While we have certainly made progress, to prevent sexual misconduct we need to change behavior, and we have to do that within a culture that still unfortunately supports misogyny. There is still much more work to be done.
How would you compare today's situation at Oxy with the one that you found when you arrived? One major difference is in having a full-time Title IX coordinator. I have only one goal and one priority every day, and that is to advocate for gender equity. I don't have to balance it with other parts of my portfolio. I think that's been helpful to the community.
What are you proudest of during your tenure at Oxy? Transparency. To the greatest extent that we could, we shared what we do with the community. That includes administering the campus climate survey, sharing the results, providing community reports, and detailing how we resolved formal complaints.
Is the elimination of sexual violence a realistic goal? That has always been the goal. But it can only be reached with collective, collaborative effort. We need everyone thinking about it and how they can make a contribution. We are a community in which learning is valued, in which students come in and go through wholesale changes before they graduate. That's why it's appropriate for colleges to be leaders in addressing sexual violence. I believe that we can eliminate sexual violence, and I always saw that as my objective.
What is the hardest part of the job? There's never a successful complaint resolution process. When there's a complaint, there's only sadness, because whatever happens as a result of the complaint, we have students who have been impacted by sexual violence. The student who brought the complaint, the student who is accused, and all the witnesses involved are often all in the same group of friends. So every time there was a complaint, it is a failure—we didn't prevent it. That's the hardest part.