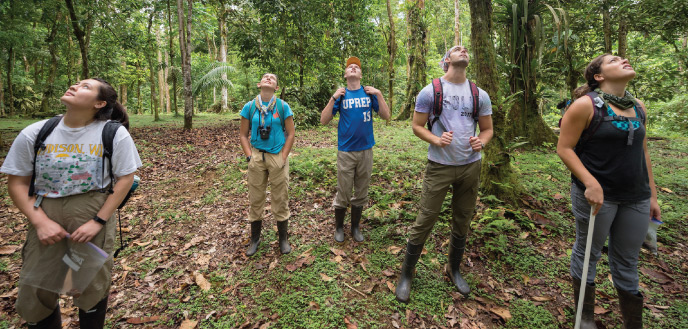 For three Oxy professors and a research team of eight undergraduates not afraid of a little rain, La Selva Biological Station is the ultimate field trip 
Hannah Hayes '18 spent two weeks of her summer in Costa Rica studying grasshoppers. A biology major from Dana Point, "I originally was planning to study neurobiology," she explains—but after taking a marine biology class at Oxy, "I realized that you can be a scientist and be outside and still ask important questions." A friend who worked in the Vantuna Research Group told her about her  experience doing her own research project at La Selva Biological Station in Costa Rica. "I really wanted to do that," she says.
Soon after, Hayes was talking to biology professor Beth Braker about grasshoppers, and back in June she made her second trip to La Selva, battling humidity and discovering wonders in the tropical rain forest while photographing 22 varieties of grasshoppers (and researching an additional 15) for a series of field guides. "A lot of these hoppers are ­really not well known because they're rare or arboreal so they only hang out in the tops of the trees," she explains. "You just can't find any information on them."
Braker's first time at La Selva was as a study-abroad student at Bryn Mawr, during a tour of Costa Rica. "It involved a 5-hour bus ride, a 30-minute boat ride, and a climb up a steep set of steps," she recalls. "That was my first introduction to a real rain forest, and it was fantastic." Over the decades, she's watched La Selva grow from "a little shack on the riverbank to being the preeminent research station for work in tropical forests," she says. "That's because of a lot of hard work, all the incredible science that has been done here over the years."
Sitting on 3,900 acres of mostly tropical rain forest, La Selva is one of three stations in Costa Rica operated by the Organization for Tropical Studies, a nonprofit consortium of universities, colleges, and research institutions that purchased the property in 1968. (Braker currently serves as secretary of the OTS board of directors.) Oxy has sent close to 150 students since the 1990s, thanks to support from the National Science Foundation and various College sources, and an anonymous foundation gift will fund Oxy's work at La Selva for the next four years.
"La Selva is a place for any student interested in living things," says biology professor Gretchen North, who studies the plant biology of the region and made her first trip to Costa Rica on an ecological tour of coffee plantations organized by Braker in 2005. Together with Braker and associate professor of philosophy Clair Morrissey, North shepherded a group of eight Oxy undergrads on a two-week research trip to La Selva in June. "It's very hard to get lost, even if you are by yourself," she says, "as long as you stay on the trails."