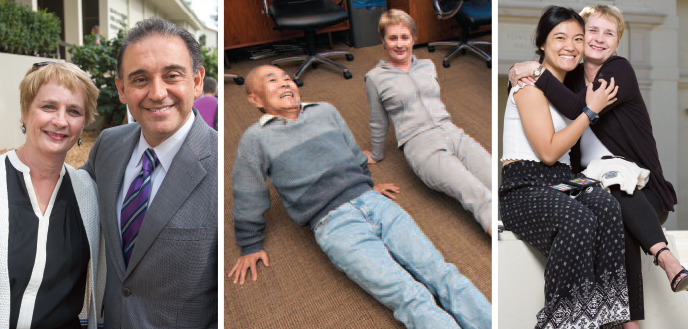 Kind, focused, concerned, and effective, Carolyn Adams (1950-2018) embodied the spirit of the Oxy community
Everyone who worked with Carolyn Adams has a story about her. As the editor of this magazine, I listened when Carolyn brought me a story idea. She encouraged us to profile Tetsuo Otsuki, the Bertha Harton Orr Professor of Chemistry—her good friend Dr. O—who was battling cancer with the support of his former student, an oncologist and bone marrow transplant specialist at Kaiser Permanente. She also pitched the partnership and love story of world travelers Mandy Boesche and husband Roger, the Arthur G. Coons Professor of the History of Ideas. The common theme between the stories—of overcoming obstacles and living life fearlessly—could very well apply to Carolyn, who retired in March after three decades of dedicated service to Oxy, including 20 years as executive assistant to the dean of the College.
Like Otsuki and Boesche—who died in 2012 and 2017, respectively, each at only 69—Carolyn has left us far too soon. Word of her passing August 24 at age 68 after a 15-month fight against cancer was met with a swift outpouring of messages from the Oxy academic community she loved dearly.
"Carolyn's personality and professionalism were so remarkable as to make her incomprehensibly rare and so inestimably valuable," professor of English Dan Fineman wrote. "In the decades I have worked with her, I came to her a hundred times with my petty needs and confusions. In every single instance, she met me with a genuine and ­humane kindness, focus, and concern, and a rapid effectiveness that was nearly unparalleled. In an age when the non-response response is almost standard, she always quickly answered my queries with accurate information and a kind thought. She did this despite the enormous burdens already on her plate and within an institutional ethos that did not always share her capacity to act and feel. ­Incredibly, she performed these same daily miracles with everyone without ­exception. She shed light everywhere."
Fineman continued: "In darker moments, I would sometimes reflect upon her example, and recognize that hers was a better way: more productive, more in touch, and more socially constructive. I found in her an ethical and political paragon. She was the hub of our institutional wheel, the still point of our turning world, reliable and steady, central and dependable. While her nominal position—her job title—never reflected her immense structural influence, neither its scope nor its excellence, everyone knew by experience what no org chart could present."
At Opening Convocation on August 28, Oxy professors wore cloth sunflowers on their regalia to honor Carolyn's memory. She worked with six deans over 20 years after a decade as an administrative assistant in the philosophy, mathematics, physics, and languages and literature departments. Associate professor of biology Kerry Thompson, who was interim dean of the College in 2016-17, called Carolyn "one of the most amazing spirits I have ever met. I will cherish the memory of her smile, her deep understanding of people and the world at large, and her purposeful and positive impact on our community."
Current and former colleagues and friends honored Carolyn at her retirement reception last spring, paying heartfelt tribute to her role as a builder and sustainer of the Oxy community. After Otsuki was diagnosed with cancer in February 2011, for instance, she assembled a support group that grew from a handful of faculty, staff, students, and friends to more than 50. In presenting the first-ever Dr. O Humanitarian Award to Carolyn in 2014, Jorge Gonzalez, then vice president for academic affairs and dean of the College, remarked, "You truly are the embodiment of what this award is all about."
In addition, Carolyn was honored with the Sarah A. Gilman Memorial Award in 1997, the Administrative Achievement Award in 2012, and the Presidential Medal for Distinguished Service to the College last May. Survivors include her husband of 46 years, Pat; children Chace, Cary, and Casey '03; and seven grandchildren. 
"We are lucky to have had Carolyn and her gifts as long as we did," wrote Susan Molik, senior academic services assistant and Institutional Review Board coordinator. "I hope we can maintain and share that light on campus (and off) with those around us."—Dick Anderson