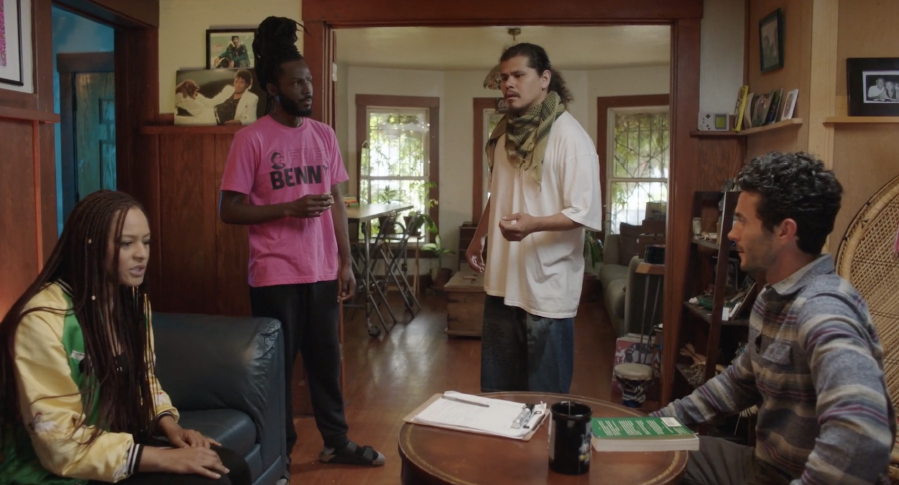 New books—and a web series—by Oxy alumni
Stream this: Now in its second season, the comedic web series The North Pole explores how three best friends from Oakland struggle to stay rooted as their neighborhood becomes a hostile environment. Co-creator and co-producer Darren Colston '02 and director Yvan Iturriaga '03 examine issues of gentrification and global warming as Nina, Marcus, and Benny combat evil landlords, crazy geoengineering plots, and the threat of deportation. "Since the early 1900s, what happens at the border has been very problematic," Iturriaga told KQED arts writer Nastia Voynovskaya. "It's something we need to be talking about, and we need to address why it's happening."
co-creator and co-producer Darren Colston '02 and director Yvan Iturriaga '03 came to Choi Auditorium on October 30 for a screening and discussion of their web series—and some of their Oxy buddies came out for the event. From left, Horacio Aceves '03 (program coordinator of Upward Bound), Ricky Horne Jr. '04, Colston, Iturriaga, and Will McFadden '01. The North Pole
, by Christopher Varelas '85 and Dan Stone How Money Became Dangerous: The Inside Story of Our Turbulent Relationship with Modern Finance (Ecco). Money used to be simple: a bank account, a mortgage, perhaps some basic investments. Wall Street didn't have a reputation for greed and recklessness. That all began to change in the 1980s, as financial systems became increasingly complex and the financial world began to feel like an enigma—a rogue force seemingly controlled by no one. Drawing on firsthand involvement in the events that shaped modern money, Varelas journeys from the crime-ridden L.A. jewelry district to the cutthroat Salomon Brothers trading floor, from the high-stakes world of investment banking to the center of the technology boom, capturing the key deals, developments, and players that made the financial world what it is today. How Money Became Dangerous also makes the case for why Wall Street needs to be saved, if only to save ourselves. Varelas is a founding partner of Riverwood Capital, a private-equity firm in Menlo Park, and an Occidental trustee.
, by Rev. Steven Greenebaum '70 One Family: Indivisible(MSI). Throughout history we have divided ourselves into groupings of "us" and "them." In One Family: Indivisible, Greenebaum shares his own deeply spiritual and lifelong journey as a way to acknowledge our differences without dividing and subdividing ourselves into competing tribes. In a brief passage, he discusses "several wonderful awakenings" he experienced going to college, including choral music, the "incredible diversity and beauty of humanity's myths," and the "diversity of humanity" he met at Oxy. "I deeply believe in the importance of a liberal arts education," writes Greenebaum, who retired last June as founding minister of the Living Interfaith Church in Lynnwood, Wash.
, by David Meltzer '90 Game-Time Decision Making: High-Scoring Business Strategies From the Biggest Names in Sports (McGraw-Hill Education). When the pressure is on, great coaches remain laser-focused, confident, and fully in charge of their roster. They're the same way when it comes to developing strategies and game plans to succeed. In short, they always win because they have a superior decision-making process. Meltzer provides everything you need to build a championship-level business. Meltzer is co-founder and CEO of Sports 1 Marketing, a global sports and entertainment marketing agency. He lives in Ladera Ranch.
, by Marilyn Nottingham Robertson '70 Noir Librarian(Alibris). Robertson is retired from the Los Angeles Unified School District, where she worked first as a teacher and eventually as coordinating field librarian, traveling to help the many elementary schools in the district. In her debut collection of poetry, she combats the "dreadful" stereotype of librarians, writing a dozen poems in the persona of "Noir Librarian," a character she cooked up while studying with L.A. poet Suzanne Lummis. (Lummis praised the 50-poem collection as "deft, appealing poems with a swath of mischief, a dash of humor, and ample humanity.") Robertson has been publishing poetry since 2006, including two poems in the 2015 anthology Wide Awake: Poets of Los Angeles and Beyond. "Although I have a doctorate in education from USC, this is my first published book that is not a dissertation," she writes.
, by Suboh Suboh '10 The Well of Simplicity: Poems About Bodybuilding(writing as Almira Colby). With titles such as "Squats," "Deadlifts," "Dumbbell Rows," and "Leg Curls," Suboh examines the superabundance of intriguing knowledge that can be creatively articulated by bodybuilding poetry. "I read a lot of intriguing literature about bodybuilding by Steve Reeves and Arnold Schwarzenegger and I was inspired by the cerebral, creative, and cheerful elements that were present in their work," writes Suboh, who majored in critical theory and social justice and lives in Los Angeles.
, by Lindy West '04 The Witches Are Coming (Hachette Books). In a collection of essays that examine misogyny in the #MeToo era, West extolls the world-changing magic of truth, urging readers to reckon with dark lies in the heart of the American mythos, and unpacking the complicated politics of not being a white man in the 21st century. "For a long time, a certain set of men have called women like me 'witches' to silence and discredit us," West told NPR—and The Witches Are Coming intends "to reclaim" that term. West is an opinion writer for The New York Times and author of the acclaimed memoir and Hulu series Shrill. She lives in Seattle.