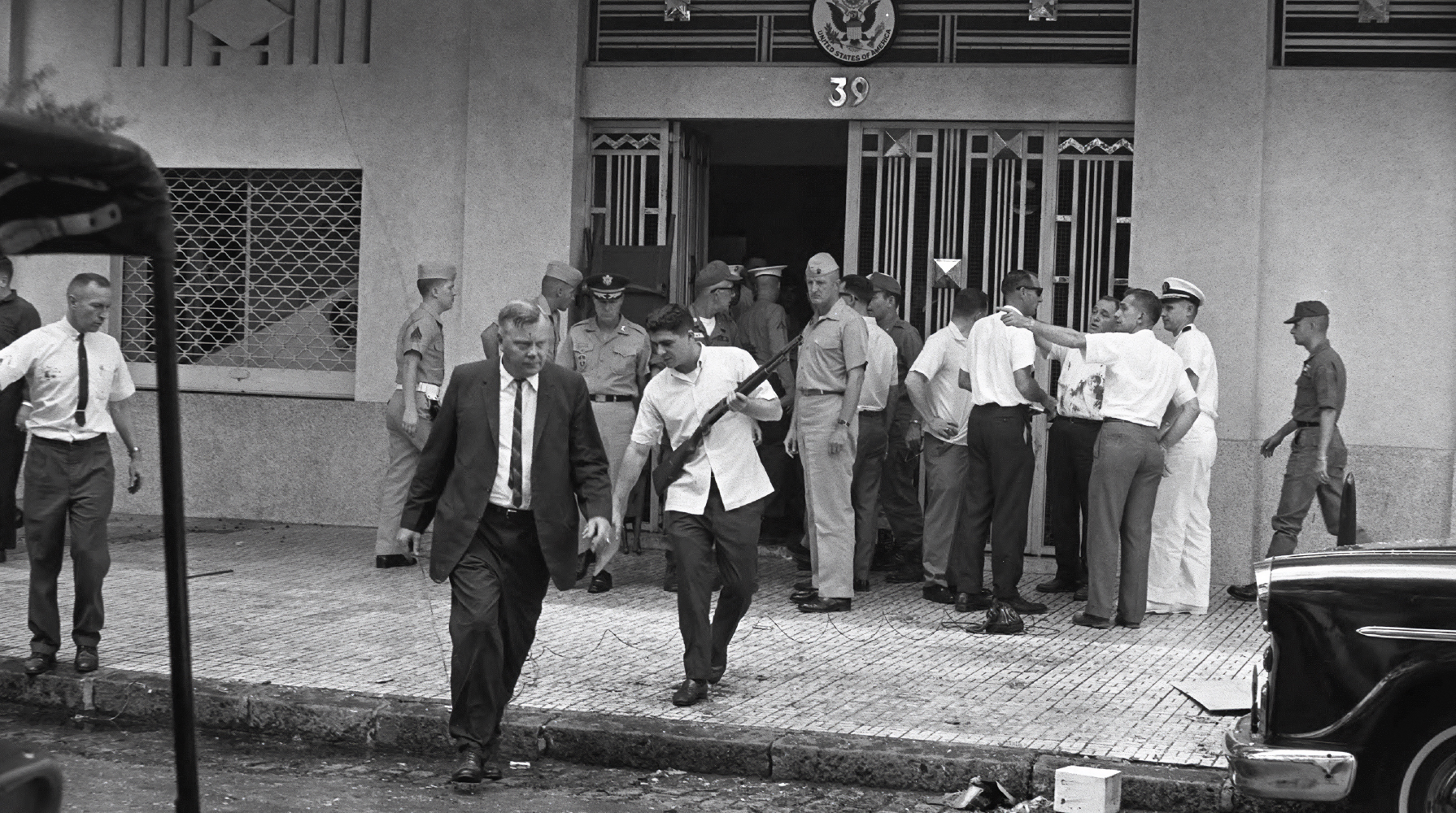 Occidental's ties to foreign relations run deep—not just in the U.S. government, but in Japan and South Africa as well
At the suggestion of a professor of labor relations at Oxy, U. Alexis Johnson '31 wrote to Washington, D.C., as a senior for information on the U.S. Foreign Service, which in 1924 merged the nation's diplomatic and consular services into a single organization. Several months after graduation, he drove to Washington in his Ford Model A, enrolling in the Foreign Service School at Georgetown in preparation for the Foreign Service exam.
Johnson passed the exam and became a career diplomat, leading to a succession of posts as U.S. ambassador to Czechoslovakia (1953-1958), Thailand (1958-1961), and Japan (1966-1969). From 1964 to 1965, he was deputy ambassador to the Republic of Vietnam. (In the above photo, Johnson is shown evacuating the U.S. Embassy in Saigon on March 31, 1965, after a car bomb parked outside the building killed 22—19 Vietnamese, two Americans, and one Filipino.) 
"I have found that what I learned at Occidental has stood me in very good stead for a Foreign Service officer," Johnson wrote in his 1984 memoir, The Right Hand of Power. "There are a lot of hard factual matters important in international affairs—foreign trade, banking laws, tariffs, international exchange, and arbitrage—that one cannot easily pick up on the job but must learn through study."
Johnson's classmate and College debate partner, Toshiro Shimanouchi '31, entered the Japanese Foreign Service following WWII, serving a succession of prime ministers as their English translator on official visits to the United States and United Nations and finishing out his career as Japanese ambassador to Norway. "From all my experiences, I have learned how basic and vital is the function of communication between nations and peoples," he said at Oxy's Commencement in 1981. "Without an adequate flow of information in balanced perspective, there cannot be adequate and meaningful mutual understanding."
A member of the Foreign Service since 1951, Harvey F. Nelson Jr. '47 was nominated by President Ronald Reagan to serve as U.S. ambassador to Swaziland (Eswatini) in 1985—a post he would hold until 1988.
Raymond C. Ewing '57 entered the Foreign Service soon after his 21st birthday and would serve decades later as U.S. Ambassador to Cyprus (1981-1984) and Ghana (1989-1992). His history major at Oxy made a "tremendous" impact on his career, "especially courses on modern Europe with John Rodes, modern Asia with P.K. Mak, and international relations with Ray McKelvey," he wrote in 2002.
In 1979, Time chose David Aaron '60 as one of "50 Faces for America's Future." He was lauded for his service as a diplomat, his expertise on arms control, and his role in the SALT II negotiations (he served as President Jimmy Carter's deputy assistant for national security affairs from 1977 to 1981). In 1993, Aaron was named U.S. ambassador to the Organization for Economic Cooperation and Development, a position he held until 1997.
A native of Johannesburg, South Africa, Aggrey Mbere '69 spent most of his adulthood living in exile in America, frequently speaking on the anti-apartheid struggle back home. After returning to South Africa, he was appointed as the country's ambassador to Rwanda in 2001. Mbere died two years later at age 64. At his memorial service, Deputy Foreign Minister Aziz Pahad hailed Mbere as "an outstanding patriot whose whole life was unconditionally and totally dedicated to the struggle of the people."
Before entering the Foreign Service in 1978, David Dunn '71 worked for the City of Escondido. Since 1988, his focus has been Africa, with overseas assignments in five countries prior to his appointment as U.S. Ambassador to Zambia (1999-2002)—a post now held by Michael Gonzales '96. Dunn also served as U.S. ambassador to Togo (2005-2008). He retired from the Foreign Service in 2010.
William Bellamy '72 capped a 30-year Foreign Service career as U.S. ambassador to Kenya from 2003 to 2006, where he directed U.S. security programs in the Horn of Africa, supervised the government's largest foreign HIV/AIDS program, and led a multinational effort to promote good governance.
Appointed by President Barack Obama '83 as U.S. ambassador to Belgium in August 2013, Denise (Campbell) Bauer '86 focused on transatlantic security partnerships and international trade. Upon returning from Brussels in 2017, she re-engaged in politics, focusing on supporting women running for office for the first time. Last December, Bauer was sworn in as U.S. ambassador to France and Monaco—and her small rescue dog, Daisy, sometimes joins her at work.