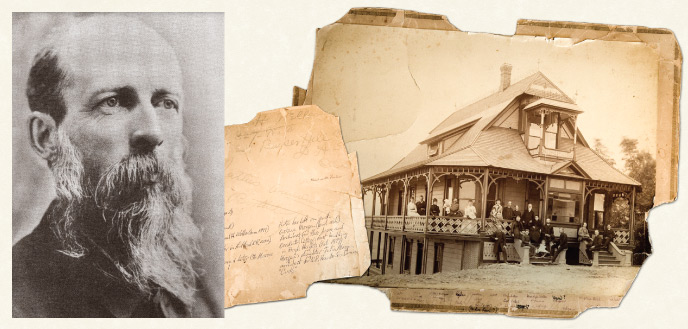 Occidental's founding president has always been something of an enigma. But a treasure trove of family keepsakes and archival research reveals a fuller portrait of Rev. Samuel H. Weller
By Paul Robert Walker '75
On Christmas Eve 1889, Samuel H. Weller and his sister-in-law, Kathryn, drove into Los Angeles in a buggy drawn by the Wellers' trusty nag, Old Prince, to do some last-minute shopping. Returning home to Boyle Heights that rainy night, they attempted to cross the swollen Los Angeles River at the covered Macy Street Bridge, one of two bridges that had not been wiped out by the storm. By the time they reached the center of the bridge the water was up to their feet in the buggy, son Hal recalled decades later, but Weller had faith in Old Prince and decided "it would be as bad to go back as to go ahead."
Weller exhibited a similar "go-ahead" attitude throughout his life, bridging the American frontier and the rise of the modern West over a nearly 50-year span that included stints as a pastor, principal, lecturer, real estate developer, and founding president of "Occidental University" in 1887. As much of Occidental's early history perished in the 1896 fire that destroyed the original Boyle Heights building, the record of the Weller era at Oxy has been a piecemeal collection of board minutes, newspaper clippings, and ephemera that has surfaced over the years.
More than a century after his passing, though, Weller's legacy can be seen anew in no small measure through the research of Patricia and Donald Weller, Samuel's grandson (one of two sons of Hal's younger brother, Earle). Pat, the family genealogist, spent five months researching Weller, whose salt-and-pepper beard has long been his defining characteristic to the Oxy community. Upon closer examination, a portrait emerges of a dynamic individual who willed Occidental into existence with a handful of like-minded Presbyterian brethren.
Born on Sept. 9, 1833, in Dayton, Ohio, Samuel Harold Weller grew up on a farm in nearby Euphemia, now part of Lewisburg. Euphemia was on the nation's first interstate highway, the National Road connecting Maryland and Illinois, and as a boy Weller would have been exposed to the daily flow of the westward emigration. Just three years after he was born, a pair of Presbyterian missionary couples, the Whitmans and the Spauldings, crossed the Rocky Mountains to Oregon.
Although destined to travel far in life, Weller studied some 40 miles from home in Springfield, Ohio, at Wittenberg College, which had been founded by Lutherans in 1845. College records list his religious affiliation as Lutheran and Presbyterian, and he dedicated his life to the Presbyterian faith. Weller graduated in 1856 as valedictorian in a class of six. In March of his junior year he participated in a debate on the topic "Has the assiduous study of the Fine Arts a tendency to demoralize a Nation?" Weller argued in support of a fine arts education—a belief he clearly demonstrated in his professional career.
Weller was awarded a master's degree from Wittenberg in 1858 and took a job in Davenport, Iowa, as a high school principal. The following year, as an editor of the Iowa Instructor, the journal of the Iowa State Teachers Association, Weller published an address titled "Co-education of the Sexes." He argued strongly that coeducation was superior to separate colleges, postulating that students at all-female schools "are persuaded that they are inferior, and hence all lofty aspirations are crushed. Let them feel that they may compete with young men, and each other, for the highest honors."
After a year in Iowa, Weller moved to Chicago to study at the newly opened Presbyterian Theological Seminary of the Northwest, now the McCormick Theological Seminary. He graduated in 1861 and became pastor of the First Presbyterian Church in Rochelle, Ill., about 80 miles west of Chicago.
Toward the end of the Civil War, Weller was granted leave from his congregation to work as a volunteer chaplain for the U.S. Christian Commission. He handed out religious literature and emergency medical supplies, wrote letters for illiterate soldiers, conducted weddings and funerals, and had charge of "the largest tent ever seen in the field," according to the American Biographical Dictionary of 1876. On his final day, March 29, 1865, Weller wrote, "We bear with us not only cherished memories, but, we trust, the spirit of a new patriotism and a firmer devotion to Him in whose name, & for whose honor, this noble Commission has been instituted."
Weller returned to Rochelle after the war but left in 1869 to tour England, Scotland, France, and Switzerland, uncommon activity for a small-town minister. Upon his return, he led a congregation in Mendota, Ill., where he stayed for six years—with time off in 1873 to attend the World Exposition in Vienna on a commission from the governor of Illinois. After Vienna, Weller went on to visit Italy, Germany, France, and Belgium. He was 40, unmarried, and clearly possessed of a healthy sense of adventure.
Back in the United States, Weller drew on his European experiences to lecture on subjects ranging from Haydn, Handel, Mendelssohn, and Wagner to "The Cathedrals of Europe," "Pictures From the Continent," "Queen Victoria," and "King Solomon's Temple." He was invited to address the Wittenberg College literary societies, and he received an honorary doctor of divinity degree in 1876. Around this time he took his first trip to Los Angeles and went on to visit Yosemite Valley, the Gold Country, Nevada, and Utah. There he presumably met John M. Coyner, an author and educator who had founded the Salt Lake Collegiate Institute in the basement of the First Presbyterian Church of Salt Lake City and would serve as Occidental's first vice president.
 Weller's next assignment as a pastor took him to Lincoln, Neb., moving westward on what was still the frontier. He returned to Illinois in 1880 to lead the First Presbyterian Church of Morrison, where he met the love of his life—an intelligent, spirited woman named Isabella Fraser, daughter of a church elder. Ella was at least 20 years younger than Samuel, with literary talent and a romantic frame of mind. She later published two books and filled three thick notebooks with a handwritten story of her formative years.
According to Ella, the older women of the church wanted the bachelor minister for their own daughters, so she and Samuel "guarded" their growing love. They could never be seen together "except in church and working with others at church affairs." Writing in the third person, Ella recounts a romantic train ride during which her beloved surprised her after slipping on board so they could spend precious time together, saying, "I would not have missed this ride for a fortune." They "nestled" for awhile, and when it was time for him to catch another train back to Morrison for a church meeting, "He took her hastily in his arms and kissed her.'"
Samuel and Ella were married June 19, 1882. He was 48, and she was in her mid-20s. Leaving Morrison, the newlyweds moved across the Mississippi to a church in Clinton, Iowa, where their first child, Harold, was born in 1884. That fall, with a young wife and baby to support, Weller took a more promising position as president of the Kansas City Ladies College in Independence, Mo. His account book of his two years there reveals meticulous attention to fiscal detail, with careful entries ranging from teachers' salaries and janitorial expenses to the costs of fruits and vegetables. Asparagus was apparently a favorite at the college, with regular purchases at 10 to 35 cents.
While serving at the women's school, Weller began corresponding with a group of Presbyterian ministers and laymen in Southern California who were interested in establishing a coeducational college in the Los Angeles area. It appears that he was offered the presidency before he left his position in Missouri and moved his young family across the country. Weller undoubtedly saw it as a great opportunity to foster his commitment to coeducation, and the booming real estate market in Los Angeles offered seemingly limitless financial potential for the new school, whose endowment consisted of a 50-acre subdivision. On the occasion of Occidental's groundbreaking on Sept. 20, 1887, Weller limited his development pitch to two sentences: "Thus far we have not solicited a dollar for our funds. The pleasure is in reserve for you and ourselves in the future."
Before Occidental opened to students in the fall of 1888, the Wellers moved into the three-story Tudor-style building that also housed his office, classrooms, a laboratory, kitchen, dining room, study hall, and women's dormitory. In its coverage of the official dedication ceremony on October 8, the Los Angeles Times called the overworked building "one of the architectural beauties of the country" and reported, "Dr. S.H. Weller, who has engineered the project from its inception has done marvelous work, and the lavish praise which was poured upon him yesterday was certainly well deserved."
When Weller was "not on one of his fundraising trips" on behalf of Occidental, Hal wrote, one of the president's many duties was to make sure that his son's pet rat, Pete, was safely in his rat house before the family went to sleep. One night, Weller forgot—and Pete crawled across the face of Hal's sleeping mother, Ella, who grabbed the rodent and placed it on the face of her husband sleeping beside her. "Father never said a word, but got up and put him in his rat house where he was supposed to be," Hal recalled. "I don't think Father ever forgot about Pete again."
By March 1890, when Ella Weller gave birth to Earle, the family had moved into a private residence, but the new baby was christened in the college building. Ella wrote poetry about her children and other children, published in an 1892 volume titled Nestlings, with photos by her sister, Kathryn, and a brief introduction by her husband. "The mother-love of children called for them and they came," Weller wrote of the poems. "There is a conspiracy of mother-loves and the fugitive poems became a book."
For Samuel Weller, the Occidental experience was hardly poetic as he ran the daily affairs of the school, taught moral science and mental philosophy, and scrambled to keep the institution alive. An optimistic advertisement on the back of the first College catalog offered home sites in the "Occidental Heights Tract" at prices of $250, $300, or $500, with prospective buyers encouraged to "Call on or write to the President of the Occidental University." But the boom had busted by the time Occidental opened its doors: "Expanded values deflated like pricked balloons," historian Glenn Dumke '38 wrote in his classic The Boom of the Eighties in Southern California.
In a measure of just how dire finances were, Weller appears to have moonlighted as a pastor in Santa Monica during his final year as president. Hal remembered his father serving at a Santa Monica church that year, and the 1891 Los Angeles directory lists him as "president of Occidental University" but living in the beach city—a long carriage ride from the Boyle Heights campus.
This assignment was temporary, but the time had come for him to move on from Occidental. In his resignation letter dated April 27, 1891, Weller wrote sadly, "In thus resigning I relinquish nothing of my interest in the institution, and abate nothing of my faith in its ultimate success. I yield simply to a financial necessity that compels me to seek other work."
Outside of Oxy, Weller did maintain ties to other local intellectual enterprises. Both Samuel and Ella were graduates of the Chautauqua program, which offered education and cultural events, and he served as president of the Long Beach Chautauqua Assembly from 1889-97. More significantly, from 1888 through 1896, he was president of the board of trustees of the Los Angeles School of Art and Design, which was founded around the same time as Occidental by two women, notably Louisa Garden MacLeod, who had studied painting with James Whistler in Paris.
According to the Los Angeles Times, at an April 5, 1892, assembly attended by Los Angeles Mayor Henry T. Hazard, Weller reported that enrollment at the art school had increased from 26 to 45 in its first year of incorporation, that study spaces had doubled, and "that constant applications were made to this school to furnish art teachers for educational academies." (On Sept. 18, 1896—just nine months after Oxy's Boyle Heights building was destroyed by fire—Occidental and the School of Art and Design held a joint reception at St. Vincent's Hall in downtown Los Angeles.)
In his post-Occidental career, Weller's financial focus may have been the still-struggling Southern California real estate market. At some point he became secretary of the Almond and Olive Mutual Land Investment Co., founded in 1889 by former Muscatine, Iowa, lawyer L.H. Washburn (who lost an arm in a mining accident in 1855). A May 21, 1896, story in the Los Angeles Times told of an expedition by Weller, Washburn, and Eugene B. Stork to Antelope Valley, "where they are proposing to put a force of men at work constructing irrigation ditches for their land tracts."
The real estate venture apparently fell short of their expectations. In 1897 Weller left his wife and children in Los Angeles—where the boys were attending the Occidental Academy—and headed north to Montana to serve as temporary pastor at churches in Dillon, Butte, Great Falls, and Deer Lodge. Now in his mid-60s, his willingness to brave the Montana winter reflected his need for income but also suggests that his old sense of adventure was intact.
In 1899, reunited with his family, Weller began his final assignment as pastor of the First Presbyterian Church of Ione, Calif., between Sacramento and Stockton. He died there of "blood poisoning" on April 3, 1903, at age 69. Eulogized in the local paper as "one of the best known Presbyterian preachers and educators of the state," his body was cremated and his remains returned to Los Angeles, where he was buried beside his father, Tobias, in Rosedale Cemetery. Ella was buried there, too, when she died in 1940. Although Tobias's grave and those of several other family members are clearly marked, no marker exists for Samuel or Ella Weller—not uncommon for the time.
On the campus of Rowan Elementary School, however, a plaque commemorates Occidental's original home in Boyle Heights. It was there, on Sept. 20, 1887, that Weller pledged Occidental would "take its rank with the rising institutions of learning now existing in the city, and will not only prove a valuable educational factor, but also an ornament to Los Angeles." And as long as the College stands, his bearded visage will gaze out upon students, faculty, alumni, and visitors, first in a long line of leaders committed to the liberal arts.
Paul Robert Walker '75, a historian and author living in Escondido, remembers studying Weller's portrait as an undergraduate.