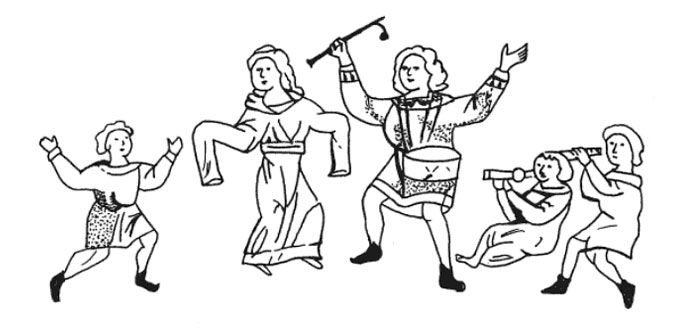 New additions (and new editions) from Oxy alumni and professors
The Circassian Genocide, by Walter Richmond (Rutgers University Press; $29.95). Circassia was a small independent nation on the northeastern shore of the Black Sea. For no reason other than ethnic hatred, over the course of hundreds of raids the Russians drove the Circassians from their homeland and deported them to the Ottoman Empire. By 1864, three-fourths of the population had been annihilated, and the Circassians had become one of the first stateless peoples in modern history. Walter Richmond chronicles the history of the war, describes in detail the final genocidal campaign, and follows the Circassians in diaspora through five generations as they struggle to survive and return home. Richmond is assistant professor of German, Russian, and Classical studies at Oxy.
The Dancing Goddesses: Folklore, Archaeology, and the Origins of European Dance, by Elizabeth Wayland Barber (W.W. Norton & Co.; $35). From southern Greece to northern Russia, people have long believed in female spirits, bringers of fertility, who spend their nights and days dancing in the fields and forests. So appealing were these spirit-maidens that they also took up residence in 19th-century Romantic literature. Barber—professor emerita of archeology and linguistics at Occidental and an avocational folk dancer— has sleuthed through ethnographic lore and archeological reports, translating enchanting folktales about these "dancing goddesses" in addition to eyewitness accounts of traditional rituals—texts that offer new perspectives on dance in agrarian society. She then traces these goddesses and their dances back through the Romans and Greeks to the first farmers of Europe. The result is a detective story like no other and a joyful reminder of the human need to dance.
The Fascist Revolution in Italy: A Brief History With Documents, by Marla Stone (Bedford/St. Martin's; $17.95). As the first mass movement of the radical right to assume power in the wake of World War I, Italian Fascism became the model and inspiration for violent anti-democratic and anti-socialist forces that swept Europe between 1919 and 1945. Stone provides an essential introduction to the rise and fall of Benito Mussolini's Fascist dictatorship. Drawing on speeches, decrees, memoirs, telegrams, songs, and artwork, Stone explores the multifaceted nature of Fascist rule, which drew strength not only from its terror apparatus but also from popular support for its social programs. Stone is professor of modern European history at Oxy.
Bodies of Subversion: A Secret History of Women and Tattoo, by Margot Mifflin '82 (powerHouse Books; $23.95). Since its first publication in 1997, Bodies of Subversion has been adopted in college courses and become a well-thumbed resource in tattoo shops in­ter­nationally. With 100 new photos (including Janis Joplin and Margaret Cho), additional historical information, and a chapter on tattooing trends in the 21st century, Mifflin's third edition is virtually a new book. She examines such recent applications as therapeutic tattoos used for women coming out of gangs, prisons, and situations of domestic abuse; the impact of reality shows on the industry; and includes passages on a heavily tattooed Lutheran pastor, a performance artist covered with Holocaust imagery, new artists from Virginia Elwood to cover artist Roxx, and Shelley Jackson's Skin project. An associate professor in the English department of Lehman College of the City University of New York, Mifflin also directs the arts and culture program at the CUNY Graduate School of Journalism. She lives in Nyack, N.Y.
The Knighthood of Sir Claude, by Darren Angelo '73 (CreateSpace; $23.95). With a patina of Rabelais, this quixotic tale follows the adventures of two refugees—one from the political mayhem of the French Revolution, the other from more traditional religious persecution in eastern Europe—and follows them from the War of 1812 in the New World to the Battle of Waterloo, followed by refuge in an isolated Belgian monastery, and finally to one of the first mental health hospitals in England. The events that transpire there determine the knighthood of Sir Claude. This is the third novel by Angelo (Land of the Average Bears, Time of Plums), who adopted the pseudonym to protect the confidentiality of his patients.
King Without a Kingdom: One Man's Quest for Meaning, by John Hulbert '64 (Elk Run Publishing; $16.95). "From an early age I had always felt something was missing in me," Hulbert writes in the introduction to his memoir. "This went beyond just doubting my own self worth. I felt like a giant hole in my chest that needed filling in order to be whole. I felt like I was an alien, away from home, and I was lost as to how to get back." An economics major at Oxy, Hulbert recounts his trek through the material world and the New Age, looking for answers surrounding the meaning of life even as he worked in the hotel-development business in the United States, Fiji, and New Zealand. He lives with his wife, Suzanne, and their animals on a small ranch in Ocate, N.M.
Yokohama Yankee, by Leslie Helm '78 (Chin Music Press; $16.95). Helm's decision to adopt two Japanese children set him on an emotional but rewarding journey back into his family's long history in Japan, beginning with his great-grandfather's arrival in 1869. James Fallows of The Atlantic calls Yokohama Yankee "a marvelous and eloquent work of family history (that) sheds light on the political, economic, cultural, and racial interactions and tensions between Japan and the United States." Helm is currently editor of Seattle Business.
Dragon's Gift, by Elizabeth Gaines Johnson '90 ($24.95; available at gildedserpents.com and other online retailers). An ancient evil threatens the kingdom of Princess Kwylee­ana, who awakens from a coma to befriend a dragon and learn of an impending war. Thus begins a journey across the lands to stop the vile Prince Therion from marrying her and destroying her kingdom. A tale replete with fairies, romance, and a demon-possessed forest, Dragon's Gift is the first novel in a trilogy by Johnston. She lives in Granada Hills with twin sons James and Thomas (13) and Robert and Stephen (7).