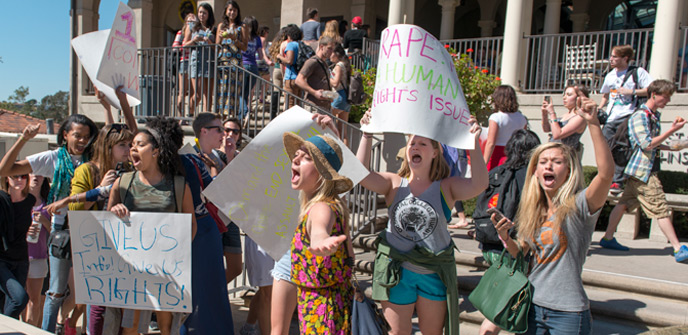 Student discord over the reporting of sexual assaults on campus intensifies an ongoing dialogue on Oxy's policies and process
Occidental has retained Gina Maisto Smith, a nationally recognized expert in sexual misconduct, to review its policies on sexual assault and offer advice on how to improve the campus climate surrounding an issue that has been the subject of a passionate and often challenging conversation on campuses nationwide, including Yale University, Amherst College, and the University of North Carolina at Chapel Hill.
Smith, a former sex-crimes prosecutor with the Philadelphia District Attorney's Office, was hired to underline the administration's commitment to addressing the problem of sexual misconduct at Occidental, according to President Jonathan Veitch. "There is no one better qualified to give our policies and procedures a thorough evaluation, and to offer recommendations for improving them," he says.
Smith—who has worked with Amherst and UNC on the same issue—made her ­initial visit to the Oxy campus April 3-4 to meet with members of the College's Sexual Assault Task Force, formed in February, as well as with students, faculty, and staff. "We hope she will be a useful resource for the task force, and she can move ahead with her work as expeditiously as possible," Veitch says.
Like other schools across the country, Occidental has been working continuously to improve its policies regarding sexual misconduct since the U.S. Department of Education issued its so-called "Dear Colleague" letter in April 2011. The letter reminded colleges that the scope of Title IX covers sexual violence and laid out in detail colleges' responsibilities under the law.
Eighteen months later, Oxy implemented a new sexual misconduct policy based on the National Council for Higher Education Risk Management's best practices model. (The new policy addresses all issues of sexual misconduct, not solely sexual assault.) One of the key changes was moving the handling of complaints to a team investigation model in which all investigators are specifically trained in such work.
But a group of faculty and students who had been meeting independently with administrators to improve sexual assault policy grew critical of the process, charging that the pace was too slow, the changes made failed to effectively address the issue, and that recommendations from faculty and students were ignored. That group, the Oxy Sexual Assault Coalition, presented the College with a list of 12 demands last October, dealing with everything from the definition of consent to how assaults should be reported. After a series of meetings and town halls, Veitch said he agreed in principle to 10 of the 12 demands, but that the specifics still needed to be worked out.
OSAC declared that complete agreement had been reached, and reacted with outrage when news of a February 24 sexual assault involving two Oxy students was announced to campus four days later, following several reports in the local media. A March 1 protest on the Quad attracted nearly 300 students, and its campaign to publicize the issue has drawn national attention, including coverage from The New York Times.
On March 6, OSAC announced that it intended to file a federal complaint about ongoing issues of sexual assault with the Office of Civil Rights and a Clery Act complaint with the U.S. Department of Education alleging violations of the laws governing the reporting of sexual misconduct cases.
As of press time, the College had not been notified of a filing of either complaint. "We respect the right of any member of the Oxy community to exercise his or her legal rights," Veitch says.
The seven-member Sexual Assault Task Force, which includes two student representatives, two faculty members, and three ­College employees, is now meeting weekly to "facilitate a process of open, honest, and respectful dialogue which leads to significant action during this semester," said a March 7 email signed by task force co-chairs Danielle Dirks, assistant professor of sociology, and Shelby Radcliffe, vice president for institutional advancement. A March 21 town hall meeting in Thorne Hall convened by the task force drew an often-emotional audience of about 500 students, faculty, and staff.
"It takes time to sort out the issues, but our priority is to keep students safe," Veitch says. "We want to take action, but also to get it right—and there is tension in expediting the process." As he vowed in a March 19 email to campus: "There will be disagreements … But there will be results."