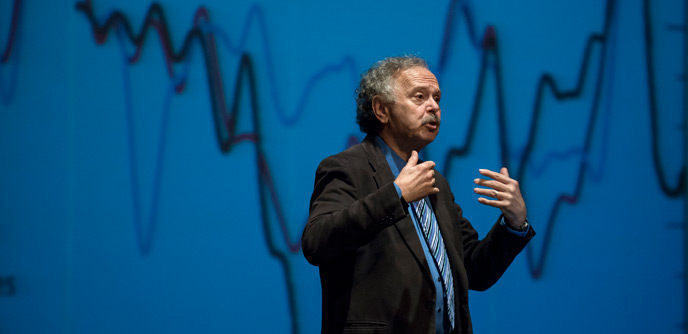 "I've been getting awards for changing my mind. To me, it's all slightly ridiculous. We should all always be skeptical."
—Richard A. Muller, UC Berkeley physics professor and Oxy's 2013 Antoinette and Vincent M. Dungan Lecturer in Energy and the Environment, tracing his path from a scientist skeptical of global warming to one convinced by his analysis of the data that the phenomenon exists. He spoke at Thorne Hall on March 4.
"I've learned how important these issues are to people. … The claim is really quite modest."
—Karen L. King, a popular professor of religious studies at Occidental from 1984 to 1997, now the Hollis Professor of Divinity at Harvard, on her recent discovery of a fragment of Egyptian papyrus in which Jesus refers to "my wife." King cautioned that the papyrus "is not evidence that Jesus was married," while noting that the idea of Jesus' celibacy became a model for the Christian church.
"What the Republican Party needs is what Jack provided—a conservative message that would appeal to average, ordinary citizens."
—Mort Kondracke, veteran political analyst, journalist, Kemp biographer, and Occidental's first Kemp Scholar, a program created with the Kemp family to engage with students and faculty on issues of public policy and economic and political importance. Kondracke addressed the GOP's future February 11 at a packed Mosher Hall.
"I pretty much figured I was dead. … I just needed one thing to go right."
—Craig Stapleton '84, dentist and veteran skydiver (with more than 7,000 dives, including this 2005 landing onto Oxy's Patterson Field), after a parachute malfunction sent him plummeting to the ground in Lodi's wine country at 30 miles an hour on March 10. Stapleton landed parallel to the road in a row of grapes. Daughter Analyse called her dad, who dislocated his shoulder, "the luckiest guy I know."