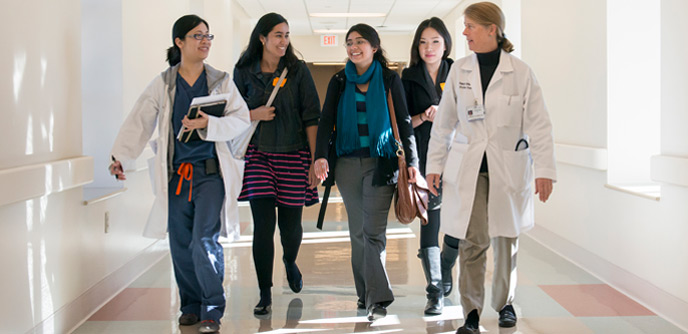 As Oxy's Walk In My Shoes program takes to the road, students challenge any preconceived notions about their chosen professions
By Joy Hepp
"What do you want to be when you grow up?" is a question students are asked from the time they're old enough to tie their shoes. But how many of them grow up to have the opportunity to try on the slippers of those whose careers they covet before entering the job market?
For more than a decade, Oxy's Walk In My Shoes program, sponsored by the Career Development Center, has placed participants in one- or two-day shadowing programs in and around Los Angeles with a alumni or community members in their chosen field. Over winter break, WIMS cast its footprint nationally for the first time, as 18 sophomores and two juniors shadowed professionals in L.A., New York City, Phoenix, San Francisco, St. Louis, and Washington, D.C.
Where WIMS differs from traditional internships "is the intimacy with the job shadow," says Mike Mathis '78, CEO and president of Pasadena-based Mike Mathis Productions (whose reality stable includes "Gator Boys" for Animal Planet and "I Didn't Know I Was Pregnant" for TLC). Unlike most of his company's interns, Carlina Perna '15 of El Cajon "was at my side in every meeting, screening, and phone call. I think she got a good look at what a producer's job is like."
Perna concurs: "I learned that passion directly correlates to efficiency, quality, and success. Everyone at Mike Mathis Productions seemed to wholeheartedly love their jobs, from writing and editing to advising and finances, which made the challenging work conditions and tight deadlines not only manageable but also motivating and fulfilling."
Approximately 2,700 miles away from Occidental, Andrew Bariahtaris '14 spent a day shadowing Aaron Resnick '01, an emergency preparedness coordinator at Inova Fairfax Hospital just outside the nation's capital. In observing Resnick up close, "The skill I admired most in Aaron was being calm under pressure," says Bariahtaris, a diplomacy and world affairs major from Morristown, N.J. "His job in disaster management means he is constantly dealing with different groups of people, making sure they are on the same page. As a department of one, he can't delegate a task, no matter how menial, to another person. Despite the constant communication and activity, he always seemed in control."
"The best advice I received from Aaron was to take any opportunity available to me," Bariahtaris adds. "You never know what chance may lead to a job, and especially at this age there's no guarantee which career path I will take. There are a lot of jobs that I still don't even know about, so any opportunity I have to experience something new is valuable to me."
Emma Godfrey '15 can relate to that idea. While many of her peers know exactly what they want to do vocationally, the Bryn Mawr, Pa., resident is still weighing her options. "I love trying things out, including jobs," says Godfrey, who has worked at a greenhouse, a yogurt shop, and even a medical ID bracelet start-up prior to her WIMS experience at Grey New York with the ad agency's president and chief creative officer, Tor Myhren '94. "Each of my jobs has taught me valuable life skills," she adds. "Any opportunity we have to experience a potential field is an opportunity we should gladly take."
After years of visiting her mother's law firm, Godfrey was convinced that all work environments were quiet and formal places where the professionals worked in separate offices. But her time at Grey New York challenged that idea. "On the creatives' floor, everyone worked at tables and desks, which allows creativity to be free-flowing and encourages collaboration," she says. "On the floor where the account managers work, there was a very similar vibe. Everyone was working hard, but they seemed not to focus on finishing a project. Instead, they enjoyed the whole process and wanted their completed work to be the best it could be."
Other participants also found that their WIMS experience refuted some preconceived notions they had about a certain profession. "I always believed that being a doctor would leave you very little time and room to do other things with your life because of the time required to invest in school and work," says Amber Thai '15 of Los Angeles, one of three students who shadowed Dr. Kimberly Shriner '80, an infectious disease specialist at Huntington Hospital in Pasadena. "However, one resident doctor that I met has three kids and is involved in many activities. It showed me that as long as you find the right balance in your life, you can do what you need to do, plus what you want, and enjoy both."
Students aren't the only people who benefit from WIMS. "It's great to have excited and motivated students spend the day with me," says Shriner. "It gives me a chance to see what type of students are going into medicine. It also allows me to have a pulse on what's going on at Oxy." And that's without the burden of term papers.