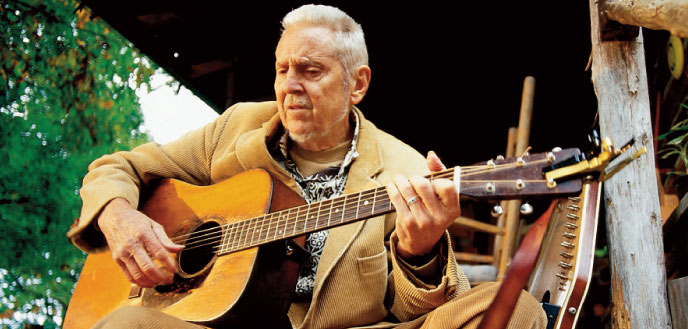 When Guy Carawan '49 returned to campus in 2003 after more than half a century away, he had changed the world through the power of song. Professor Peter Dreier remembers the folk musician and social activist, who died May 2
Millions of people around the world have sung the words to "We Shall Overcome," but few of them know the name Guy Carawan '49. Possessed with prodigious talent and a deep passion for justice, he was modest and self-effacing, and little known outside of a small circle of social activists and folklore enthusiasts. Of course, that's part of the folk tradition. Carawan didn't write "We Shall Overcome," but he transformed it, turning it into an international anthem for human rights.
I had long been a fan of Guy, who died May 2 after a lengthy illness at his home in New Market, Tenn. For more than 50 years, he worked as the music director for the Highlander Research and Education Center in rural Tennessee, an interracial training center for grassroots activists, including the Rev. Martin Luther King Jr., Rosa Parks, Fannie Lou Hamer, and John Lewis. But I never knew Guy had attended Occidental until I read an article about him in Sing Out, the folk song magazine.
I called his home in New Market, Tenn., near the Highlander Center, and asked him and his wife Candie if they'd be interested in doing a concert at his alma mater. Although the Carawans, both originally from Southern California, had occasionally traveled to the area to visit family members, Guy hadn't been back to the campus since he graduated, with a degree in mathematics, in 1949. He was grateful for the invitation. It took several years to orchestrate the visit, but in March 2003, Guy and Candie arrived on campus. In the meantime, I had persuaded then-President Ted Mitchell and the Board of Trustees to give Guy an honorary degree for his lifetime commitment to social justice and his immense contributions to music and folklore.
The Carawans spent two days on campus. They gave workshops in several classes and performed a concert in Herrick Chapel. Before the concert, Guy had a reunion with a dozen of his former ATO fraternity brothers, none of whom he'd seen since his graduation 54 years earlier. Guy's first experience singing in public was with an ATO quartet. He played the ukulele and the group sang tunes like "Ain't She Sweet."
It was pouring heavily that night, but by the time the Carawans entered the chapel it was standing room only—filled with college students, local activists, and many friends that Guy had made in L.A.'s folk music scene in the 1950s (including Beth Lomax Hawes, an original member of the Almanac Singers with Pete Seeger and Woody Guthrie). Guy and Candie were joined on stage by their son Evan, an accomplished hammer dulcimer player, and by Simeon Pillich, a world-renowned bass player who teaches in the music department. In between sets, President Mitchell bestowed Guy with his honorary degree. He was proud of the honor but somewhat embarrassed by the ceremony—especially when Mitchell placed the Occidental black-and-orange hood around his neck—but he kept it on during the second set.
Born in Los Angeles in 1927 to parents with Southern roots, Guy was drawn to folk music after taking a folklore course at Occidental. His interest grew when his mother gave him copies of Carl Sandburg's The New American Songbag and musicologist Alan Lomax's Folksongs: USA. He listened to records by Guthrie, Seeger, and Burl Ives. By the time Guy arrived at UCLA—where he earned a master's degree in sociology—his curiosity about society and culture had grown considerably.
In 1953, Guy joined folk singers Ramblin' Jack Elliott and Frank Hamilton and struck out on the road, performing as the Dusty Road Boys. They stopped for a few weeks at Highlander (then in Monteagle, Tenn.), where he got his first exposure to the burgeoning civil rights movement and the importance of songs to the struggle.
The folk music boom was just beginning, and Guy hoped to make a living playing music. In 1958, he played the opening night of the Ash Grove, L.A.'s legendary folk club. Later that year, he embarked on a world tour, where he caught the attention of the flourishing British folk scene. In England, he recorded America at Play with Peggy Seeger, an album largely composed of songs collected by Alan and John Lomax and Cecil Sharp. Guy played guitar, banjo, and hammer dulcimer. When he returned to the United States, he traveled to Highlander to volunteer his services, and soon became its music director.
Highlander was at the center of the civil rights movement. Founded in 1932 by Myles Horton, an educator and minister who believed in the "social gospel," Highlander sponsored interracial workshops for labor and civil rights activists. Southern segregationists branded the center as a "communist" operation and tried several times to shut it down.
During his visit to Occidental, Guy recalled his connection to "We Shall Overcome." The tune's origins go back to a refrain that slaves would sing to sustain themselves: "I'll be all right someday." Southern black churches adopted the song, and by 1901 a Methodist minister, Charles Tindley, published a version titled "I'll Overcome Someday." In 1945, black members of the Food, Tobacco, and Agricultural Workers Union from Charleston, S.C., revised the song as part of their struggle and sang it on their picket lines. They sang: "We will overcome, and we will win our rights someday."
Two years later, several of the union's activists brought the song to Highlander. Zilphia Horton, Myles' wife and then Highlander's music director, learned the song from the tobacco workers and included it in all of her workshops. In 1947, she taught it to Pete Seeger, who was a frequent visitor to Highlander. Seeger made a few changes to the tune, including turning "We Will Overcome" to "We Shall Overcome."
It was at Highlander that Guy first heard Seeger's version of the famous song. Guy made his own changes to the tune. He showed Oxy students how he had quickened the tempo and revised some words, making it easier to sing in large groups.
"They were singing it like this," he explained, singing the gospel song without his guitar and lacking a beat. "I thought it was a touching song, but at a certain point I began to add these chords."
Guy started strumming his guitar, then began singing in a firm voice that belied his age. Students recognized the familiar song and started singing along. Then Candie, singing harmony, joined in. After a few stanzas, Guy paused and told a story.
"One night at Highlander, the police came in and ransacked everybody's luggage, trying to scare people off, and a young teenage girl from Montgomery started singing, 'We are not afraid,' and that became part of the song."
The Southern sit-ins, led by college students, had begun in Greensboro, N.C., in February 1960. During a weekend workshop at Highlander, Guy taught his new version of "We Shall Overcome" to leaders of the Nashville sit-in. A few weeks later, he taught the song to more than 300 activists at the historic founding meeting of the Student Nonviolent Coordinating Committee at Shaw University in Raleigh, N.C. They were preparing to launch sit-in demonstrations throughout the South—and they spread the song that became the anthem of the civil rights movement.
Peter Dreier is the E.P. Clapp Distinguished Professor of Politics at Occidental. Adapted from the essay "Remembering Guy Carawan," published on The Nation magazine's website May 7.