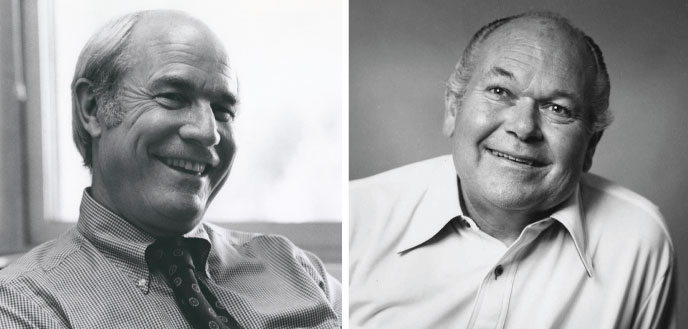 Bob and Omar: Masters of Lifelong Learning
In his 26 years as a professor of English (including eight years of dean of the ­faculty), Robert Ryf '39 proved to be an ­extraordinary teacher, a scholar ­devoted to the literature of James Joyce, a respected administrator, and a true creative force. That last attribute was most clearly in ­evidence by his extracurricular activities. In 1976, Bob (who had written for TV and radio prior to his academic career) produced "Occidental College Quest: The Words and Works of Man," which aired on KCBS in L.A. (Channel 2). And four years after his retirement from the College, he launched the Pasadena Senior Curriculum, an extraordinary institution born out of his idea that many retirees wanted serious ­opportunities for continuing education.
Bob developed a model of offering courses on a quarter system—two courses per term, six each year, at a nominal fee. The fees would go to pay for speakers in these courses, and each course would have a coordinator whose job it was to define the subject matter, to invite speakers, and may­be to offer a lecture or two. He envisioned a curriculum that featured science, politics, culture, and the arts, while reserving two additional slots for topics of special interest.
Bob had turned to his good friend and neighbor Omar Paxson '48 to coordinate a series of lectures on the arts during the first year of the Curriculum. In October 1985, around the time of the launch of the program, Bob died after a brief illness—and Omar had to step in as director of the Curriculum. In this he had, as he did in all things, the support of his wife, Helen '52, and the two of them became mainstays of the whole project during its formative years.
Bob and Omar were leaders on the Oxy faculty when I joined the College in 1967. They represented the generation who came home after World War II to help revitalize American higher education in the 1950s. I played golf with Bob and got a few of his war stories, but it took a course that Roger Boesche and I were teaching on World War II to learn that a young Omar had fought in the Battle of the Bulge! Omar had never mentioned it, but we had the students interview "veterans," and one of our very strong students got from Omar his stories of being trapped behind German lines.
Many Oxy faculty have taught courses in the ­Curriculum, including Alan Chapman (music), Jane Jaquette (politics and Latin America), Wellington Chan and Tsung Chi (China), Scott Littleton (Japan), and Roger Boesche (political theory). Many Oxy scientists have offered lectures, including Don Deardorff, Margi Rusmore, and Scott Bogue. In the late 1990s I began to offer regular courses on Russia and another on national elections. Congressman Adam Schiff, Mayor Eric Garcetti, and his wife and campaign manager, Amy Wakeland, all broadened the speaker base.  We have used the rich resources of RAND and JPL. Walt Richmond has continued the Russia series. Helen Paxson, in particular, has pushed ­beyond Occidental, drawing in speakers and course coordinators from the Los ­Angeles Times, Caltech, UCLA, and USC. ­Alison Renteln of USC has regularly offered talks, then courses on law-related topics. 
During its early years the Curriculum had a vagabond character to it. It met in various Pasadena churches, in the Convention Center, and in Villa Gardens, a retirement community! Since 1993, when the Pasadena Senior Center decided to provide an institutional base, it has met every Tuesday and Thursday afternoon during the fall, winter, and spring terms. Many attendees have their own Oxy connections—from alumni and parents to former faculty and staff. Others have Pasadena connections—Caltech and JPL in particular. At its peak, many courses drew more than 150 participants, while in recent years most classes have had from 50 to 75 students who devote two hours per week for eight weeks to hearing diverse lectures and ­engaging in vigorous question-and-answer sessions. Once, when I had made a "brilliant" point about the MX Missile, a class participant rose to shake his finger at me, saying: "Dr. Caldwell, if you think that missile will do what you have just said it would do, you are naive. And I should know, because I built it!"
Omar was a force of nature in Oxy theater from 1950 to 1985, and he brought his booming voice, wry sense of humor, and sparkling intelligence to the Curriculum from its beginning to shortly before his death in December 2013. It was decided to honor Omar by asking emeritus professor Alan Freeman '66 M'67 to offer a course ­titled "The Courageous Act of Playgoing" this spring term. Alan is bringing theatrical professionals to the Senior Center and ­taking participants to ­theater performances in the L.A. area (while Alan Chapman is ­offering his ever-popular series "Once More Into the World of Music").
It is really quite extraordinary that Bob Ryf's idea for a Senior Curriculum continues 30 years later. As part of an effort to broaden its base, this spring the Curriculum has been rechristened "The Masters ­Series—Lifelong Learning." (To read more, visit pasadenaseniorcenter.org.) New ­participants and new ideas are ­welcome. An organization that has provided stimulating opportunities in the arts, politics, history, and culture for 30 years plans on continuing its mission for years to come.
Oxy's longest-serving faculty member, Caldwell retired in 2014 as the Cecil H. and Louise Gamble Professor of Politics Emeritus.