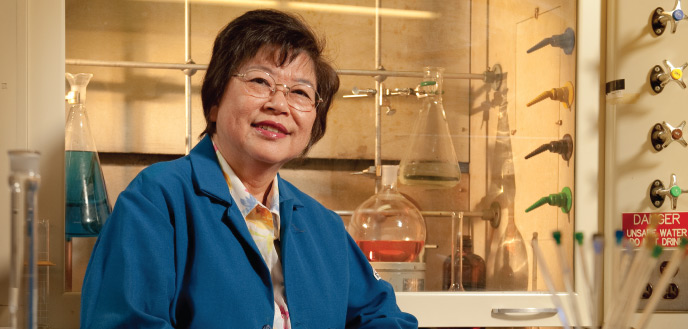 One of Oxy's most decorated and beloved faculty is calling it a career after 22 years in the chemistry department. But Phoebe Dea isn't packing up her things just yet 
By Peter Gilstrap | Photos by Kevin Burke
Inside the Norris Hall of Chemistry, just past research lab NC 108, you come to a poster on the wall titled Influence of Cis and Trans Unsaturated Lipids on an Interdigitated Membrane. Across from that, at the end of the hall where the breeze seeping through the double-glass exit doors hums a constant bass note, is office NC 107.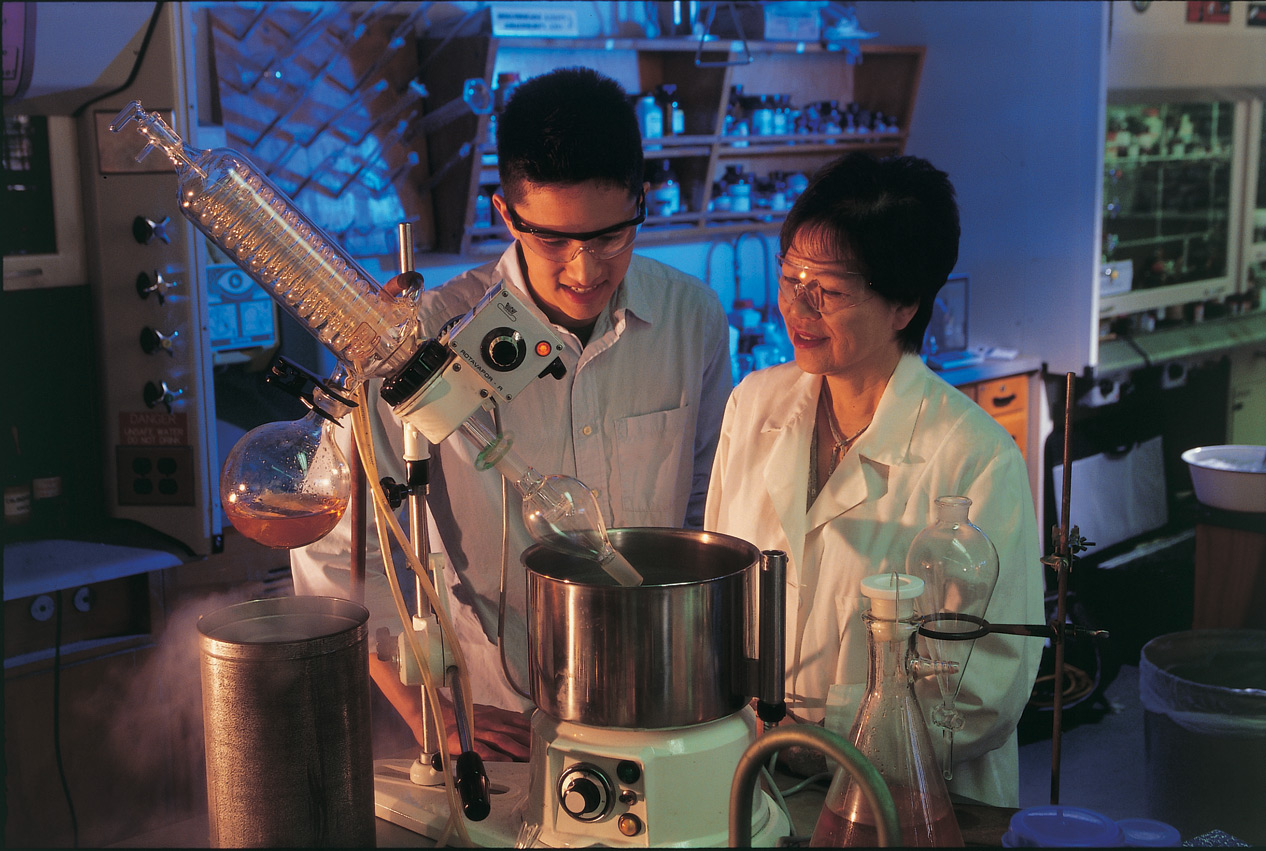 This is the Occidental home of Professor Phoebe Dea, who will retire in August after 22 years at the College. In that time—and during the previous 17 years teaching at Cal State L.A.—the list of honors she has earned would surpass the length allotted to this story, honors dwarfed only by the love and respect she's won from colleagues and students.
"In teaching you don't really feel the time," says Dea, behind the desk in 107, that famous image of Einstein on his bike grinning at her from the wall. "The students come in at Oxy, and they're always the same age. I look out, and it hasn't changed in 22 years. It's good! It keeps you young. And when your former students come back, they have achievements and they're successful. It's just wonderful."
One former student, Rosalie Tran '03, is currently a postdoctoral fellow at Lawrence Berkeley National Laboratory. "I came to Oxy not quite sure what I wanted to do," Tran says. "Professor Dea saw something in me I didn't realize I had, and working in her lab with her encouragement, I found this career goal of being a scientist. There were many times I wasn't sure of my abilities, but her office door was always open, and we had a lot of very meaningful conversations. She was always there."
Dea's warmth, concern, and accessibility are familiar to legions of Oxy undergrads, a history that began when she arrived at the College as the first Fletcher Jones Professor of Chemistry in 1993. "She was a spectacular choice for that," says Professor Don Deardorff, current chemistry department chair and a member of the professorship search committee that selected Dea. "This department prides itself on undergraduate research, and she was super strong in that area. She understands the role that it plays in chemistry. She's the quintessential educator."
And the biggest qualifier for that accolade? "She cares," says Deardorff (who, like Dea, is retiring at the end of the summer). "That's what it takes—she cares."
"In terms of what I enjoy, working with undergraduates is most important to me," says Dea, who specializes in analytical and biophysical chemistry. "When you see that light bulb go on with a student, it's wonderful. I see it all the time." That's about as close to bragging as she gets.
Longtime chemistry department colleague Professor Chris Craney, however, has no problem heaping on the kudos. "Some of those recognitions that she's gotten, wow. Nobody else at Oxy has ever been selected by the American Chemical Society for that award [for Research at an Undergraduate Institution, 2005]. Nobody! That's huge, right?
"And to be recognized by the Chinese-American Chemical Society [for leadership, 2005, and distinguished service, 1997]? That's extraordinary. And as California State University Professor of the Year for the CSU system [1990-91]? We're talking at least 30,000 faculty members in all of the campuses together. Whoa! What does that say? You with me? Oh my gosh, that's amazing!"
Indeed it is, but at the heart of all the awards is Dea's heart. "She takes a very deep interest in her students," says Craney. "It's the personal connection that's most important."
"I remember the first time I walked by Dr. Dea's classic VW Beetle in the parking lot in back of Chemistry," recalls Jonathan Raff '98, now an assistant professor of environmental science at Indiana University. "It had the license plate DEABUG, and at the time I thought, wow, you can be a distinguished professor and still have a great sense of humor."
Raff says he found Dea's mentoring approach "holistic," in and out of the lab. "She always emphasized the importance of balancing academics with a healthy family life. She generously shared her family time with us, and we felt that we were part of her extended family."
Netherlands native Oscar Mulder can attest to that. Currently working on an MBA at Harvard Business School, he came to Oxy in 2004 as a Leiden University exchange student under the mentorship of Dea, who also was serving as associate dean of the College (a position she held for eight years).
Mulder recalls his first day in Dea's class. "She was excited to talk about the research we'd be doing over the summer—super friendly, very warm." Not long after, Mulder felt "something was wrong" with him. He was soon diagnosed with testicular cancer.
"As a 21-year-old guy it was not the most comfortable thing to go to your female professor about, but she was very supportive," says Mulder, who underwent surgery at Cedars-Sinai Medical Center and today is cancer free. "She checked on me regularly, and made sure I had enough friends to help me through that. I don't know how I would have been able to deal with it if she weren't there for me."
As a freshman at UCLA in 1964, the foundation for Dea's mentoring approach was sparked by her own mentor, Charles M. Knobler, now a professor emeritus. "I was fortunate, because I was able to work with a professor in his lab for three years and participate in this kind of activity," Dea says. "That kind of experience is incredibly useful."
Knobler, who joined the UCLA faculty as an assistant professor of chemistry 51 years ago, remembers Dea vividly. "Phoebe was the first undergraduate to do research with me," he says. "She was in my freshman chemistry class, she had come from Hong Kong, pretty much on her own." (Then Phoebe Wong, she came to UCLA from an Anglican girls' school whose enrollment included Thai royalty.) "The first student you have working with you is someone you remember, and having such a good student as Phoebe, that really made it something special."
Back in 107, Dea isn't ready to hand over the keys to her windowless office quite yet: "It's difficult for me to leave Oxy, but I still have work to do. I'm still writing papers, and I think there's an opportunity to teach.
"Twenty-two years without a window," Dea adds quietly, shaking her head under Einstein's watchful eye. Then she smiles. "But I've had windows of opportunity."  
L.A.-based freelancer Peter Gilstrap wrote "What Ike Likes" in the Fall 2014 issue.