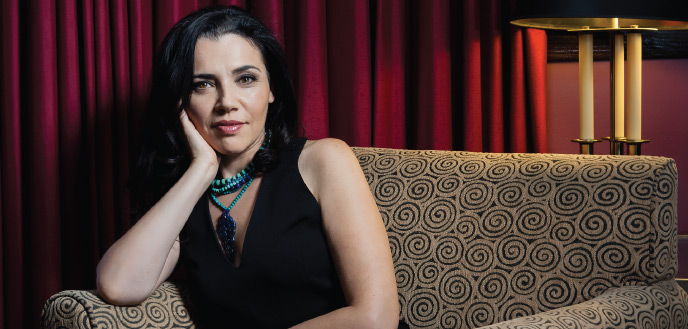 Psychotherapist Julia Postolov Kantor '96 
began a love affair with French music through 
Oxy's study abroad program. Now she's the 
toast of Francophiles on L.A.'s cabaret scene
By Ashley Festa | Photo by Max S. Gerber
One night with Paris Chansons—the eight-member acoustic ensemble founded by Julia Postolov Kantor '96—will transport the listener on a virtual world tour. The Ukrainian-born singer and her Russian guitarist-singer husband recruited two other vocalists—one French, the other Moroccan-born and Israel-raised. They added a Hungarian-American violinist, a Broadway-seasoned pianist, and a pair of L.A. veterans: a drummer and an upright bass player. Together, they perform songs in Hebrew, Spanish, Italian, English, and of course, French.
Voilà—your two-hour globetrotting experience.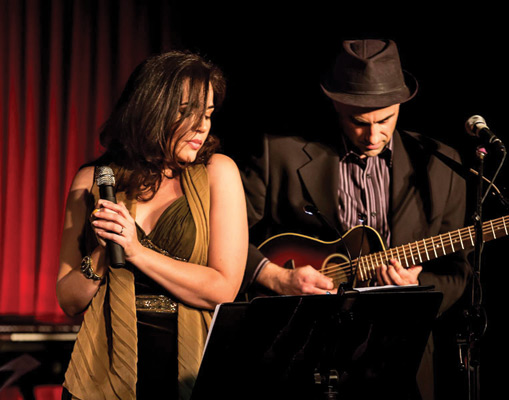 "French is the driving force," says Kantor, a practicing psychotherapist. "Francophiles from all over the world come to see our shows. When I started this band, I had no idea there were so many people who loved French music. I never imagined the cross-cultural, international mix."
On any given night, the crowd may include Romanians, Russians, Lebanese, Israelis, Turks, and Armenians, as well as other Europeans and Americans. Kantor calls the band's music "comfort food" for her ­diverse audience. "People with a history of animosity, like Russians and Ukrainians, will be sitting and singing together. During our shows, you'd think all this stuff in the world wasn't even happening."
"Julia is a translator of cultures," says emerita French professor Annabelle Rea, with whom Kantor studied at Occidental. "I can't think of anything people in the 21st century need more than understanding between cultures."
Despite being the daughter of two singer-songwriters who are known in L.A.'s Russian community, Kantor never intended to start a band. She immigrated with her parents to America at age 5 and got her first exposure to Oxy as a student at Herbert Hoover High School in Glendale, when her French teacher, Kathy Ziel Angers '79 M'80, took her class to participate in a campus event called Culture and Conversation. Kantor subsequently enrolled at Oxy as a psychology major with a minor in French. All the while she dabbled in music, performing in an a cappella trio on campus and falling in love with French music while studying abroad in Toulouse and Rennes her junior year. 
After graduation, she briefly worked as program director for Hillel, a Jewish student organization, learning creative ideas for marketing events, which now serves her well as producer of Paris Chansons. "Instead of the way musicians think about shows, I think about who I can partner with, who can cross-promote this for me, who can provide guest performers," she says. "Each theme allows me to collaborate and connect with different cultural groups."
Before her band was drawing crowds of 200 at the Catalina Jazz Club in Hollywood and the Sofitel Hotel in Beverly Hills, Kantor merely volunteered to help her synagogue, Ohr HaTorah in Los Angeles, organize several evenings of French music at the nearby Sophos Café. More than 100 people attended each event, and she realized she had created something special. "I wanted to build a real band, but I wasn't equipped to do that," Kantor says. "I'm a psychotherapist, not a professional band leader."
In seeking out a mentor, she turned to Ohr HaTorah musician Jeff Lams for help. "I wanted to work with Julia because of her love for music and passion to connect with people," says Lams, who has worked with artists such as Rita Coolidge, Linda Eder, and the late Donna Summer. "It's exciting when someone is this excited."
"I've never had such a steep learning curve in anything I've done," says Kantor, who began gathering band members, starting with her husband, Jacob (a former court reporter who now does closed-captioning for TV). They recruited classical violinist Endre Balogh, another synagogue member. Other bandmates—singers Jean-Luis Darville and Max Cohen, drummer Sinclair Lott, and bassist Adam Cohen—came highly recommended.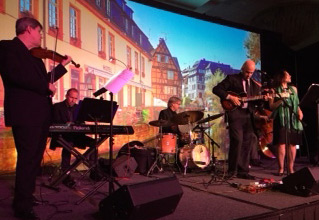 Paris Chansons performs a variety of themed revues with titles such as Tango in Paris, Autour du Monde, and its signature show, Moulin Russe, which puts a new spin on favorite songs by Charles ­Aznavour, Jacques Brel, Edith Piaf, and others. Following the Charlie Hebdo ­terrorist attacks in January, the band created a new performance called Paris, Je t'Aime, with ticket sales going to help the victims' families.
Managing the band is where her 16-year psychotherapy career meets her sultry French singer alter ego.  "As a therapist, I'm collaborative, working with my clients toward changes they want to make," she says. "With the band, I navigate the dynamics of a group with lots of people and lots of opinions."
"Julia embodies the effect that international studies have," Rea says. "Lots of people want to send immigrants home, and I think her story says some very important things about what immigrants can do for our country."
Though Russian is Kantor's native language, there's something about French that touches her soul. "I don't know what it is," she says. "When I sing in French, I feel like I was French in a former life."  
Ashley Festa is a freelance writer in San Antonio, Texas. This is her first story for Occidental.