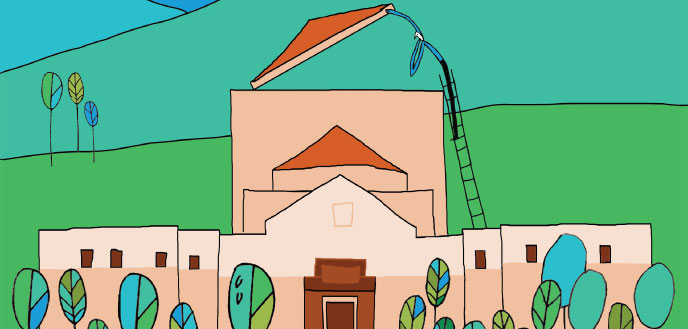 Whether it's replacing pipes, roofs, boilers, or cooling systems, there's nothing sexy about deferred maintenance. But proactive measures now can save a mountain of heartache later
When a century-old cast-iron sewer pipe in the Quad finally gave up the ghost last year, the timing couldn't have been worse. The failure backed up sewage into the ground floor of the newly completed McKinnon Center for Global Affairs, damaging offices, forcing the temporary relocation of staff, and causing a scramble to finish repairs before the gala dedication ceremony was scheduled to take place.
The episode was a painful reminder of the importance of addressing Occidental's backlog of deferred maintenance, says Tom Polansky, director of facilities management. "It's the invisible stuff—sewers and plumbing, roofs, boilers and pumps, heating and cooling systems—that if you ignore it, it will rear up and bite you when you least want that system to fail. And it will also cost you multiple times more to fix it than if you plan ahead of time. You want to fix these things on your schedule, not the other way round."
The issue of deferred maintenance is an issue on every campus, according to James A. Kadamus, vice president of Sightlines, a Connecticut-based facilities consulting firm that serves Oxy and more than 400 other colleges and universities. "You have the gap between the growing need and the capital needed to deal with this, and you start realizing that the conversation about facilities is going to change," Kadamus told the Chronicle of Higher Education. "There is not going to be enough money to fix everything."
Sightlines estimates that Oxy's 101-year-old campus has about $120 million in deferred maintenance—even with the recent creation of the McKinnon Center in Johnson Hall, the renovation and expansion of Swan Hall, and renovations to the Johnson Student Center. "When we do a thorough renovation project, we always have done as much as budget allows to address these issues," Polansky says. "That resets the maintenance clock back to zero. The problem is that we focus on individual buildings, and that does not address the connective tissue."
Because of the age of Oxy's campus, just knowing where the connective tissue is can be a challenge. For the last two years, Facilities has been mapping College utility lines, shutoff valves, and switches—electrical, gas, water, sewer, and storm drains—and providing copies to Campus Safety and the Office of Residential Education and Housing Services so key staffers know where to turn in an emergency.
How to pay for all the needed work is the biggest challenge facing Occidental and other colleges. Historically, there has been little donor interest in such projects, despite their high impact. As Polansky puts it: "Who wants their name on a sewer?" About $10 million in funding from the College's 2005 revenue bond issue is being used to address infrastructure issues, but that just scratches the surface, says Amos Himmelstein, vice president for finance and planning.
"Our facilities department has done an outstanding job keeping our infrastructure systems going, but there comes a point in time when an aging system has no life left in it, and simply needs to be replaced," he says. "Investing in infrastructure is also an opportunity to achieve significant savings over time by installing more energy-efficient systems and better coordinating projects for maximum impact."
Ultimately, the goal is to get the College to a place where it routinely conducts preventative maintenance and uses new technology to monitor building systems to help predict where the next trouble spot might be. "The old way of doing things was reactive—wait until you get a complaint, then react to it," Polansky says. "It's like ignoring a toothache to the point where you need a root canal. Everybody benefits if we can get out ahead of this." 
CURRENT PRIORITY PROJECTS
• Keck Theater roof replacement 
(Cost: $150,000)
1
• Replacement of central chillers and cooling towers ($2.6 million)1
• Remodeling of Stearns Hall restrooms 
and installation of building fire 
sprinkler system ($1.6 million)
• Remodeling of Braun Hall restrooms 
and waterproofing ($1.1 million)
• Arthur G. Coons Administrative 
Center central mechanical room 
equipment replacement ($500,000)
• Library stacks elevator replacement 
($200,000)
• Replacement of Norris Chemistry 
mechanical systems (TBD)
2
• Conversion of steam boilers to hot 
water and replacement of old 
equipment (TBD)
1 Completed this spring. 
2 Scheduled for summer.