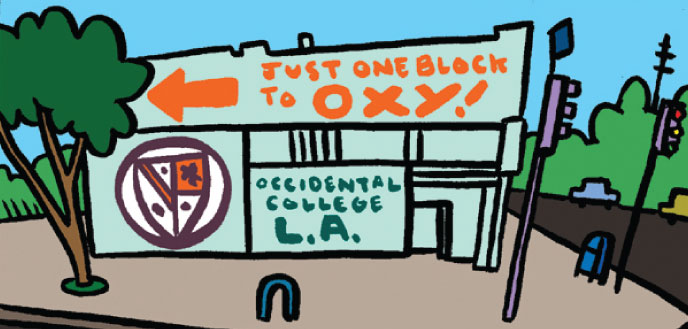 Oxy's purchase of a retail space in Highland Park creates an opportunity to raise its local visibility
Motorists have driven down Highland Park's York Boulevard for years without any idea that the Oxy campus was just a block to the north. That could change with the College's purchase of the 5,400-square-foot commercial building on the northeast corner of York and Armadale Avenue.
"We're hoping to achieve a couple of goals: to help lure the emerging York retail scene further west, closer to the College, and make Occidental more visible in a gateway location on York," says Jim Tranquada, director of communications and community relations. "We're hoping when we renovate the building to make it more obvious that Oxy is nearby."
The building's prime corner space that currently houses the Ocxy Store—a liquor/convenience establishment—likely will remain some kind of locally owned store/café, and it is possible that two other adjacent spaces might be used for some kind of commercial or retail use. The current plan is for the rest of the building to be used for as some as yet undetermined College purpose.
In March, the College issued a request for proposals to faculty and staff, seeking ideas for Oxy's use of the other four units. Each proposal is being asked to address "the public component of your programming as well as the outreach you envision to the broader community of Highland Park."
The purchase placed the College squarely in the middle of the debate over the gentrification of York Boulevard, where trendy ­boutiques, restaurants, coffee houses, and bars are increasingly replacing older uses. In 2013, Redfin Corp. named Highland Park as the country's top "Real Estate Neighborhood to Watch." Late last year, the public radio show "Marketplace" set up a temporary ­bureau in Highland Park to "track gentri­fi­cation as it happens," as documented at yorkandfig.com.
"The hope is that much of the activity in those units will also have a benefit for the community," Amos Himmelstein, vice president for finance and planning, told the Occidental Weekly. (One student interviewed by the Weekly worried that the building's purchase was "another way for the administration to regulate student ­alcohol consumption.")
The building—which dates back to the 1920s—needs to be renovated inside and out before any new occupants can move in.