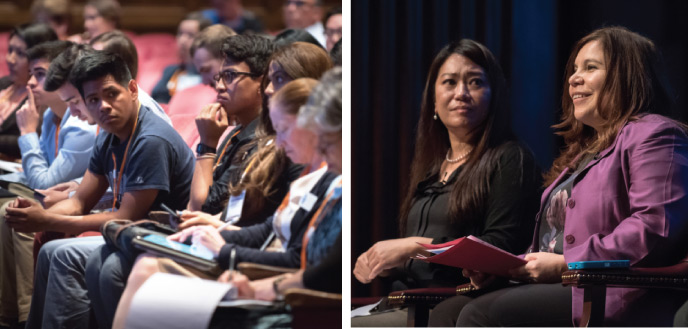 How should colleges and universities respond to sweeping changes in immigration policy? A daylong symposium hosted by Oxy sparks a dialogue
More than 250 administrators, faculty, and students from dozens of Southern California colleges and universities gathered at Occidental March 10 to consider how best to respond to sweeping changes in federal immigration policy.
"This is the beginning of a conversation," Occidental President Jonathan Veitch said at the opening of the daylong symposium, "Moving Forward," co-hosted by the Association of Independent California Colleges and Universities. "In the end, our goal is to be more effective in providing support for the most vulnerable members of our community [and] learn how we might build a coalition that can speak with one voice in challenging the ugly climate and related policies that are being propagated in our country."
Joining administrators from USC, UCLA, the Cal State system, and a host of private colleges and universities were representatives from a number of nonprofit groups. Lucas Guttentag, a law professor at Stanford and Yale and former director of the ACLU Immigrant Rights Project, delivered the key­note address.
Many colleges and universities are still debating the merits of declaring themselves to be a "sanctuary campus"—a term that is widely used, loosely defined, and means different things to different people, Guttentag said. "Whatever form sanctuary takes, it conveys an essential message: We are doing all we can to provide a measure of support and safety to students who are the mission of our institutions, as well as for workers and families who are a part of the extended college family. That message of support has never been more important than today."
Panels of experts, moderated by Occidental trustee Hector De La Torre '89, Rosie Arroyo of the California Community Foundation, and Pomona College President David Oxtoby, discussed the current state of the law, pending legislation, and how best to support affected students and other campus community members.
Immigrant advocates reported a spike in inquiries seeking legal advice. "We are being asked questions that break your heart, [like] 'My brother is disabled. If my parents are deported, how can I get a guardianship so he can continue to get the medical care he needs?'" said Maria Blanco, executive director of the UC Davis Law School Undocumented Legal Services Center. "Our work has tripled."
While uncertainty is widespread, Tom Saenz of the Mexican American Legal Defense Fund shared three basic messages that are essential for everyone to communicate: Know your legal rights; don't waive your legal rights; and when you do waive your legal rights, know that you are not alone.
Support for undocumented students is essential, added Angelica Salas '93, executive director of the Coalition for Humane Immigrant Rights of Los Angeles. "You don't know how many people I know who are doing this work because this college invested in us," she said of Oxy. "It's about supporting those students who are facing this difficult moment and making sure they succeed."
Although much of the debate has focused on immigrants from Mexico and Central America, there are an estimated 400,000 undocumented Asian-Pacific Islanders in California alone, according to Betty Hung, policy director of Asian Americans Advancing Justice-L.A. Almost half of undocumented UCLA students, she said, are Asian-Pacific Islanders.
Even as campuses rally in support of their students, it's vital that they promote dialogue, said Salam Al-Marayati, president of the Muslim Public Affairs Council. "As much as we are very passionate about the issues here, the reality is that a majority of people who watch cable TV are watching Fox News," Al-Marayati said. "If we can engage with people who have opposite points of view in civil dialogue, to understand where people are coming from and to offer alternatives to some of their presumptions, I think that would go a long way. We can't afford to be even more widely divided than we are now."