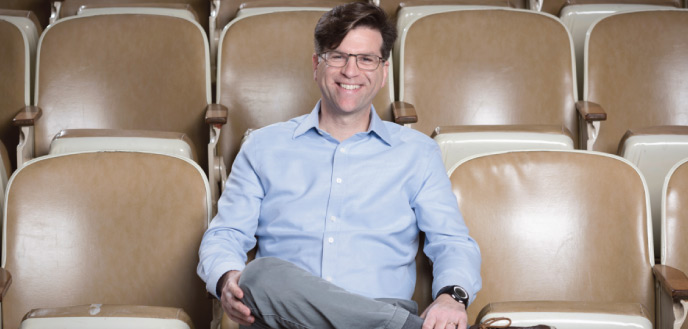 Charlie Cardillo's road to college began behind the wheel of a 1969 Olds 98. Now he's steering Oxy's fundraising efforts as a campaign revs up
Charlie Cardillo knows firsthand the life-changing impact of financial aid. A first-generation college student, he grew up in Hyde Park, Mass. His father was a custodian in the Boston Public Schools; his mom, a hairstylist. Although his parents divorced when he was 7 and his sister, Patty, was almost 9, "They both felt strongly about our education,"Cardillo says. Both Charlie and Patty did well enough to enroll at Boston Latin School, a magnet exam school founded in 1635 and a "feeder school" to neighboring Harvard University (founded one year later).
"It was great for me to get a chance to get to know kids from all over the city," Cardillo says, "but it was still a bit of a journey." That journey was aided a bit when he got his first car, a 1969 Oldsmobile 98 that he bought for $1,000 from the owner of the service station where he worked as an attendant on the weekends. Long before he owned the car, Cardillo imagined himself driving it, with its dark brown hard top, power windows and seats, and a 455 engine that was "way too powerful for a 17-year-old to be driving," he recalls with a chuckle. With the blessing of his father, Cardillo took $1,000 out of his bank account, paid for the car in $100 bills, and left the garage with a bill of sale written on the back of an envelope.
"And that was it," he says. "I had the car, and I was feeling great." When he got home, however, Cardillo's mother "sort of feigned excitement for me. The one major mistake I made in all of this was that I didn't tell her that I was buying a car." After emptying out his savings, he had $100 left in the bank. And his mom, both disappointed in her son and concerned for his future, worried about how he could afford to go to college. "Being the completely unaware teen that I was—full of unfounded confidence—I just said to her, 'Don't worry about it. I'll figure it out.'"
Encouraged by a couple of his teachers, Cardillo applied to Harvard (his admission essay was about his grandfather's vegetable garden), interviewed with an officer visiting Boston Latin, and waited. "One day I walked home in the snow and opened up the storm door," he says. "In between the storm door and the front door was a big, fat envelope from Harvard. I ripped it open and it had an acceptance letter, with a nice, frameable certificate, as well as the financial aid letter."
Cardillo unlocked the front door to the house, ran back to the kitchen, and held the letter in front of his mother without saying anything. "She stared at me and said, 'So, what does this mean?' I said, 'It means that I got into Harvard and we can afford it.' I expected her to have a very emotional reaction, but instead she just had this kind of 'Whew!' thing. And then she said, 'I've just been sitting here all day trying to figure out how to tell you that you didn't get into Yale.'"
That's a very long way of introducing Cardillo, who joined the College last July as vice president for institutional advancement. But it also says a lot about the importance he places on scholarship support for an education, which is expected to be the cornerstone of the forthcoming capital campaign at Oxy.
"A campaign will allow us to align Oxy's ­financial, capital, and academic planning," he says. "The discipline of a campaign can help impose a focus on those three endeavors, to determine a set of aspirational goals that will require financial support to realize them. It also sharpens our focus on our priorities. And it gives us the opportunity and the excuse to develop our shared story: Who are we as a community? What do we believe and what's possible if we come together at this moment? What's at stake if we don't?"
Cardillo arrived at Oxy after 15 years at Harvard, most recently as senior ­director of annual and reunion giving at Harvard Business School. Prior to that, as assistant dean for development in the Faculty of Arts and Sciences, he was instrumental in launching the portion of the University's current campaign devoted to the priorities of Harvard College.
"As a classics major at Harvard, Charlie developed an intellectual foundation that reinforces his abiding belief in the value and versatility of a liberal arts education," says President Jonathan Veitch. "His experience has made him a believer in the transformative influence that volunteer leadership can have on sustaining an institution's mission."
Building on his experiences as deputy ­executive director of the Harvard Alumni Association, Cardillo made volunteer support essential to his work as executive director of the Harvard College Fund. At the time he went to Harvard on a full scholarship, graduating in 1991, "I wasn't very good at saying thank you," Cardillo admits. "I never found out who funded the financial aid that I benefited from. Somehow I just imagined that 400 years ago, someone had put this money somewhere."
It wasn't until he worked his first phonathon for Harvard as a volunteer "that I kinda got it," Cardillo says. "I walked in and I saw all these alums dialing for dollars. What motivated so many of them was financial aid," he says. "A group of people were fighting the good fight, and reminding people that this was important." Cardillo subsequently began volunteering for his class, "and it all led into this career path eventually."
Aside from the fact that he knew that Ben Affleck '95 had attended Oxy—his wife's Harvard '92 classmate, Matt Damon, left the university to work with Affleck on the script for Good Will Hunting in L.A.—Cardillo's sense of Occidental was that it was it was "a school for people interested in the arts." As he got to know Oxy during last year's job search, he says, "The fact that it was a liberal arts college embedded in this major urban center made it that much more attractive to me. I like being in an urban environment and having access to all that a city can offer."
Part of the campaign message that Oxy is developing, Cardillo says, "is that the College is poised to be 'one of the great success stories in liberal arts education,' as Jonathan articulates in his speeches so well when he talks about the relationship between American liberal arts and democracy."
Cardillo has gotten to know the culture of the College over the last 10 months. "Oxy has so many reasons to be really confident in what it has accomplished," he says. "I know that it might go a little bit against the College's culture of humility, but this place has more than earned the right to toot its own horn. I'm excited to be here in this moment to help tell the Occidental story."
When Cardillo and his family relocated to Los Angeles last summer, it was actually his second time moving to the City of Angels. Shortly after graduating from Harvard, "I moved out with a friend I graduated with to see if I could pursue a singing career," he recalls. (A number of groups out of Boston had made it big in the '80s, including New Edition and New Kids on the Block.) Cardillo went so far as to cut a demo tape, but lasted about six weeks in L.A. before moving back to Boston to pursue other interests.
"I had no idea what I was doing, why I was doing it, or how I was going to do it," he confesses. "I guess it's not so secret now."
This time around, he's got the right stuff.—DICK ANDERSON