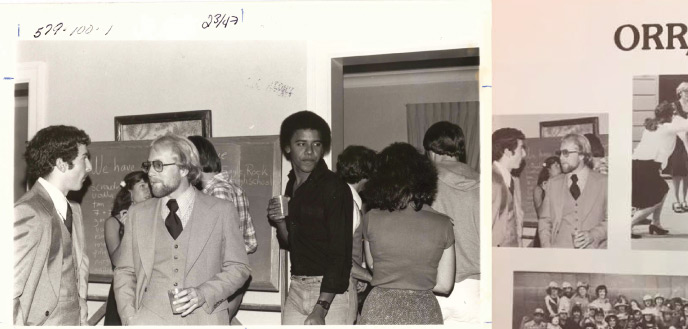 The untold story behind a candid cocktail photo and the guy who is missing from this pic
Sharp-Dressed Man
In the sepia-toned photo accompanying the piece "Obama on Oxy" (Winter), the handsome guy in the three-piece suit is Bill Knutson '82, then editor of the Occidental newspaper. He is married to our daughter, Carin (Dewhirst) '82. Bill has the back story on this picture.
I enjoy reading all your Occidental magazines—this one is really superb. Congratulations, and thanks for all the hard work.
Joan (Smith) Dewhirst '56
Santa Barbara
The Rest of the Story
If I recall correctly from the dim mists of antiquity, the other distinguished gentleman in a polyester three-piece (my roommate Mike Malouf '82) and I were on our way to a string quartet concert in Beckman Auditorium at Caltech. In the late '70s, men typically upped their attire a bit for such events. On our way out to Pasadena, we stopped briefly at a dorm mixer welcoming first-years. The location may have been Haines Hall. If you look closely at the blackboard in the background, it has the names of the new students' high schools of origin. A photographer from the yearbook snapped a picture of Mike and me, and that other fellow wandered into the shot.
When the photo was published in the 1980 La Encina (on page 100), the only people you saw were me and Mike. Years later it resurfaced in a box when the offices of the yearbook and The Occidental moved from their venerable digs beneath the tower of the Freeman Union. In those pre-digital days, one would edit photos as needed by drawing a crop line with a non-reprographic blue pencil, frequently cropping the photo itself with an X-Acto knife on the glass top light box where we pasted up the newspaper or yearbook. This photo has crop marks on it excising the future president—a final cut that was never made.
The photo has appeared at least once before in Occidental, which led to delightful reconnections with a number of classmates, but it gained a certain amusing notoriety when it was used by Fox News in a rather overheated piece about the shadowy background of our president. The denizens of that media outlet's website identified me with certitude as Bill Ayers, founder of the radical Weather Underground, indoctrinating a young Barack Obama in nefarious schemes to undermine the Republic. My only transgressions, however, are against fashion, for which my wide-tied-and-lapelled gradient-tinted-aviator-glasses former self has been fully punished by having this image broadcast around the world.
Thanks for all the great work you do and a chance to recount a tiny bit of the past. As fun as it was to share a brief moment in time and space with a man who made history, Joan identifies the greatest experience I carry with me from Oxy, in addition to a fine education—the chance to meet and marry her wonderful daughter, with whom I've raised two marvelous children and shared countless hours of laughter and love.
Bill Knutson '82
Ventura
Neighborhood Grocery
"Gold Standard" (Winter) mentions that Sammy Lee '43's parents had a grocery store on York Boulevard. Where, exactly? My brother (Herb '64), sister (Erika '66), and I grew up at 5019 Meridian Street, just one block north of York Boulevard. I'm curious to know if our family shopped there.
Sammy Lee and Bob Gutowski '58 were very big stuff in our day. I didn't know about the strong local connection.
Walter Noll '61
Etna, N.H.
To the Left, to the Left
I just wanted to tell you how much I hate the Occidental magazine. I was a conservative Democrat in college and now I am conservative Republican, Tea Party type. I recently attended a panel discussion for Campaign Semester that was reported in the magazine ("Lessons From Campaign Semester," Winter). It was embarrassing how far left the College has moved. Out of 14 students participating in the program, 13 were Democrats and the Republican was so far left I do not know how she identified as a Republican.
I attended the luncheon afterward and actually had to correct an instructor from Pasadena City College with the fact that the United States is a democratic republic with an electoral college. The bias of the Oxy professor leading the program and discussion was completely embarrassing.
Shame on the College for not showing the various sides of the argument. This is leftism, not a liberal program.
Kris Urdahl '75
Carlsbad
Remembering Jean
I want to compliment you on an excellent issue, especially the lovely tribute to Jean Paule ("Oxy's Institutional Memory," Winter). I met her when I was a freshman in 1954 and she was Dr. Coons' secretary. Years later, she assisted me in research for the class history for our 50th reunion. She was a real treasure.
Suzo McKellar '58
Marina Del Rey
Regarding your tribute to Jean Paule: Nicely spoken. She (and you!) are what make Oxy so special. Keep up the good work.
Ken Grobecker '65
Pasadena