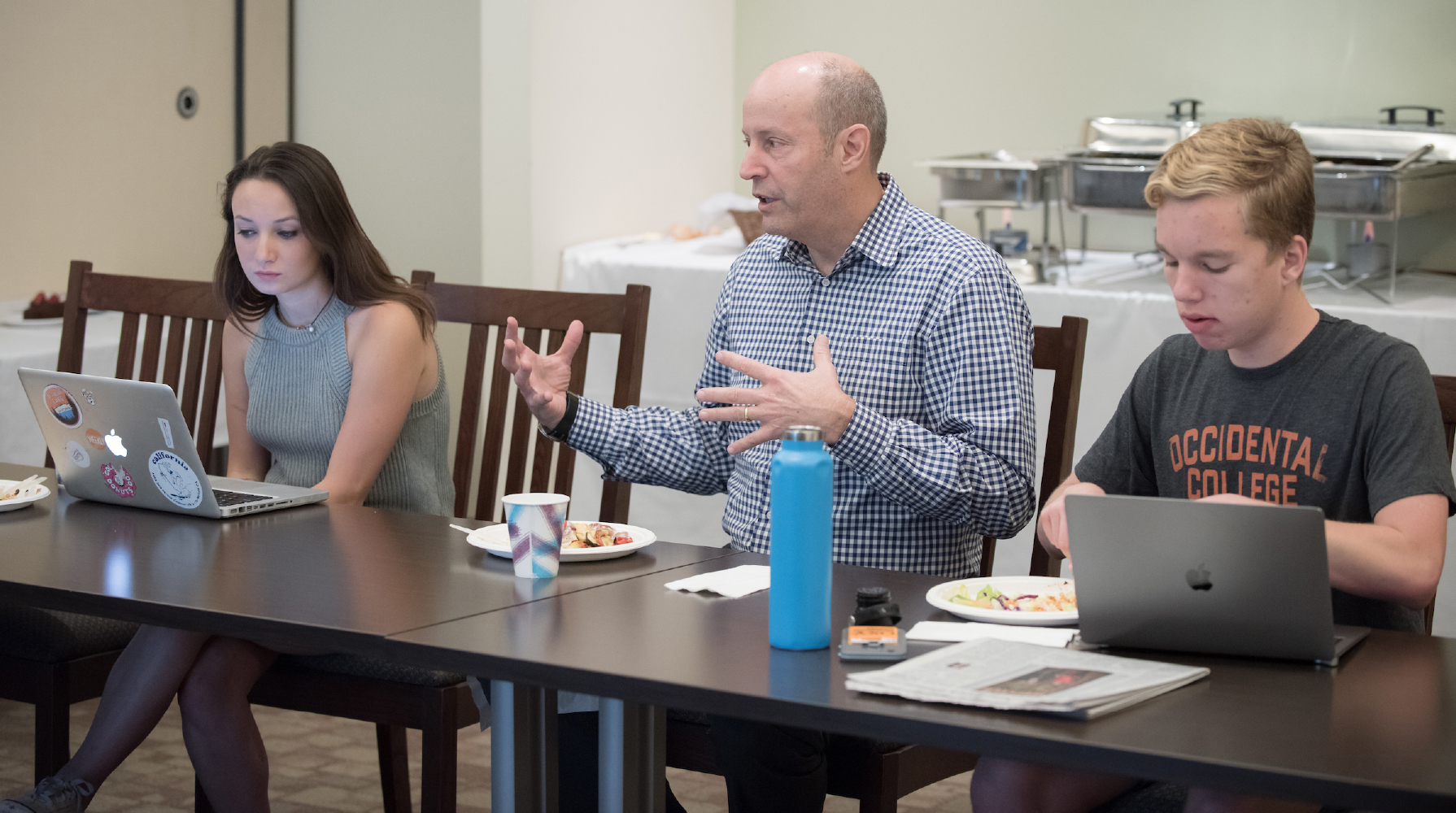 Free Lunch and the Art of Conversation
According to the American Council on Education, the chief areas on which college and university presidents spend their time have changed little over the last 30 years: fundraising, budgeting, community relations, and strategic planning. Yet presidents also report that students continue to be the group that provides them with the greatest rewards. Although one of the things that attracted me to being a president was the chance to work with students, my own experience is no exception: Given Oxy's endowment needs, fundraising, budgeting, and planning take up much of my time. And my interactions with students often provide me with some of the greatest compensations of this demanding job.
On every Tuesday I'm not traveling or locked into a series of meetings, I sit down with Barbara Thomas, adviser to our award-winning student newspaper, The Occidental, and a group of interested students over lunch in the Bengal Room to discuss recent news coverage in The New York Times. As we parse not just the news but how and why the Times covered particular issues, the conversation can range from Middle Eastern politics to the risky behavior of woolly mammoths to the links between modern Chinese cinema and the soft power of culture in the global marketplace.
While some participants are reporters and editors at The Occidental, many are simply thoughtful and perceptive consumers of news. (The free food doesn't hurt, either.) It's a lunch date I always look forward to, a regular reminder not only of how smart Oxy students are but how many different perspectives they represent. It's also another reminder of the value of Oxy's location in Los Angeles—how many student newspaper staffs have the former executive news editor of the Los Angeles Times as their adviser?
I've also had the opportunity to get together with students in a way that is a little closer to the classroom setting where I began my career. I recently took the time to discuss Russell Kirk's classic book, The Conservative Mind: From Burke to Eliot, with members of the student club called Conservatives of Occidental. (In a graceful nod to Oxy history, its Facebook page features a photo of Jack Kemp '57.) When I first sat down with club members, it was with the idea of working together to find some smart and thoughtful conservative speakers we could bring to campus in the tradition of David Brooks, Morton Kondracke, and Condoleeza Rice, all of whom have spoken at Oxy since my arrival here nearly nine years ago.
As we talked, it struck me that they did not seem fully conversant with the historical roots of the conservative tradition. Their philosophy seemed to be based more on a free market, libertarian approach than a Burkean point of view. That inspired me to buy them all copies of The Conservative Mind, a survey that would walk them through the work of some of the touchstones of conservative thought, from Edmund Burke and John Henry Newman (whose On the Scope and Nature of University Education should be mandatory reading for every college president) to William F. Buckley Jr. Newman captured quite well the habits of mind that a liberal arts education should instill—"freedom, equitableness, calmness, moderation, and wisdom"—that I hope all Oxy students will acquire during their time here.
Like any college president, I take pride in the role that I have played, and the money that I helped raise, to make major campus projects possible—in my case, efforts like the renovation and expansion of faculty offices in Swan Hall, the creation of the McKinnon Center for Global Affairs in Johnson Hall, the Hameetman Career Center, the new Anderson Center for Environmental Sciences, and finally bringing a new pool and tennis courts to campus. But projects like these are not ends in themselves.
They are merely resources—tools, if you will—that we use for the ultimate benefit of our students and the Oxy education they will take with them when they graduate. I want our students to have an appreciation of complexity, a respect for intellectual culture, and a capacity for reflection. Sitting around a table discussing The New York Times or John Henry Newman is what it's really all about—and why I find those sessions so deeply satisfying. When you're sitting in an airport terminal after a long day of meetings, waiting to catch a redeye to your next set of meetings, you can sometimes lose sight of the big picture. That's when I reach for the Times and start thinking about our next discussion in the Bengal Room.
Jonathan Veitch
President