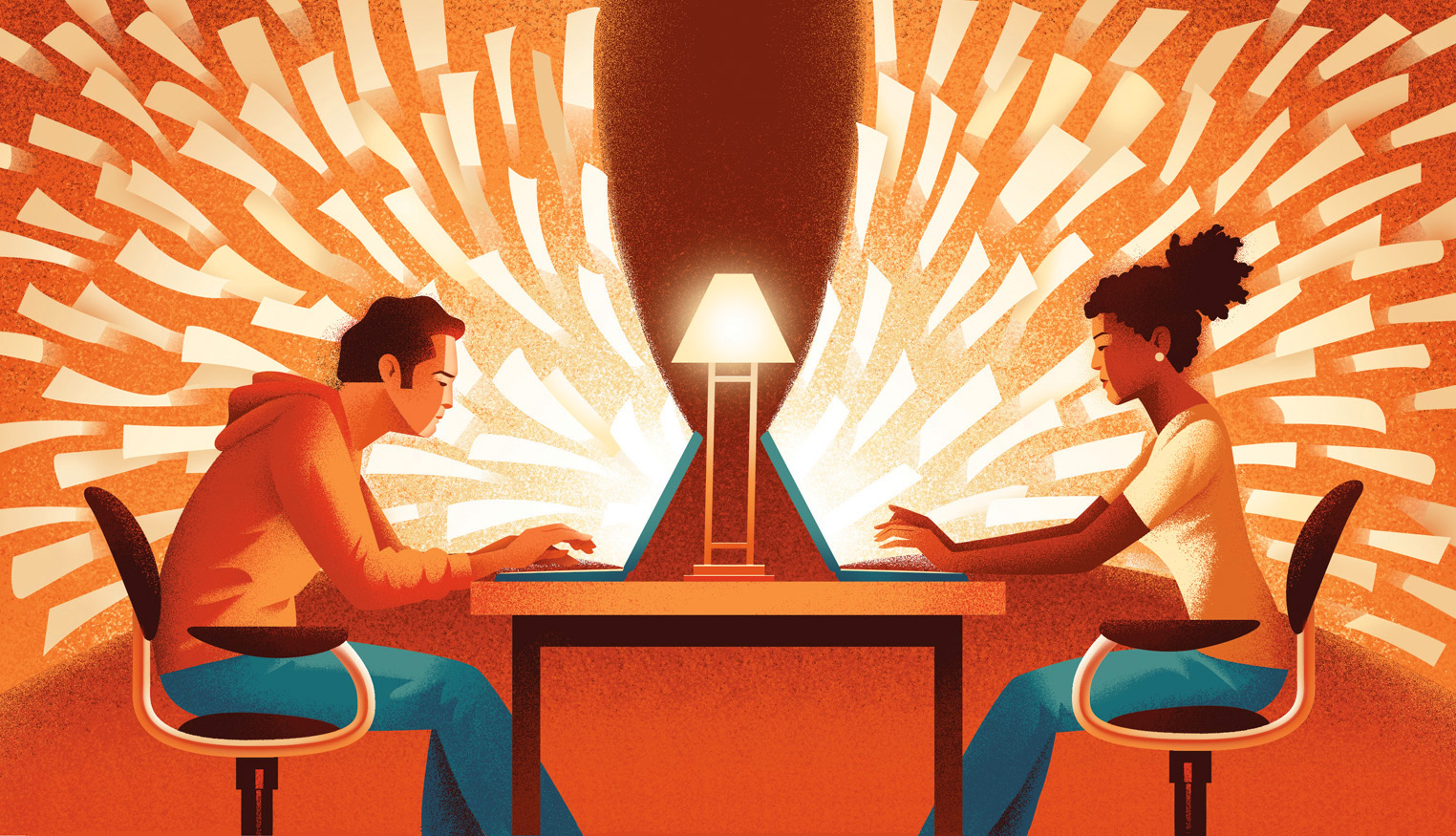 Alumni memories of honing writing skills, replacing a broken windshield, and hanging with Ming Cho Lee '53
Words With Friends
"Get Me Rewrite!" (Winter) brought back so many wonderful—and incredibly frustrating—memories of honing my writing skills at Oxy. So many hours brainstorming, writing, editing, rewriting, diving deep into the text, researching related texts (even the tangential ones in the stacks in the library—I am dating myself in that reference!), receiving hours of guidance in the Writing Center, and finally producing a paper of which one could be proud. Or at least thankful it was done.
I attended Oxy from 1997 to 2001 and was an English and comparative literary studies major. Prior to that, I attended Crescenta Valley High School, where Oxy writing professor Debbie Martinson also taught AP English Literature. She was my 12th-grade English teacher, which meant I received Oxy's intense writing course in high school. In response to the first paper we wrote in her AP English Lit class about Oedipus Rex, she wrote, "See me" rather than provide a letter grade. Ouch. That was a rude awakening but an experience for which I will always be grateful!
In one session with her later that year, we ended up shouting at each other as I developed my thesis for my paper on Hamlet. She kept challenging me, "So what?" as I struggled to come up with a thesis that mattered. I finally shouted back in a breakthrough moment, "Shakespeare uses images of flowers and nature during Ophelia's mental break to call attention to the unnatural and damaging effects of repression!" She took a step back, beamed proudly, and exclaimed, "Aha! That is your thesis. Now go and write." It's not surprising that five of us (all women) from her class went on to Oxy for undergrad. It's also not surprising that so many students who majored in English and comparative literary studies went on to be successful medical and law school students; writing well is a powerful tool across all content fields, as you state in your article.
I loved Debbie Martinson (man, I miss her and that wicked sense of humor) and the other professors in the Writing Center at Oxy, including Tom Burkdall. There were so many valuable hours of frustration and mental constipation followed by inspired moments of breakthrough and catharsis.
Thank you for that trip down Memory Lane and for writing an article so universal, and arguably unique, to the Oxy experience.
Sarah Wahrenbrock '01
Los Angeles
Chairished Memories
I read the piece on Loren Brodhead '59's efforts to restore the Gresham Dining Hall chairs with great interest ("More Endowed Chairs," Summer/Fall 2020). I am sending a check for one chair immediately. The restoration is sponsored by the Committee to Buy Art Simon a New Windshield (Art Simon '83, Brian Dushaw '83, Bill Spieth '83, Tom Schneidermann '83, and myself).
The group was organized in 1982 to raise money for a new windshield for Art's ridiculous Fiat X-19. A replacement windshield seemed very expensive to impoverished college students, so we initiated a campuswide fundraiser—complete with donors, fundraising table in the Quad, donation thermometer on the side of the Union, and updates in the Weekly. For a dollar, one was recognized as "A Friend of Art Simon." (Higher giving levels included "A Good Friend" and "A Special Friend.")
Other more earnest fundraising groups were annoyed by our success and assumed that we were a parody of their much more serious efforts. The committee declined comment but ultimately raised enough money to buy Art a new windshield.
Many thanks for this opportunity. I'll be exploring additional sponsorship possibilities for more chairs, and I hope this will encourage others to follow suit. Cheers!
Michael A. "Bert" Bedeau '84
Virginia City, Nev.
For more information about the Gresham Dining Hall chair project, contact Amy Muñoz, associate vice president of hospitality services (munoz@oxy.edu).
In Good Company
I really enjoyed the extensive writeup about classmate Ming Cho Lee '53 ("The Play's the Thing," From the Archive, Winter). Ming lived in Wylie, where my husband, Allen Gresham '53, also lived. I remember the girls he hung around with: Ruth Jordan '51, Marilyn Burn '53, and Dee Sharpe '54. Who could have imagined how he would develop this career? (I think those Oxy professors and his pals played a big part!)
Clara Gresham '53
San Bernardino
From the Editor: ICYMI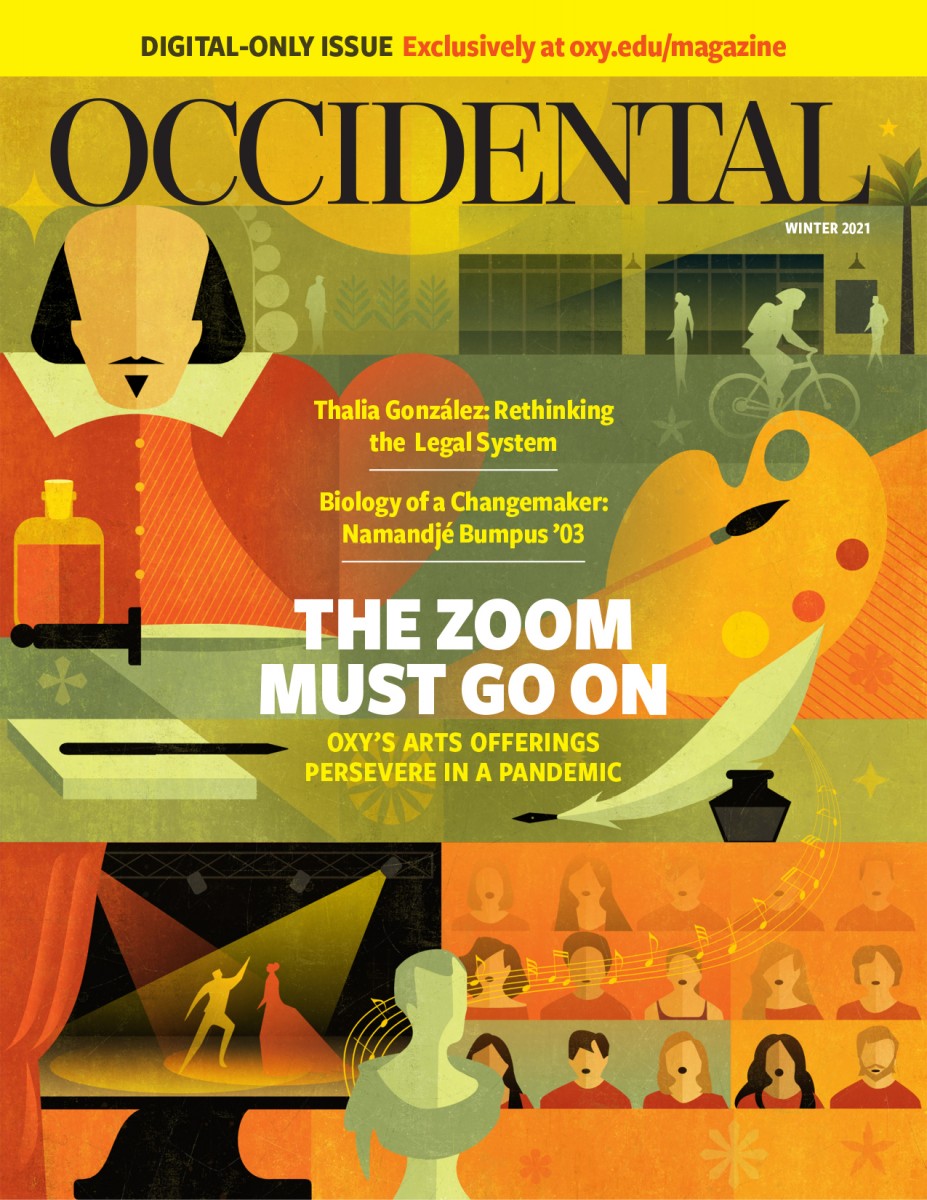 It's been six months between print editions—but in case you missed our digital-only Winter issue (and a dozen web-exclusive stories), I encourage you to visit our recently redesigned homepage. In addition to the contents of every issue dating back to 2012, you'll find bonus content for this issue, selected stories from the Occidental magazine archives, and more. We will be digital-only for the Summer issue and back in your mailbox for Fall—but for now, enjoy this issue, visit us online anytime, and send me your feedback if the Oxy spirit moves you.—Dick Anderson