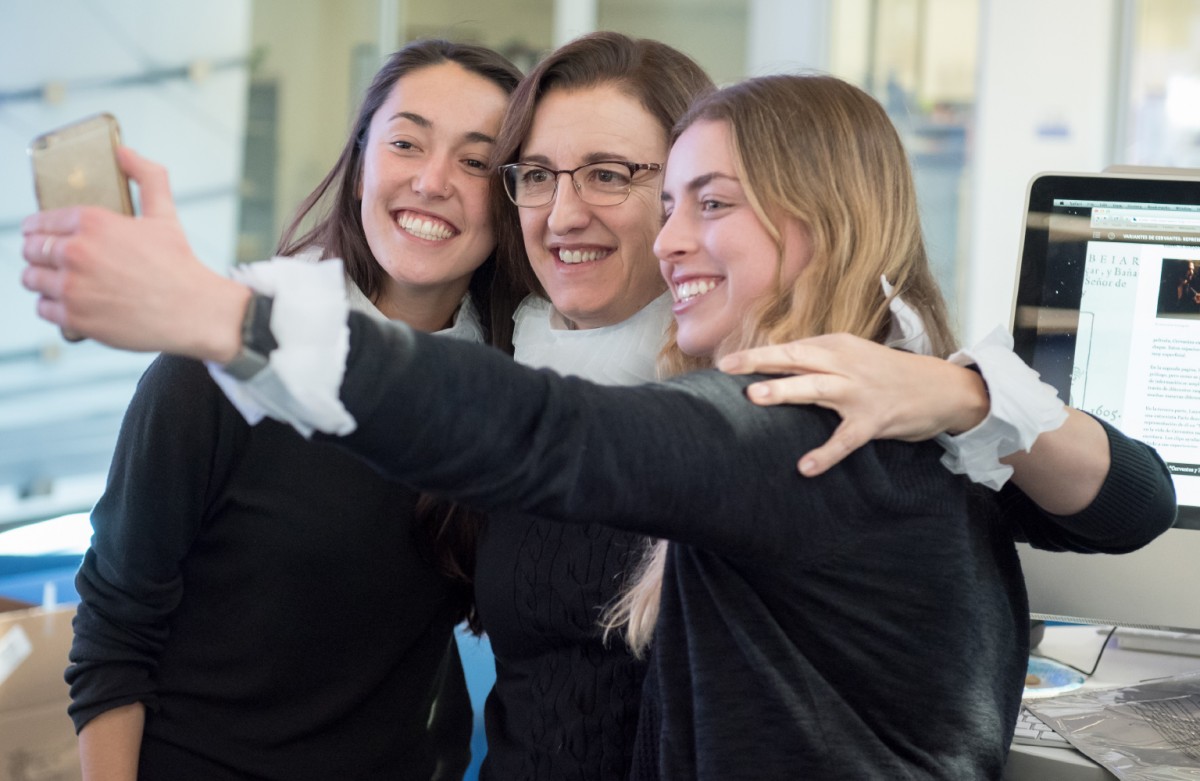 Professor of Spanish and French Studies Felisa Guillén is retiring after 31 years at Oxy. This tribute to her legacy is part of the Spring 2021 magazine.
Most memorable project: "In celebration of Cervantes' 400th death anniversary in April 2016, the Spanish seniors wrote their comps papers on Cervantes. We published those papers digitally and also created a special edition of 30 copies printed on a special paper under the curation of Jocelyn Pedersen imitating the style of books at Cervantes' time. The book binding was done all by hand and all the pages were sewn. Illustrations were requested from students via a campuswide contest and the chosen ones were included in the book. Everything was bound together and tied with a red tape. That book symbolizes everything that I have loved about my time at Oxy: engaging students in creative projects, collaborating with people across campus, and feeling the joy of being part of a vibrant and supportive community."
Favorite class: "I loved all of my classes, but I particularly enjoyed those that included some works by Cervantes."
Plans for retirement: "I do not have any big plans, because living through the pandemic has taught me that things change suddenly and I should take things day by day."
Alumni Tributes
Tania Flores '13: When I enrolled in Spanish Literature and Film of the Golden Age as a sophomore, I could not imagine the possibility that my intellectual life would come to take the transtemporal and interdisciplinary shape of that course. I found in Professor Guillén an academic role model whose interests in the intersection of literature, performance, and film and in the afterlives of artistic and historic events still reverberate in my work today. She was to become a mentor who would fundamentally shift the course of my career and my life.
Before all of that, however, there was a nondescript classroom in Johnson Hall, a syllabus grounded in 20th- and 21st-century artistic production, and the eternally sunny, high-energy, and good-natured whirlwind that is Professor Guillén. I was struck by her dedication to learning the names of her students as quickly as she could, and by her admission that she had been studying our names on our class Moodle site.
I should have known then that I had stumbled into that ideal and yet rare learning environment in which the professor manages, by some extraordinary feat, to center every student's intellectual trajectory, curiosities, and areas of growth. During the years that followed, Professor Guillén made clear her belief in the strength of my academic project, connecting me to other faculty, advising me in the process of securing a Fulbright research grant, and supporting me in applying to graduate school.
In retrospect, I realize that Professor Guillén helped me imagine how I might clear a path through the tangled thicket of my intellectual interests, and that in many ways she saw that path more clearly than I did. As my own teaching career begins, I feel overwhelming gratitude to have experienced that kind of mentorship, and I am deeply indebted to her academic work, pedagogical approach, and classroom manner. Professor Guillén will be deeply missed at Oxy. I can only hope that her retirement brings quality time with loved ones, restorative trips home to Spain, and, of course, the pleasures of literature, film, and performance.
Flores is a Ph.D. student, writer, and organizer in Oakland.
Dana Weinstein '16: "Todo hombre debe ser capaz de todas las ideas y entiendo que en el porvenir lo será"—"Every man [sic] should be capable of all ideas, and I believe in the future he shall be."
This is one of my favorite literary quotes from Jorge Luis Borges in his anachronis­tically mind-bending short story "Pierre Menard, Author of the Quixote"—a piece I was introduced to in Professor Guillén's sensational senior seminar on all things
Don Quixote
. In class, Professor Guillén opened our minds up to infinite possibility, exploration, and ideation through literature and art—bringing a 17th-century novel to life through the sheer force of her passion, brilliance, and ability to distill complex literary analysis into energizing lectures. I had never been particularly fond of classics, yet Guillén's dynamic teaching style made me devour the passages of
Don Quixote
with a savor that I usually reserved for late-night snacks at the Tiger Cooler. I fondly remember exploring the text through the lens of Derridean deconstructionism, which proposed the breakdown of traditional notions of authorship and meaning-making, while validating the idea that anyone could create art through the act of interpretation. The ways in which Guillén adeptly explained literary theory, always infused with her signature quick-witted humor, left such an impression on me that I continue to draw from these concepts years later.
Her commitment to affirming the intellectual power in all her students—their ability to interpret and fundamentally create art and literature—felt empowering and liberating. She made me feel as if I was capable of all ideas, as Borges says, and inspired my intellectual curiosity, belief in the power of interpretation, and my willingness to question binary modes of thinking. I cherish these lessons and carry them in my everyday work studying the science and impact of pop culture narratives. On behalf of everyone who has had the privilege of taking one of her classes, I want to thank Professor Guillén for her enthusiasm, mentorship, and dedication—Oxy will surely miss you, but I know you will continue to inspire in whichever path you take next!
Weinstein works at the USC Annenberg Norman Lear Center, which is dedicated to studying the impact of narratives in entertainment, popular culture, and mass media.