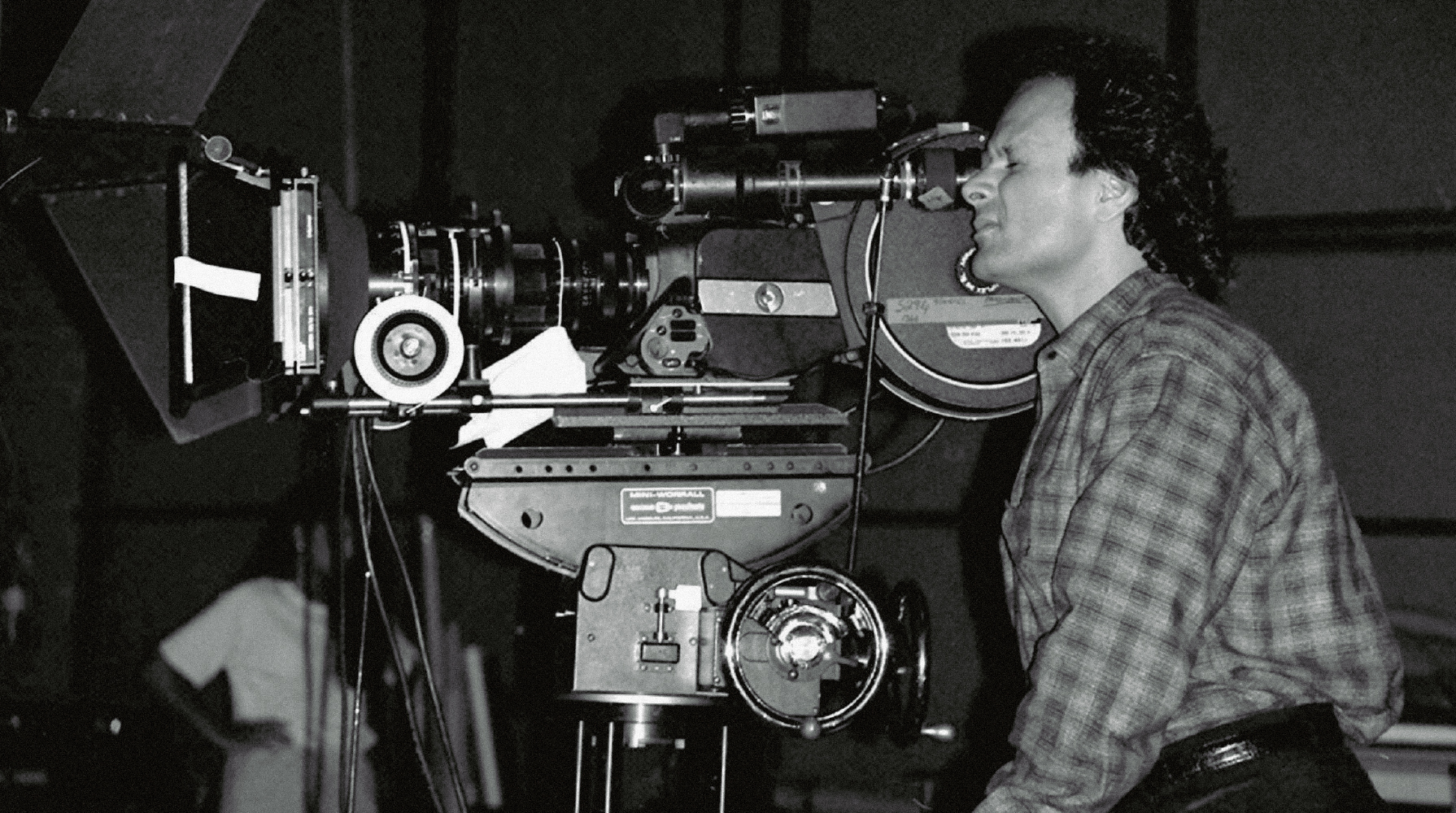 John Callas M'75 built a Hollywood career by saying "Yes" to new opportunities—but he had to overcome trauma to get there
From an early age, movies provided an escape mechanism for John Callas M'75. In the summer of 1963, home from his first year at military school and determined not to return, he took refuge at the cinema: The Nutty Professor, Lord of the Flies, Beach Party, and The Great Escape—the last of which gave him ideas of how to go AWOL.
"But after thinking about it, it just seems pointless to dig a tunnel when I can just walk off campus," Callas writes in
When the Rain Stops
, a raw, deeply personal memoir of his struggles as an adolescent—attempting suicide at 15 by jumping into a partially frozen lake—followed by depression issues. It is perhaps the least commercial endeavor in a career that has encompassed film, television, music, advertising, and home video—nearly every post along the media landscape over the last five decades. "If I save one person's life," he says, "I'll feel like I wrote a best-seller."
"This is not a book about a movie star, a famous athlete, a celebrity, or a hero," Callas writes in the preface. "I'm just a guy living day to day who survived childhood traumas that cut deep and left permanent scars."
Talking from his home in Santa Monica, When the Rain Stops was half a century in the making, Callas says. He was 17 or 18 when a therapist said, "Why don't you write down some stuff that happened to you so I can get a sense of it?" "I sat down and wrote about 30 pages from the beginning of when the trauma started," he recalls. "After that, I just kept journaling in a sense."
A lot has happened over the last 50 years. Callas worked in a professional theater as an undergraduate at Loretto Heights College in Denver (which closed its doors in its centennial year in 1988), in an individualized program, University Without Walls. After an internship with the Williamstown Theater Festival in Massachusetts, he sought out a master's degree in theater, and ultimately wound up at Occidental, where Professor Omar Paxson '48 "took me under his wing and we had a really good time," he says.
After getting an "A" for a documentary short from experimental filmmaker and longtime Oxy professor Chick Strand, Callas shifted his focus from acting to directing. For his master's project, he staged a full-length play ( The Informant, by Bertolt Brecht), and wrote his thesis about the process, which he presented in a three-hour meeting with Oxy's Drama Department. "That last part had me sweating like crazy," he says. "But when I walked in the room, the first thing they did was offer me cookies and milk or coffee. From there, it was very informal and easy."
While he was blocking out the play in a small cafe, he struck up a conversation with an unnamed patron he describes as "a bald-headed man in a white suit." Callas told him about the play, and the two remained in touch after that. As it happened, his new friend was an art director in the film business; he secured Callas his first job on a feature, director Paul Bartel's 1976 film Cannonball, as a pyrotechnics assistant to special effects coordinator Harry Woolman.
Callas wound up doing a number of films with Woolman, gradually working his way up from the art department to dialogue director to assistant director. Producer Peter Locke hired Callas as a unit production manager and first assistant director on The Hills Have Eyes, Wes Craven's sophomore directorial effort and a box-office sleeper in 1977.
That opened the door to work producing commercials and music videos. In the mid-1980s heyday of MTV, Callas worked on more than two dozen music videos, including Bow Wow Wow's "I Want Candy," Sammy Hagar's "I Can't Drive 55," Glenn Frey's award-winning "Smuggler's Blues," and "True Men Don't Eat Coyotes," the 1984 debut video by the Red Hot Chili Peppers. Another career highlight was a much-sought after job producing a full-length concert film Styx's Kilroy Was Here concert tour for Kramer/Rocklin Studios in 1984. (Working with an eight-camera setup, Callas and his team shot over 1 million feet of 16mm film.) 
Soon after, Callas' day rate for commercial work soared to $350. "That was on the higher end of the scale back then," he recalls. "I started screaming, "Oh crap, I'm rich!'" But almost as quickly, the work dried up. "I took a job as a waiter because I had to feed myself and pay my bills," he says. One customer—a production manager whom he had worked with—offered him a job as a prop master on a film that was going into production a week later. "You know I've never been a prop master," Callas told him, to which his friend replied, "You're smart—you figure it out."
After that, Callas always said "Yes" whenever a new opportunity presented itself. He worked with Hollywood A-listers, from Eddie Murphy and Mel Gibson to Jack Nicholson and George Burns, on everything from teaser trailers to title sequences. He produced the live-action segments for 80 episodes of Bobby's World, the Howie Mandel-created children's series that aired from 1990 to 1998 on FOX.
While working in a number of industry managerial roles in the early 2000s, including Ascent Media Group (overseeing a $40 million account with the Walt Disney Co.), Warner Bros., Technicolor Creative Services, and TiVo parent Rovi Corp., Callas turned to writing as a way to express himself creatively. He has published five books—four novels and the self-explanatory First Time Parents Survival Guide to Avoid Unnecessary and Wild Spending. "I'd love to say that I write every day but I don't," Callas admits. "I have four or five plates going all the time. Sometimes I have to put my total energy into one area because it's the hot plate, so to speak."
In the case of When the Rain Stops, the writing came in waves. "Different events in my life would trigger something and I'd want to write it down and start building it," he says. "There were times that my wife would come by my office and I'd be crying like crazy."
When he completed the initial draft, he shared it with his wife and a writer friend, both of whom "started screaming at me," he recalls. Their objections were not to the content, but to his choice of writing his life story as a character—not himself. "That marked a real change in direction," Callas says.
Has he considered turning his memoir into a film? "I wouldn't object to it," he says. Right now, Christmas Voices—published in 2017—is the one that he's trying to finance. The story of a successful businessman who has lost the values he grew up with, "It's a cross between It's a Wonderful Life and A Christmas Carol," Callas explains. "I really feel the moral compass of this planet has completely gone off the charts. What we need is something uplifting."
Tonally, Christmas Voices is light years away from Callas' 2015 feature film, No Solicitors (which is currently streaming for free on Amazon Prime and Tubi). "That's an interesting story," he says with a laugh. "One day, I was having lunch with a buddy I had worked with at Warner Bros., and he said to me, 'You're in a weird mood.' I said, 'These idiots keep ringing my doorbell, and I have a sign on my door that says No Soliciting. Sometimes I want to kill them.' And he replied, 'Why don't you write a screenplay?' "
After surveying the horror-film landscape, Callas landed on a darkly comic premise that could be described as Norman Rockwell meets Wes Craven. No Solicitors stars Eric Roberts as a renowned brain surgeon with a picture-perfect family and a private practice with a basement. "If you ring the doorbell and you're a solicitor, you're free game," he warns.
We won't spoil the rest for you, but let's just say that Roberts and his family disposed of their victims in a sustainable way. Making the movie "got it out of my system," says Callas, who published a novelization of the film in 2017. "But a lot of my friends watched it and said, 'I'm not coming over your house for ribs, that's for sure.' "