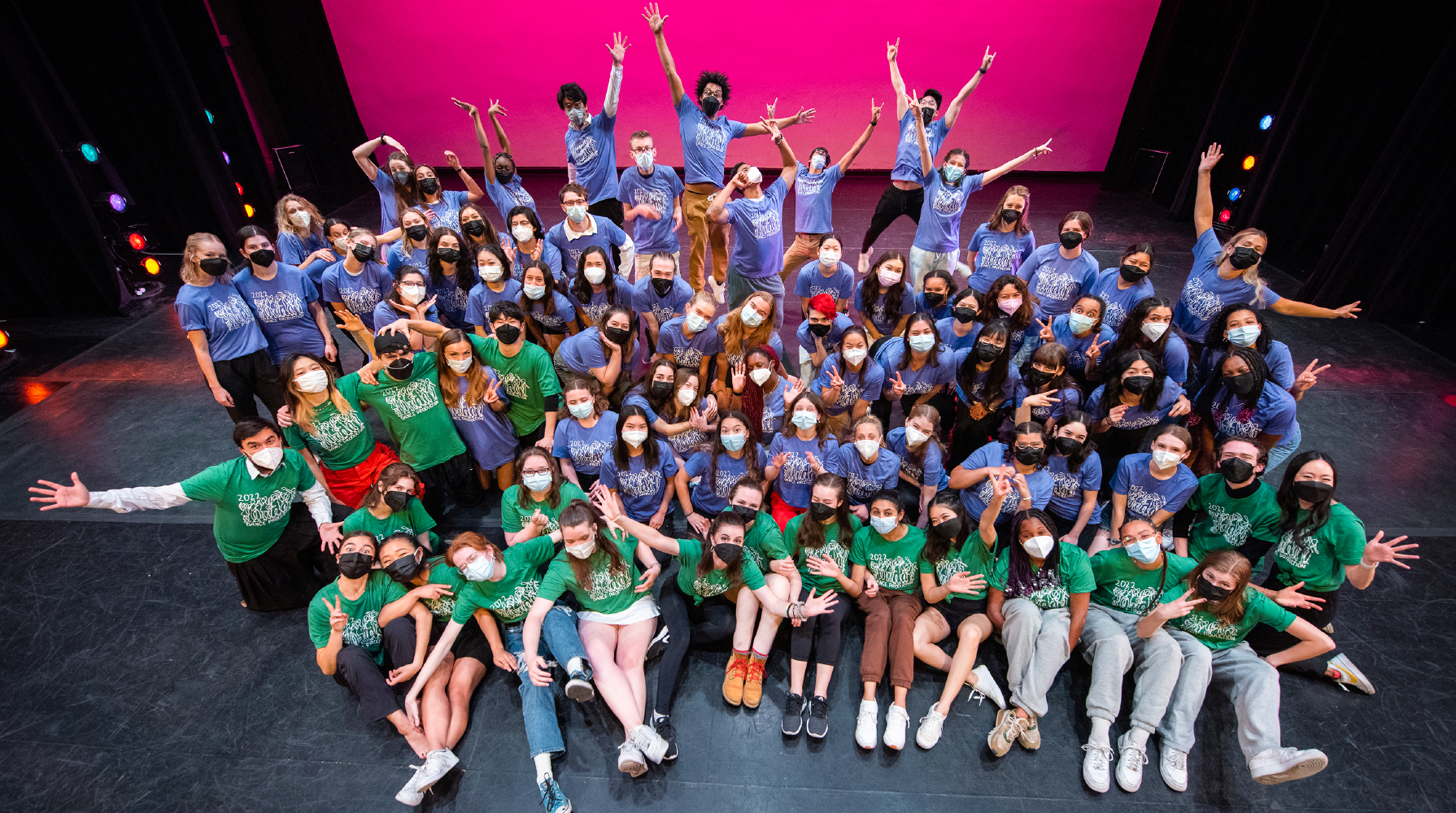 After two years of remote rhythms, Dance Production returns to the Thorne Hill stage, masks and all
Mara Kristiansson '22 first learned about Dance Production on a college tour and got involved as a first-year. "I started dancing when I was 5, so I came to Oxy looking for more opportunities to dance," says the physics major from San Jose. "The welcoming environment of Dance Pro was the first place I felt at home on the Oxy campus." 
Coming back together this year "felt so good," adds Kristiansson, who with classmate Lucy Smith served as co-presidents for Dance Pro's 74th annual show. "While it was great to be able to continue with the club last year on Zoom, it didn't compare to dancing together in person. Our first showing last semester, when we finally had the whole club together in person, really reminded me why I love Dance Pro so much."
From the start of rehearsals through all three performances, everyone adhered to Oxy's safety protocols. "Everyone in the dance studio was masked except for the occasional sip of water, and we limited the number of people per dance to 25 [down from 60] to comply with the lower room capacity of the dance studio," says Smith, an art and art history major from Brooklyn.
"Dance is my creative outlet and my primary form of self-expression," Smith adds. "Whether I'm dancing on-stage or in the privacy of my room, I feel the most embodied and grounded while dancing. I'm really grateful for Dance Pro because it not only gave me the opportunity to share this part of myself with the audience, but I was also able to offer my dancers that same opportunity to use dance as a way to empower themselves."
"Dance has always been a place where I can be myself," Kristiansson adds. "While a lot of studios can be very competitive, Dance Pro has been so supportive, truly making it feel like anybody who wants to dance can do it." 
"Wild Together"
(Contemporary Lyrical)
Choreographers: Alison Hwang '23 and Allison Wilson '23
"Allison Wilson '23 and I came across John Legend's song 'Wild' as we were preparing for last year's virtual show," Hwang says. "We both agreed that our vision would look best on the stage, dressed in lights, and surrounded by music. So when it came to choosing our song this year, it was an easy pick. While it was already going to be a huge project to transition from virtual back to in-person for our rehearsals, Allison was abroad in the fall and so we'd constantly send each late-night voice memos, choreograph on video calls, and text videos of choreography ideas to bring our combined vision to life. It was an extremely rewarding experience for me to watch how each dancer began with timid and small movements in the studio, to exploding onstage and exuding confidence during the show. We had an amazing group of dedicated and talented dancers who have made this a memorable experience, and I'm honored to have their support and commitment in bringing this piece to reality." 
"Redemption"
(Hip-Hop)
Choreographer: Leo Kim '22
"All the songs that I chose in my dance were songs that I've wanted to choreograph to for a while but felt like I couldn't do them "justice." This year I decided to just go for it and have a lot of fun doing it. The most rewarding thing about bringing the performance together was seeing all my dancers have so much fun and invest so much of themselves into my choreography. I'm so grateful and proud of all my dancers for sharing their energy and coming on this dance journey with me."
"Finale"
Choreographers: Executive Board
"It's very rare to be able to gather every Dance Pro member in the same room," says Lucy Smith '22. "The Finale is a way for us to celebrate ourselves and each other and to excite the audience one last time. We celebrate all our seniors who are graduating, then the choreographers who dedicated so much time to the show, and then our E-Board, who all enter on stage before the rest of our dancers come running into the auditorium. It also allows us to have every dancer in the room for when we thank our dedicated tech staff, adviser, and so many others in our closing speech. It's a lovely moment and a tradition that Mara and I (and the rest of E-Board) were dedicated to bringing back this year."