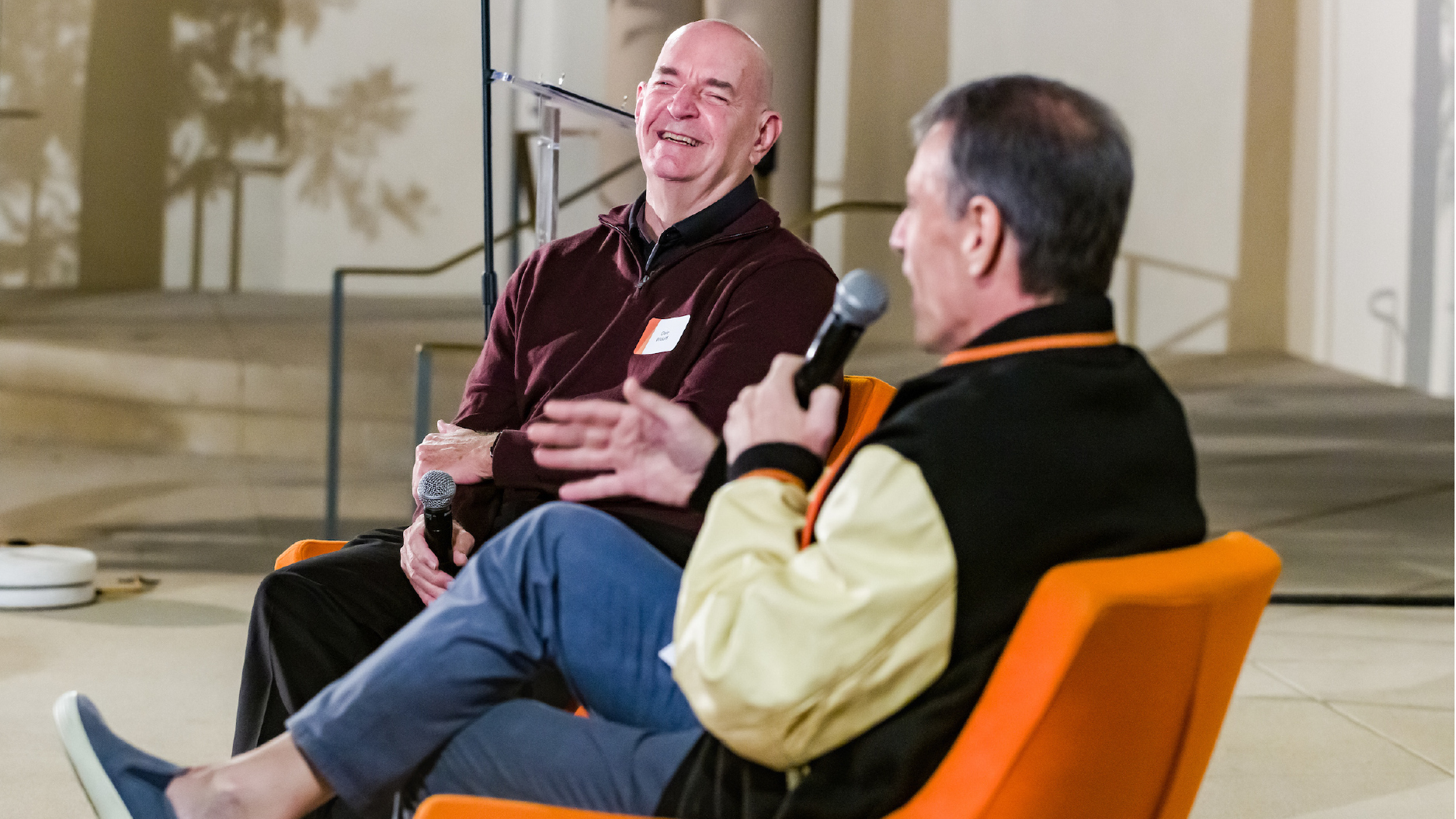 With six decades of Tigers in attendance, Coach Dale Widolff returns to campus for a celebration of Oxy's storied football program
In an evening filled with smiles, laughs, and old locker room stories, more than 80 alumni and their guests gathered on Branca Family Patio as guests of President Harry J. Elam, Jr. for a celebration of the 126-year legacy of Occidental football on November 5, 2022—the first such gathering since the College announced it was discontinuing the program nearly two years earlier. 
"The event was a first step in our efforts to demonstrate that we do value the history of the football program and what it meant to the players and coaches as well as the fans and families who supported them," says Charlie Cardillo, vice president of institutional advancement, who worked closely with a number of former players in planning the event. "We don't want that legacy to fall away even though the program has sunsetted."
In conversation with Jeff Goldstein '86, Coach Dale Widolff recounted his Oxy journey, which included 11 SCIAC championships, four undefeated regular seasons, seven Division III playoff berths, and a 178-95-2 all-time record (including a 53-10 record over his last eight seasons). The event marked Widolff's first public appearance back on campus since October 2017, when he attended the Occidental Athletics Hall of Fame ceremony in which quarterback Andy Collins '07 was posthumously inducted into the hall.
"He was terrific," Cardillo says of Widolff. "He spoke from the heart with careful reflection, and I think the things he had to say really inspired people. He loves being around football people—maybe even more than he loves the game. He always wants what's best for the players—what sets them up for success."
Another highlight of the evening was a three-minute video produced by author, podcaster, and Sports 1 Marketing co-founder David Meltzer '90. Marshaled together over two days of filming at SoFi Stadium—home of the Los Angeles Rams and Chargers—the video includes interviews with Widolff; Jim Mora '57, who served as head coach of the Tigers from 1964 to 1966; and some of the greatest student-athletes to wear an Oxy jersey. A common theme to their remarks was the discipline and camaraderie that they developed as Tigers.
"The one thing I've always said about Occidental athletes is they're used to being successful," Widolff says in the video. "The same skillset that it takes to be a great student is the same skillset it takes to be a great athlete."
"As a coach, you are dealing with young men—they still have a long life ahead of them," says former NFL head coach Mora, who played alongside professional quarterback-turned-Congressman Jack Kemp '57 and five-time Super Bowl official Ron Botchan '57. "To be successful, we had to have disciplined players who were fundamentally sound and liked to come to work."
"Those work habits of showing up to practice, showing up to film, showing up to lifting—those habits carry with you for the rest of your life," says Vance Mueller '86, who played for six seasons with the Los Angeles Raiders and later founded Mueller's Elite Athletic Training Academy. 
"We had a coaching staff at Occidental that cared, that was bright, and that doesn't exist everywhere," says quarterback Justin Goltz '09, who led Oxy to an undefeated SCIAC season in 2008 and enjoyed a post-collegiate career with teams in Germany, the United Football League, and the Canadian Football League. "They cared about our success on and off the field—and they still do."
"I always want to be my best whatever I'm doing and Oxy challenged me in so many different ways," says Kwame Do '16, who finished his career as the SCIAC's all-time career rushing yards leader. (An economics major and math minor at Occidental, today he's a vice president for Lakebridge, a real estate investment and asset management firm.)
"The best decision I ever made was to go to [Occidental]," says Bryan Scott '17, who set SCIAC records for career passing yards, completions, and total offense and has continued his professional football career (including an MVP season with The Spring League in 2020 as well as stints in the CFL, USFL, and XFL) since his playing days at Occidental. "It's been a fairy tale, honestly."
By Cardillo's own admission, there was skepticism going into the event, coming nearly three years after the Tigers played their last football game against Redlands on November 16, 2019. Working closely with Meltzer, Mueller, Goldstein, and others, he says, "I hope that everyone came to appreciate what we were trying to accomplish. Being together meant a lot to the players, and I'm glad we could facilitate that somehow."
Looking ahead, the College hopes to curate a website devoted to Oxy football—capturing the history of the program through not only statistics but also alumni stories and video footage captured over decades of play dating all the way back to the 1940s. "We want to make that library accessible to everyone but the football community in particular," Cardillo says. 
In addition, the Occidental Athletics Hall of Fame—which was created in 2012 to recognize "outstanding achievement in competition and/or service, dedication, and commitment to Occidental athletics"—will induct its eighth class of honorees during Homecoming Weekend in October. (Previous football inductees include legendary Raisin Bowl coach Roy Dennis '33, Kemp, Mora, All-American player and coach Bill Redell '64, Mueller, and Collins.) 
Ever the coach, Widolff has been talking with Cardillo in recent weeks about ways to build on the goodwill generated by the gridiron gathering. "This is their place," Cardillo says.