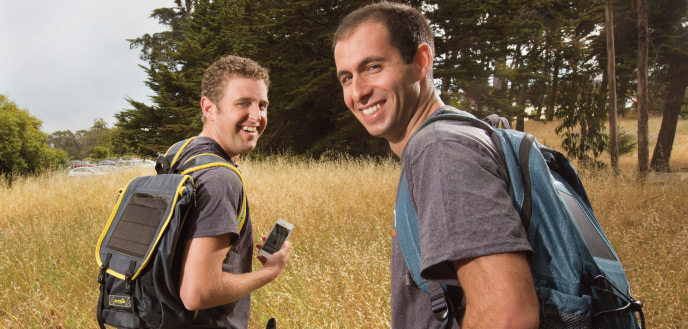 Entrepreneurs Richard Highsmith '10 and Noah Applebome '10 charge into the burgeoning solar backpack market with affordable, portable power. Can BirkSun elbow its way to the mountaintop?
By George McIntire '11 | Photo by Jim Block
Imagine you're embarking on a hike in the late afternoon and you witness an absolutely stunning sunset occurring over some gorgeous rolling hills. Without thinking twice, you reach for your smartphone so you can share this spectacular moment on social media. But, alas, your phone is out of battery—and your opportunity to capture the moment disappears faster than the sun.
However, if you had been equipped with one of BirkSun's solar backpacks, you would have ridden that beautiful sunset to Instagram glory.
Harnessing your own personal energy is one reason why economics majors Noah Applebome '10 and Richard Highsmith '10 of San Francisco launched their solar startup BirkSun. Their pitch is that "the mantra of providing your own power bestows a feeling of independence and is empowering."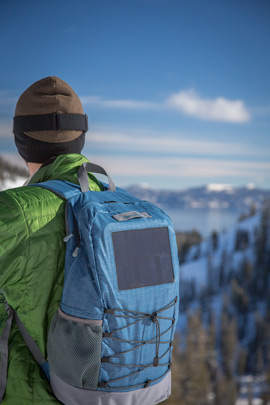 BirkSun's signature product is the Levels backpack, which retails for $155. It looks and feels like any high-quality bag you would find at an outdoors shop. The key difference is the 4.5-watt portable solar panel made with monocrystalline panels plastered on its back and a lithium polymer battery in its side.
On a typical sunny California day, it takes the battery a little more than three hours to fully charge—enough energy to charge an iPhone 1.5 times. But sigh not, residents of the Pacific Northwest, because the BirkSun bags can charge even when it's cloudy or rainy; in fact, ambient light is sufficient enough to produce power.
Applebome, who transferred to Oxy from Lafayette College in Pennsylvania as a sophomore, envisioned a career as a solar energy entrepreneur even before he arrived in Eagle Rock: "I saw solar backpacks as an entry into the solar movement and as a way to educate people about solar energy." He and Highsmith first met in then-assistant professor Giorgio Secondi's macro­economics class and became brothers in Sigma Alpha Epsilon fraternity.
BirkSun isn't their first business venture together: For two years on campus, they ran a summer storage business called Box It Up (founded by SAE brother Ken Smutny '08, who now works in advertising platform sales at Amazon). "We grew sales to $15,000 in our junior year," Applebome says. "We learned that we liked commerce a lot."
Post-Oxy, Highsmith moved to San Francisco and took a job at Morgan Stanley in its wealth management division, putting to use his experience as president of the Blyth Fund (the student-managed investment portfolio) and as a student representative on the Board of Trustees' finance committee. Applebome went to work for the accounting firm J.H. Cohn before taking another shot at being an entrepreneur with a direct-to-consumer men's shaving products delivery service. After closing up shop on that pursuit, he and Highsmith—who had quit his job at Morgan Stanley—got together and batted around ideas for several months.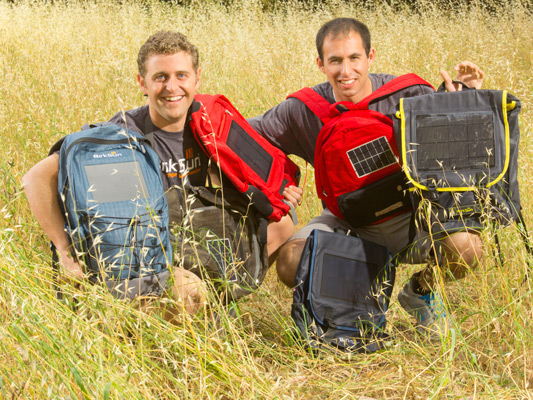 Their shared passion for all things solar led them to pursue making backpacks, and BirkSun was formally incorporated in January. The company enters an in­creasingly crowded market for solar-powered accessories—even Ralph Lauren sells a solar backpack—that has yet to generate a breakout product. But Applebome believes that technology has only recently caught up to the demand to generate sufficient power. Now, he says, energy yields have increased significantly to the point that small surface areas can serve as functional platforms for charging mobile devices.
Highsmith's primary directive is sales and securing accounts with retail outlets both large and small. He describes his role as "to share value and to educate people about solar energy and the product we're selling. What makes me most happy is when I'm able to share with someone the benefits of our product and how it can affect their life."
Applebome is involved in sales as well, but product development and logistical issues are his primary domain. While the solar panels are made stateside, the battery and backpack are manufactured in China, where he recently spent a month working with BirkSun's producers.
The last few months have seen BirkSun build a clientele of nearly 20 retailers—an Occidental-branded backpack can now be ordered through the bookstore—and Apple­bome and Highsmith will spend much of the summer hawking their product at trade shows in Hawthorne, Salt Lake City, and New York City. One thing you won't see with a BirkSun label, though, is a hat with solar panels. That idea crossed their minds but was ultimately scrapped, Applebome says, because "nobody wants a battery buzzing right by their forehead."
San Francisco-based freelancer George McIntire '11 wrote "Portland Trail Blazer" in the Spring issue.