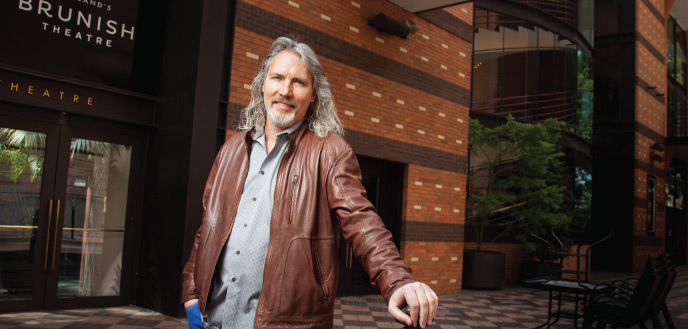 Corey Brunish '77 has been a fixture of the Portland, Ore., theater scene for decades—and with his recent triumphs as a Tony-winning producer, he's conquering the Great White Way as well
Corey Brunish '77 didn't become a Broadway producer in order to make money. Nobody should, really: Only one out of 10 Broadway shows breaks even—and roughly one out of 20 makes a sizable profit. "I produce to break even so I can do it again," Brunish explains in the lobby of Portland's Center for the Performing Arts, where he has staged countless shows as an actor and director. "Producing is an artistic endeavor. You hope you strike a chord with the theater-going public and that they come. Phantom of the Opera has been running for a quarter of a century; that is not normal. If a show runs for two years, it's considered a hit."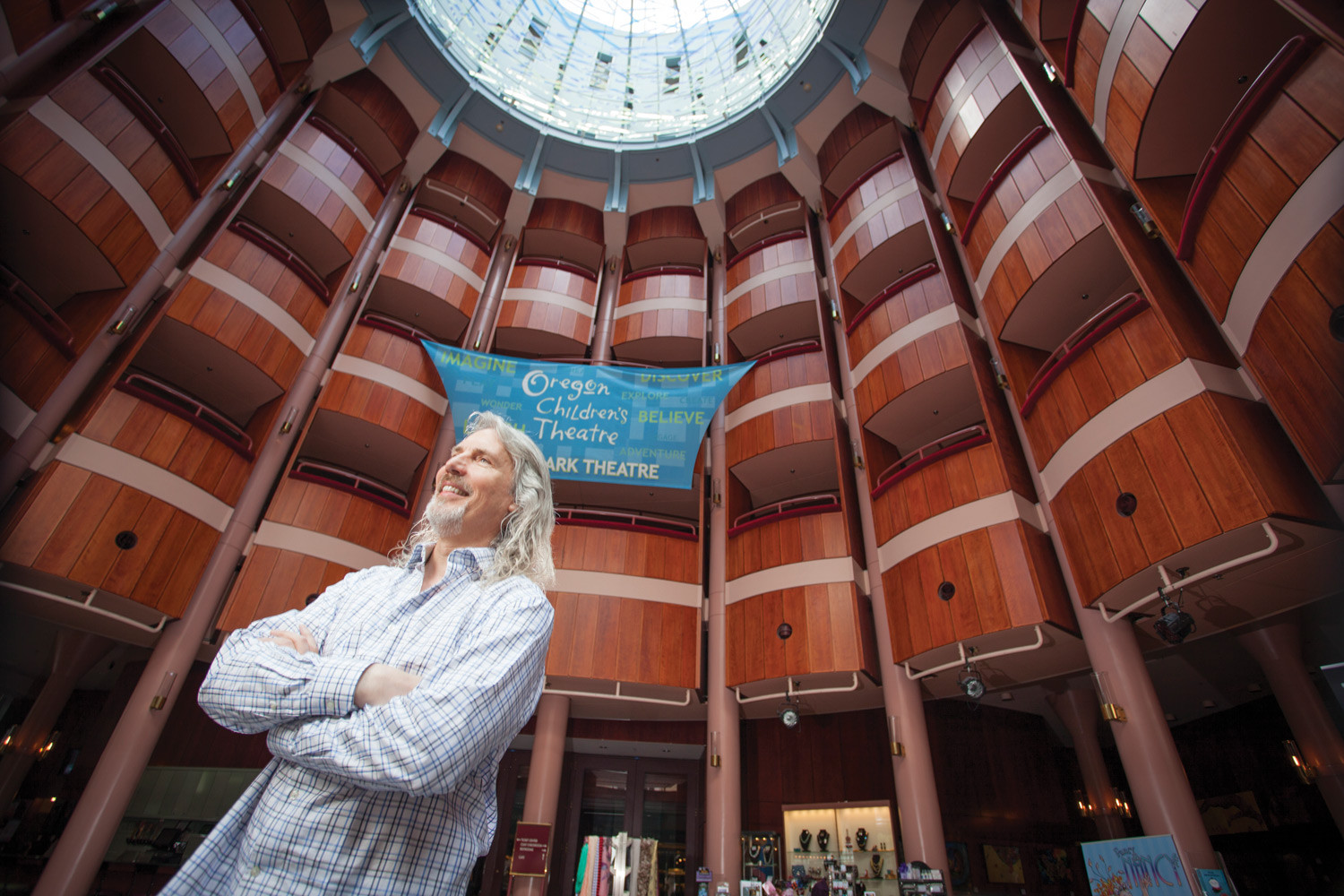 By Broadway standards, Brunish and his producing partner, Brisa Trinchero, are defying gravity with their batting average so far. Of the six shows they had a stake in during the 2013-14 Broadway season, four are still running; two (revivals of Hedwig and the Angry Inch and Of Mice and Men) are already in the black; and the other two (Beautiful: The Carole King Musical and If/Then, starring Frozen's Idina Menzel) are playing at or near capacity. On their first trip to the Tonys as producers in 2012, The Gershwins' Porgy and Bess was the surprise winner for Best Musical Revival. In 2013, they copped a second Tony in the same category for Pippin (which passed its 500th performance in July). And in 2014, the Brunish/Trinchero sextet was nominated for a total of 22 Tonys, collecting six trophies.
For Brunish, Broadway is just the latest act in a career that has pivoted between floorboards and footlights. He has dabbled in TV, film, recordings, and every facet of stage work—having gotten his start in Oxy's Summer Theater Festival between 1974 and 1980.
Brunish made his stage debut in fifth grade playing the title role in a musical about King Arthur ("I can even remember the lyrics: 'Strolling down a lane.' That was it."). But a lifelong affair with the theater truly flowered in high school, as he listened to his mother's LPs of classic musicals such as Guys and Dolls, My Fair Lady, and Oklahoma! "All I had was these disembodied voices, but the music gave me goosebumps," he recalls.
Around that time, when he saw a scene in assembly of a Hollywood High School production of You're a Good Man, Charlie Brown (directed by drama teacher John Ingle '50), Brunish succumbed to the acting bug. "It looked like so much fun, and I thought, 'I could do that, couldn't I?'" He subsequently landed roles in Fiddler on the Roof and Guys and Dolls. The latter's Sky Masterson "is a role that I continue to play to this day," he says, adding with a laugh, "First you're pre-age appropriate, then you're age appropriate, then you're post-age appropriate."
At Ingle's recommendation, Brunish enrolled at Oxy, studying with professors Omar Paxson '48 and Alan Freeman '66 M'67 and honing his chops doing repertory theater for five summers. "You were usually cast in a lead, a supporting role, and a chorus role," he says. "One year I was cast in five shows, so the line load was rather hefty. It was a great training ground."
Brunish spent a few years in Los Angeles after graduation, pursuing acting gigs and working odd jobs for his grandfather's company. In 1915, Leslie Hughes co-founded the Red­wing Hatchery. By 1918, the company was producing 200,000 baby chicks a year. ("My job for many summers was selling baby chicks and driving thousands of them to the train station and the airport to be shipped all around the United States," Brunish recalls.) As the hatchery grew, Hughes acquired property, and following his death in 1985, Bru­nish reinvested the family's inheritance—which after taxes had been winnowed down "to this cinder pile of remains," he says—in real estate in the Portland area.
Four years earlier, Brunish had followed his heart to Portland, albeit reluctantly. "The young lady I was dating at the time was a Reed College graduate," he explains. "She disliked Los Angeles for the smog and the traffic, so kicking and screaming I came to Portland—and I never left."
Three things conspired to make Brunish Properties a successful endeavor: "luck, timing, and hard work," says Brunish, who now owns 44 properties, including one of the first Star­bucks and a host of eateries. "It's like putting on a play. You build a set, you hire the actors, and you succeed or fail at the box office. I restored buildings, I built new ones from the ground up, and through a lot of hard work and taking no money, just reinvesting it, I was able to take that tiny little fund and turn it into a rather large thing."
Starting in 1988, Brunish stepped away from theater to devote his time to real estate rehabilitation, acquiring skills in every facet of the building process: "If you do it yourself, it's much more cost-effective." He was drawn back to the stage a decade later, when he was invited to audition for the romantic lead of a musical called Miss Lulu. "I was horrified by the prospect of performing again," he admits.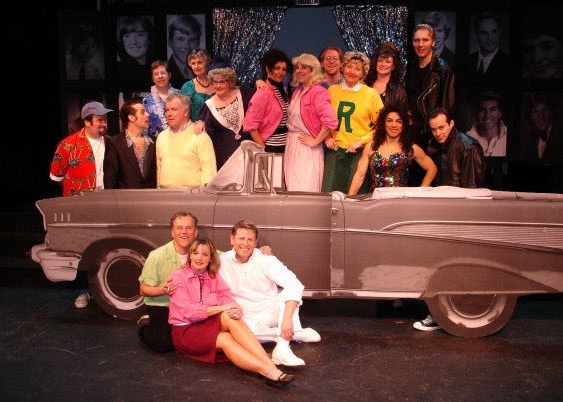 He got over it—in spades. Since then, Brunish has played such iconic roles as Billy Flynn in Chicago, Lumiere in Beauty and the Beast, and Danny Zuko in Grease, fulfilling a dream decades in the making. The concept, he says, "was that everyone in the cast was 40 or older, and it was a reunion production. We called it Ancient Grease, but amongst ourselves we called it Geezer Grease."
Brunish was acting in a play at the Broadway Rose Theatre in Tigard when he met Brisa Trinchero, an MBA graduate of the Univer­sity of Portland and the theater's executive director. Trinchero told Brunish of her ambition to become a Broad­way producer, and she moved to New York City to study at the Commercial Theatre Institute, a training and professional development program.
In the meantime, Brunish had taken a mentorship with director Jeff Calhoun, who was working on the out-of-town tryout of a new musical, Bonnie & Clyde, in Sarasota, Fla., in the fall of 2010. After the very first rehearsal on his first day on the set, Brunish stopped the composer in the hallway and said, "I think I love this musical, and I want to help you guys bring it to Broadway."
Two years after its world premiere in La Jolla, Bonnie & Clyde, with Brunish in the Playbill as both assistant director and pro­ducer (with Trinchero), opened at the Gerald Schoen­feld Theatre in New York City on Dec. 1, 2011. But the show failed to light up the box office, closing four weeks later. Days afterward, the crew assembled to record the cast album, which Brunish helped bankroll.
"It was a huge moment in my life to be preserving the legacy of that music, which was Tony nominated, for generations to come," Brunish says. He points to Chicago, which "was a huge flop" when it opened in 1975, the same year as A Chorus Line. (It ran for 936 performances—small potatoes next to Chorus' 6,137-performance run.) "But then somebody was smart enough to bring it back to Broadway," he says. More than 7,300 performances later, "Chicago is part of the American musical theater fabric now. I have great hopes for Bonnie & Clyde's future, because the score is amazing."
Despite their disappointing Broadway debut, Bonnie & Clyde opened the door to Porgy & Bess, whose Tony success kicked down the door for even more opportunities. In just three seasons, Brunish/Trinchero have been producers on seven shows and investors on another nine. As Brunish ex­plains the distinction, there are three tiers in the world of Broadway finance: investors, producers, and lead producers. "The average musical costs $15 million, while the average play costs $5 million," he says. "If you're the lead producer, you're expected to bring in several million. If you're an above-the-title producer, you're responsible for bringing in anywhere from $250,000 on up. If you're an investor, you can join for as little as $25,000."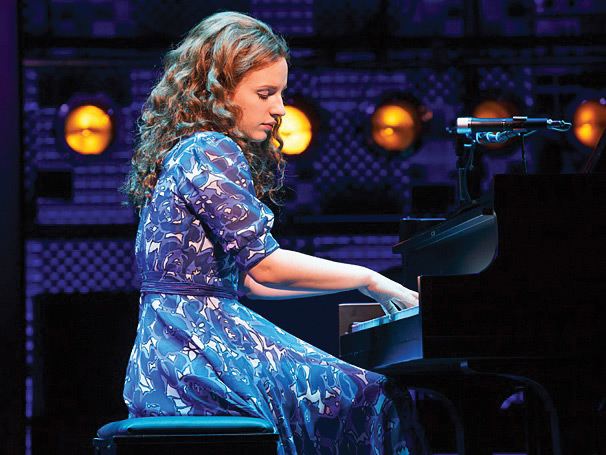 With the average cost of a Broadway ticket ($103.92) shattering the century mark for the first time this season, audiences are more discerning than ever in spending their theater dollars. A Tony nod for Best Musical can mean the difference between success and failure—and although Beautiful lost out in that category, Jessie Mueller's Tony-winning performance as Carole King gave the show a $1-million shot in the arm the day after the awards. "Beautiful is a personal thrill for me because I grew up listening to Carole King," says Brunish, noting that the singer-songwriter was reluctant to see the show herself, even walking out of an early reading: "It took them months to encourage her to attend the actual performance."
Brunish/Trinchero have already lined up their next show: On the Town, a revival of the classic 1946 musical, will open October 20 in the newly restored and renamed Lyric Theatre (which most recently housed Spider-Man: Turn Off the Dark). With only 40 active Broadway venues, "There are many more shows than there are theaters," Brunish says. "So you're circling the airport, skies are crowded with shows that want to come in, and many factors can determine whether they land a venue." The landscape can change quickly, too, as it did in July, when Rocky: the Musical and Holler If Ya Hear Me (the Tupac Shakur musical) announced their closings within days of each other, vacating two of the district's largest theaters.
Meanwhile, Brunish is writing his own show. While he's mum on specifics, he says it's based on a not-quite-popular movie that he rented some years ago and thought, "Gee, that would make a good Broadway musical."
"We optioned it, wrote the script, hired a lovely team of twin sisters out of London to write the music, and just had our first table reading, where you sit around with actors and listen to it for the first time," Brunish says. Following a few more rewrites, he hopes to workshop it at a festival, see if there's any interest from producers, and go from there.
Even as he spends more time in New York City, Brunish remains committed to the Portland theater community. In late June, he hosted the seventh annual Portland Area Musical Theater Awards, presenting PAMTAs in 22 categories. "Portland is a prolific theater town," he says. "I think there are 120 theater companies here and a little over 600,000 people. It's not a bad thing, but it means our dollars and resources are stretched."
While there are a couple of old theaters in Portland that are ripe for refurbishment, a project on that scale could cost as much as $2 million. But for a builder turned producer, it would be the role of a lifetime. "Absolutely," Brunish says with a grin—"as soon as those checks from Broadway start pouring in."
Photos by Frank Miller. Additional photos courtesy Corey Brunish '77.