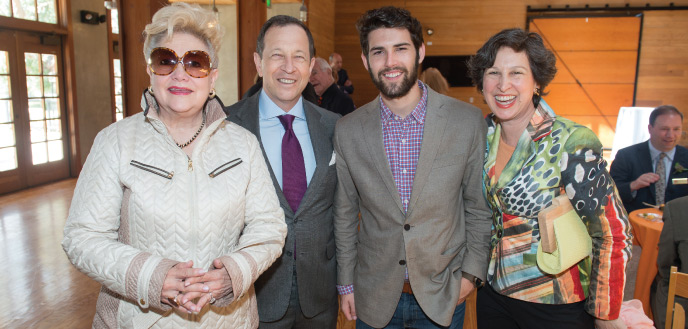 A $5.5-million pledge from Elizabeth and Bill Kahane '70 strengthens a signature program for a better world 
Following in the footsteps of almost 400 alumni over the last three decades, 14 Oxy students will travel to New York to join the elite ranks of undergrads who will live in Manhattan and take academic classes while interning full-time at a United Nations-related agency.
Thanks to a $5.5-million pledge from Elizabeth and Bill Kahane '70 to endow the U.N. program, the future of one of Oxy's signature offerings is assured and even strengthened. Not only does the gift increase scholarship support, it gives students greater access to cultural offerings in New York; supports student travel to Washington, D.C.; and makes it possible to bring U.N. programming back to Eagle Rock.
The newly named William and Elizabeth Kahane United Nations Program—announced to surprise and delight at the April 26 dedication of the McKinnon Center for Global Affairs—has been the centerpiece of the Chevalier Diplomacy and World Affairs Program since its founding in 1986.
"Bill and Elizabeth's gift will not only guarantee the future of the U.N. program, but will make it possible for more students to participate in what many have called the highlight of their college experience," says President Jonathan Veitch. "Their generosity will play a major role in helping our students truly become citizens of the world."
"We could not be more pleased to support this very important program," says Bill Kahane. "The mission of the United Nations is to act as a peacekeeper, reaffirm human rights, promote justice, and to encourage social progress and better standards of living. I can think of no higher calling for our students then to be offered the opportunity to be immersed in Occidental's U.N. program."
The Kahanes' pledge, together with gifts for the John Parke Young Initiative on the Global Economy and the McKinnon Center for Global Affairs, brings the total support of the College's Global Culture strategic initiative to more than $25 million.
Under the direction of professor Doug Gardner, the Kahane U.N. program allows Oxy students to live in New York City during the fall semester while the General Assembly is in session, take two courses on international issues and an independent study seminar, and intern full time at a U.N.-related agency. Open to all Oxy students—this year's class includes economics and biology majors as well as diplomacy and world affairs students—it is one of the few programs to offer a residential, internship/academic program in New York City to undergraduates. (Most other programs are non-residential, do not involve internships, or are based in Geneva or the Hague.)
"The program was my first foray into the world of world of diplomacy and international law," says Rali Badissy '02, lead attorney for global initiatives on energy and finance at the U.S. Department of Commerce. "It opened my eyes to the careful balance of politics, culture, and law that is the foundation of international organizations and development work."
Alumni of the Kahane U.N. program include foreign service officers; White House advisers; officials with the U.S. departments of Defense, Commerce, Justice, and Energy; staff members with NGOs in Asia, Africa, and Europe dealing with such issues as refugees, human rights, and HIV/AIDS; and academics and business executives working around the world.
"The U.N. program laid the foundation for my career, what I am currently doing and everything I aspire to do over the next few years," adds Lisa DiPangrazio '07 of the International Rescue Committee, where she works with Syrian refugees. "Doorways have been opened and people have invested in me, partially because of the remarkable experience Oxy entrusted me with at such a young age."
As Elizabeth Quinlan '14, a diplomacy and world affairs major from San Francisco, wrote at the conclusion of the 2013 session: "We arrived 16 fresh-faced, eager, and curious student-interns, and we leave 16 determined young professionals who are more confident in our abilities to take on difficult tasks. … The Oxy at the U.N. program shows students that their passions can catalyze their academic and professional strengths to make meaningful contributions to critical issues."