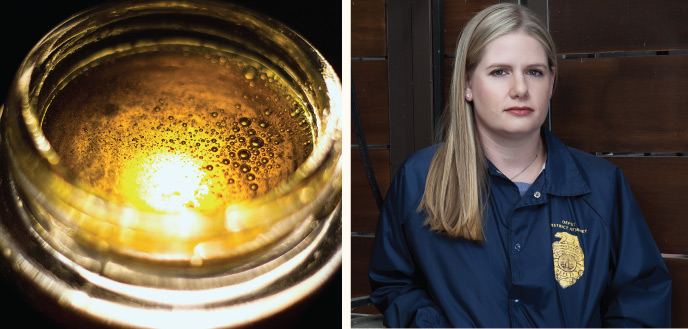 Butane hash oil is the latest home-cooking craze in the marijuana community. It's also the most explosive—and that keeps deputy district attorney Ashley Rosen '00 busy 
By Peter Gilstrap | Photos by Max S. Gerber & Andrés Rodriguez/Flickr
Wax. Dabs. Honey. Shatter. The names are many for butane hash oil, the latest trend in marijuana-based products that's spiking in popularity among users and manufacturers nationwide. And while it's legal to buy from dispensaries in California with a doctor's recommendation, it's illegal to make. The process is inexpensive and relatively simple, though the high flammability of butane is resulting in devastating home lab explosions.
Since January 2013, Ashley Rosen '00 has handled the legal side of all BHO (butane hash oil or butane honey oil) lab disasters for Los Angeles County as a deputy district attorney in the major narcotics division, and she's been busy.
"In the last year and a half I've filed 18 explosions with 29 defendants," she says, many suffering horrific burns. Despite increasing media coverage (Rosen was quoted in a February 5 Los Angeles Times story on BHO lab explosions), YouTube videos uploaded by cookers and users, and BHO name-checking from rappers such as B-Real and Juicy J, "a large part of the population doesn't know this is going on," Rosen adds. "Right now, the hardest thing is getting people to understand that this is not about whether marijuana should be recreational or medical or how we can restrict it; it's really a safety issue. It's extremely dangerous to life and to property. Would you want your neighbor to be building a bomb?"
While the notion of home drug labs may conjure up images from "Breaking Bad," it doesn't take chemistry on a Walter White level to create BHO. "What they're doing is using butane to extract the THC [tetrahydrocannabinol] off the marijuana," she says. According to California Health and Safety Code 11379.6, you can't use a chemical—butane, for example—to manufacture a controlled substance. "There are many other ways to do it, but not as efficient as using butane." The process involves inserting liquid butane into a metal or glass tube filled with marijuana shake—inexpensive stem trimmings—to create a honey-like substance that's near-pure, wickedly strong THC, marijuana's active ingredient.
"It's like juice concentrate," Rosen continues. "It's concentrated cannabis. People say it's a stronger high and a more immediate high. You're getting to that THC faster. You're not smoking a joint and kind of working your way down; you're getting it all at once." And weed enthusiasts searching for that stronger high are reportedly coughing up $45 a gram in dispensaries and up to $100 a gram on the street.
While meth and BHO labs are both notorious for exploding, BHO's increasingly strong foothold in the world of hip has raised the stakes. "Believe it or not, it's more dangerous," says LAPD Detective Frank Lyga. As a clandestine lab investigator with the Gang and Narcotic Division Major Violators section, he's dealt with labs for 17 years, and currently works in tandem with Rosen: "We find 'em, we catch 'em, she cleans 'em."
"Obviously, making methamphetamine involves a lot more chemicals, but the butane honey oil is a marijuana-based product, and marijuana in today's world is acceptable," Lyga explains. "Hashish has been around for thousands of years. Butane honey oil is a concentrated form of hashish that is easier to make using the butane. It's less messy, it's quick, it's not that expensive, and you can buy butane over the counter.
"That's why we have such a large problem," he continues. "Everyone from teen­agers to guys my age are trying to do it. They see it on the Internet, they hear about it. It's pure THC; they're smoking it in the electronic cigarettes, and it's acceptable."
The detective says he's encountered some 30 honey oil labs this year, though not all of them landed on Rosen's desk. "We don't take non-explosive labs to her. I did two today; neither one blew up. If they blow up, they're higher priority and we need special education and training on it, so it goes to Ashley. She's very, very efficient. She does a hell of a job, and we're very happy with her."
Long before BHO reared its ugly head, it was HBO that first drew Rosen, a native Angeleno, to law enforcement. At 17, she saw a Home Box Office film titled Citizen X, a fictionalized account of how Soviet detectives apprehended Russia's first acknowledged ­serial killer, Andrei Chikatilo, through profiling. "It changed my life," she says.
In her junior year at Oxy, Rosen got some hands-on experience after a friend's car was broken into. "When the police got there, the officer saw I was interested in checking things out. He was showing another guy how to do fingerprints, and he showed me too. The next day he showed up at my sorority house with a pamphlet on how to volunteer for the LAPD." The budding crime-solver—who ultimately earned a degree in psycho­biology with a minor in Asian studies—volunteered with the force for a year and a half, a boon for making contacts and learning terminology.
Courtesy of Oxy's Walk In My Shoes program, which allows a student to shadow a community leader, Rosen spent a day with then-LAPD Chief Bernard Parks. It was a great experience, she says, yet Rosen opted not to pursue a life in blue. "I thought about it," she admits. "I have good investigative skills, but I'm not a fast runner. I don't think I would pass a physical agility test."
During her time at Loyola Law School, Rosen clerked for a semester at the L.A. District Attorney's office, "and that was it," she says. "I loved it." Unfortunately, the D.A. wasn't hiring when she graduated, so Rosen spent almost two years with the FBI as an analyst in the domestic terrorism operations unit, focusing on animal and ecological terrorist groups, as well as threats from white supremacists.
When a position opened up with the D.A. in September 2005, Rosen jumped and began working her way up through "a lot of DUI, some petty theft, domestic violence, and a juvenile stint," she says. "Then I did a couple years in what they call central trials—basically whatever comes through the door. I did murder cases, theft, vehicular man­slaughter, smaller narcotics cases, and now I'm in major narcotics cases."
She's in good company downtown, with deputy district attorneys Robert De Carteret '73, Phil Sterling '89, Doug Sherrod '93, and Carmelia Mejia '98. "Oxy is a place that really pushes you to analyze and question things and want to do the right thing. Those are things we do every day at the D.A.," says Mejia, whose niece currently attends the College. "We talk about Oxy all the time here. Oxy was the time of my life."
In between Oxy conversations, they also talk crime. "It's a big family here," says Mejia, an eight-year veteran of the office. "When Ashley worked in my unit, central trials, she was one of the go-to people we'd consult. She's incredibly smart and on top of the law. Not only is she a great D.A., she's also very motivated in giving back to her community. She's done drives for domestic violence victims and other victims of crime and circumstance. She goes full force, no matter what she's doing."
Right now, of course, Rosen's full force is leading the charge on the exploding world of butane hash oil. "It combines my interest in science with my interest in narcotics prosecution, so it's a nice subset of narcotics," Rosen says. "And the guys on the clandestine lab task force are amazing investigators who really know this stuff. I've learned so much from them."
When it comes to learning about the hazards of making BHO, Lyga's philosophy is simple: "You don't learn until you get burned." Rosen, however, hopes awareness will transcend the trial by fire.
"I know that people will always do drugs, but everyone should have the common sense to not set a fire in their home. It takes nothing to set one of these fires. If I can prevent one person from doing this and have them think, 'Oh this is dangerous, maybe it's not worth the risk,' that would be enough for me. And whatever money they think they're going to make selling this stuff, they're going to spend more on hospital bills."
Peter Gilstrap is a freelance writer in Los Angeles. This is his first article for Occidental.