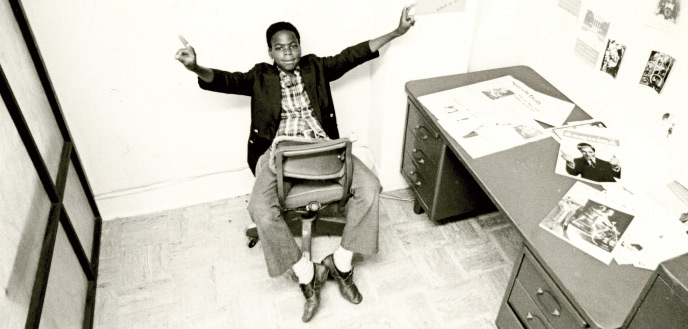 Oxy's Upward Bound program marks its 50th year in full stride, preparing new generations of students for the rigors and rewards of college
By Andy Faught
In his Arleta High School social studies classroom, teacher Hector Perez-Roman '00 uses the unlikeliest of props: his high school transcript. The picture of his freshman year at Los Angeles' Belmont High School is far from inspiring. "I had one D, and the rest were fails," Perez-Roman says. "My students say, 'How can that be?' I didn't see any meaning to grades. I was ditching class, and I was pretty much on the road to dropping out and becoming a statistic."
Worried that he had become a disappointment to his parents, Perez-Roman turned around his performance as a sophomore and earned straight A's. But he still struggled to see the value of good grades. Further, his classes weren't challenging. That's when a friend told him about the Upward Bound program at Occidental.
Created by the Educational Opportunity Act of 1964 as part of President Lyndon Johnson's "war on poverty," Upward Bound seeks to improve high school graduation rates among low-income and underrepresented participants while encouraging them to become the first member of their family to attend college. One year after its successful introduction at 17 pilot schools, the program expanded to 218 locations, including Oxy (under the direction of Leland Babcock, associate professor of German, and assistant project director Marguerite Archie, who came to Oxy from the University of Chicago Laboratory Schools "and basically set the standard for our Upward Bound program," says Dennis Collins, emeritus chair of the Board of Trustees and dean of students at the College in the late 1960s).
Entering the program in 1994, Perez-Roman found the extra push he needed. Participants take rigorous coursework on Saturdays during the school year, and they continue the experience in the summer, living on the Oxy campus for five weeks. "Upward Bound made sure I stayed on the right track. It was that guiding star that propelled me to the next level," says Perez-Roman, who went on to earn a public policy degree at Oxy. In an 11-year teaching career, he's become a model for students whose personal stories echo his own. In 2014, Perez-Roman was named Los Angeles Unified School District teacher of the year and, this year, he earned the same distinction for Los Angeles County. 
For 50 years running, Oxy's Upward Bound program continues to generate success stories. Thousands of participants have gone through the program, many of whom hail the experience as a defining moment in their lives. The effort now serves 122 students every year—primarily freshmen and sophomores—from Franklin, Belmont, Lincoln, and Wilson high schools in Los Angeles. The majority of participants go on to attend colleges and universities that include campuses in the UC system, Occidental, and other liberal arts schools.
Around the country, 80,000 students take part in nearly 1,000 Upward Bound programs each year. Participants are three times more likely to complete a college degree than those who did not participate in college access services, according to the Pell Institute, a nonprofit educational research organization. (Most Upward Bound programs are based in universities and community colleges;  Oxy's is one of a handful at small liberal arts colleges.)
"Upward Bound definitely motivated me and inspired me to find my passion for education," says Stephanie Tovar, a 2007 participant from Wilson. Tovar is graduating from Cal State Northridge this year with an undergraduate degree in political science. In the fall, she will attend New York University, where she plans to pursue a master's degree in education. 
Funded by the U.S. Department of Education, Oxy's Upward Bound is in the third year of a five-year, $2.74-million grant, an award that has been continually renewed over the last five decades. To participate, students must have a minimum 2.5 grade point average, demonstrate leadership ability, and be committed to attending college. 
The program is demanding and provides courses in mathematics, English, science, ­social science, and foreign language. Classes typically are led by teachers from Los Angeles Unified. Some of them are alumni of the program: Perez-Roman worked at Oxy as a summer instructor from 2003 to 2013. Others, including Tovar, serve as tutors or resident advisers.
While every school that participates in Upward Bound has some leeway in how the program is drawn, Jonathan Grady (who was recently named interim assistant dean of ­intercultural affairs) wasted no time making ­additions when he became director of Oxy's Upward Bound program in March 2014. 
"This last year we've partnered with the Office of Community Engagement to have Upward Bound students work with Oxy students on community events and events on campus," says Grady, who did his doctoral studies at UCLA in urban education and policy with a concentration in anthropology. "We have students engage in actual research in the community, and they've implemented projects in their own communities, whether through healthcare or education. They're creating events to inspire the community to go to college, to say it's possible."
One student tackled the subject of school bullying by organizing a community art event that focused on how language can wound young people. Other participants have ventured into their communities to talk to people of all ages about their educational options.
Grady also has created a "parent institute," in which parents of Upward Bound students attend Saturday workshops to learn about the college-going process and financial aid opportunities. Oxy students also are being enlisted into the cause, serving as de facto college advisers. The effort is an attempt not only to prepare graduating high school seniors for the rigors of college, but also to ensure that they complete their degrees.
"All of our high school students who entered the program last fall are still enrolled and are doing quite well because we are constantly checking in with them, meeting with them and providing resources for them," Grady says. Among Oxy Upward Bound participants who entered college last fall, 98 percent are returning for their sophomore year, he adds.
The trend speaks to a loftier purpose. President Barack Obama '83 has said he wants the United States to have the highest proportion of college graduates in the world by 2020. At Oxy, Upward Bound students are encouraged to help achieve that end by taking road trips to various colleges and universities in California as part of the program.
Encouraging college attendance among underrepresented high school students has its particular challenges, says Susan Madrid-Simon, Oxy's Upward Bound director from 1991 to 2013. "The majority of students that we brought in were not straight-A students; they were not AP honors students," she says. "They were B and C students with low test scores, primarily because English was a second language. They're good kids who can fall through the cracks because they don't get much attention. The whole purpose of the program is to work with and guide students, to provide supplemental classes and college enrichment. There is a lot of focus on keeping students thriving."
Living on campus can be a challenge for young adults who are away from home for the first time, recalls Madrid-Simon, who shepherded 2,500 students through the program during her tenure. "It's intensive being away for five weeks," she says. "In that first week, students will get very homesick and they'll call their parents, who remind them that they need to learn how to study away from home." 
As the first member of her family to attend college, Tovar applied to Upward Bound on the advice of a friend.  "I looked into it and liked what I saw, but I didn't think that it would have an impact on me," she says. "I was ready to take advantage of the experience, and now I see the impact it has had on my life. I had always heard that the transition from high school to college was really difficult, but Upward Bound prepared me to live with a roommate and taught me how to manage my time and academics."
When Perez-Roman applied to the program, his motives weren't wholly academic-minded. "I thought, 'Hey, they offer free food and you get to hang out with people from a college.' It sounded like fun," he says. "But once I got down to the application, I ­realized, wow, this is actually a bit more serious than I thought."
Six years ago, Jose Meneses' family moved to the United States from the Philippines for better opportunities. Meneses, who served as senior class president at Franklin this past year, applied to Upward Bound in 2012 at the suggestion of his English teacher. 
This fall, Meneses will enroll at UC Davis, where he plans to study international relations after winning a Gates Millennium Scholarship from the Bill and Melinda Gates Foundation. The prestigious award, which will cover the cost of his undergraduate and graduate education, is made to 1,000 graduating high school seniors from low-income, underrepresented communities. 
"The program has had a tremendous impact on me," he says. "It made me realize that it is possible to dream big and attain goals. Upward Bound is empowerment. It invests in students and helps them achieve their goals. It will give me a competitive edge in terms of understanding the importance of a college education and in essence using that education to help others."
Perez-Roman, meanwhile, looks back on his own high school days and thinks what might have been, were it not for Upward Bound. "I am living proof that you can go both ways," he says. "I give so much credit to the program for opening my eyes and giving me vision and passion." 
Faught wrote "Eight Secrets to Postgraduate Success" in the Winter magazine. He also wrote "Elder Scare" in this issue.