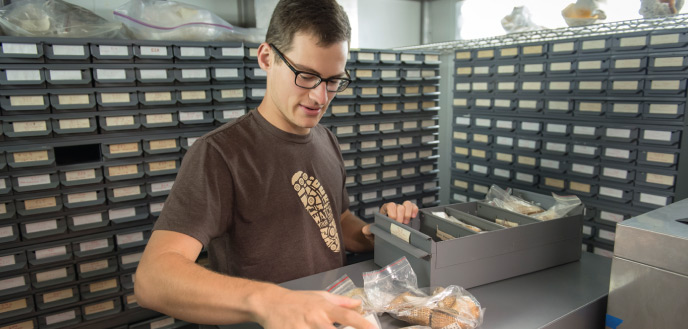 Building on Our Environment
Walk along any Southern California beach and you'll always find a few shells among the seaweed: mussels, clams, and the occasional wave-worn moon snail. But these shells that often end up in a toddler's plastic bucket are a far cry from the specimens in the remarkable collection recently given to Occidental through the generosity of the Cosman family ("The Life Aquatic"). 
While many of the more than 117,000 shells in the Cosman Collection are strikingly beautiful, their real value has nothing to do with their looks. In fact, it is the ugly specimens with intact periostracum—the thin layer of skin that grows on the outside of the shell—and the detailed collection notes that accompany them that make the collection such a powerful research engine. Combine the Cosman shells with the Moore Collection—Oxy's world-class ­assemblage of Mexican birds—and you'll begin to understand why the College is deep in a conversation about how to build an environmental sciences program as one of Oxy's marquee academic programs.
Thanks to advances in DNA sequencing technology, the 62,000-plus bird specimens in the Moore Collection have been transformed into a trove of heretofore unavailable genetic data that we believe will revolutionize our understanding of how and why birds evolved. The Cosman Collection now promises to do the same thing for marine mollusks and bivalves. Alumni Reunion Weekend attendees who were lucky enough to hear associate professor of biology Joseph Schulz and one of his research students, rising sophomore Collin Mostoufi, talk about the preliminary work they have been doing with the shells got a sense of the excitement that is building in the biology department.
Building a signature program in environmental sciences at Oxy holds a great deal of promise because of our enviable ­location at the nexus of three distinctive ecosystems: the Pacific Ocean, the San Gabriel Mountains, and the Mojave Desert. Oxy's century-old marine biology program is one of the most prestigious marine field programs on the West Coast. Biology professor Dan Pondella '87 M'92's Vantuna ­Research Group presides over the longest longitudinal study of offshore fish populations in Southern California, work that drives policy decisions and others' research. Our geologists are experts in the evolution of mountain belts, and run a paleomagnetic laboratory that attracts scientists from around the world. 
Put all of these factors together—our location, strong biology and geology departments, and two outstanding natural science collections—and you have the foundation for a compelling new program. Research has long been the hallmark of science education at Oxy, including the work our students and faculty carry out each year at La Selva Biological Station in Costa Rica. We already have an environmental science concentration for biology and geology majors. Our popular California Environment Semester, the team-taught class for first-years that ­incorporates geology, biology, and economics, provides an excellent model for what this kind of interdisciplinary learning could look like. One of our new tenure-track ­faculty hires this fall, Amanda Zellmer, is a computational biologist who enhances our expertise in "big data"—the ability to analyze large databases that increasingly is becoming an essential skill in today's science.
If we are to realize this vision for a program that matches the national reputation of our urban and environmental policy efforts, we will need to renovate and expand the 64-year-old Moore Laboratory of Zoology building, home of the Moore Collection. We have to provide students and faculty with the research space and the ­molecular and computational equipment needed to yield new insights from the vast amount of data that the Cosman and Moore collections will provide. I'm happy to say that a generous (and modest) alumnus, the National Science Foundation, and the Fletcher Jones Foundation, among others, have found our vision persuasive—so much so that we have sufficient momentum to hire an architect with the hope that we can begin construction at this time next year.
Today's environmental challenges require complex interdisciplinary solutions that draw equally on the physical, biological, and informational sciences. A new genomics lab will add a vital dimension to our undergraduate research experience. Getting there will be no stroll on the beach, but it will yield enormous benefits for students both during and after their time in Eagle Rock.