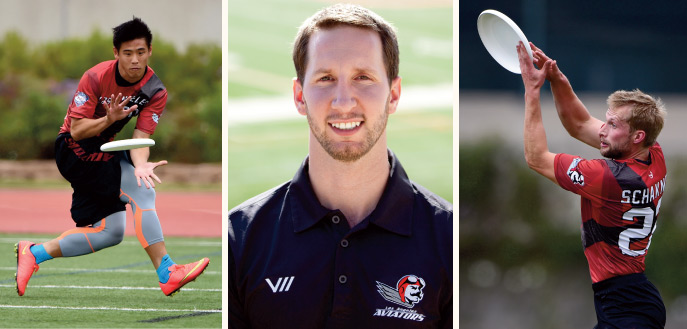 Chief financial officer Devin Miller '06 and his L.A. Aviators bring American Ultimate Disc League action to Oxy
By Dick Anderson | Photos by Kirby Lee & Nick Jacob
There's a new professional sports team in Los Angeles—and it's not connected to the NFL. While team owners, suitors, and stadiums play a game of chicken when it comes to bringing pro football back to the city of Dodgers, Lakers, Clippers, and Kings, Devin Miller '06 and his partners went and bought their own sports franchise. And while the American ­Ultimate Disc League may not have a DirecTV channel or any lucrative endorsements, the L.A. Aviators are off and flying—and they're playing their home games at Oxy's Patterson Field.
Since its founding in 2012, the AUDL has quickly ramped up to a total of 25 squads in the United States and Canada. After a wobbly inaugural season, the league began to find its footing with the hiring of Steve Gordon, majority owner of the Chicago Wildfire, as commissioner. In interviews, Gordon has expressed his hope that the league will expand to between 32 and 36 teams by 2018 (which marks the 50th ­anniversary of the game's creation by a high school student in Maplewood, N.J.).
Miller, whose love for the game began as an intra­mural player at Oxy, first read about the league online not long after its founding. The price of entry to start a franchise "was ridiculously low—something like $1,000," recalls the cognitive science and philosophy major, who works as a private banking associate for BNY Mellon ("I give people that have a lot of money even more money—I'm not one of the most liked people in society").
So he contacted a buddy named David Conlon—the two had played together on a beach team—and found that Conlon was piecing together an ownership team with the same idea. So Miller offered up some capital, they contacted Commissioner Gordon, and before long "we ­decided it was a good idea to move forward," he says.
After settling on a name that lends itself to chanting ("A-vi-a-tors!"), Miller and his four partners set out to build a team. An open tryout last December attracted about 100 ultimate players, from San Diego to San Jose, with a few aspirants even flying in from Colorado. "Our game day roster is 28," Miller explains. "We cut it down from 100 to about 50, and after another tryout, cut that number down to about 30." 
Less than four months later, the Aviators took to the field for their opening contest against the Seattle Cascades in April (which, because of scheduling conflicts, was played at L.A. Southwest College—the remainder of their home schedule was played at Oxy)."We had over 600 people there, and when we scored that first goal, the crowd went nuts," Miller says. "That's something you don't hear in club games."
Without a big budget for marketing, the Aviators have spread the word through friends, family, flyers, and Facebook (more than 2,500 fans). The team averaged about 400 attendees per home game, and they're building a fan base as well—like the woman who showed up at one game wearing a red-and-black Aviators plane. "They're fans like any other sport," Miller says. "It's pretty crazy."
On August 9, the league crowned its 2015 champion at 18,000-seat Avaya Stadium in San Jose, following a pair of semifinal games the previous day. All the playoff games were carried by ESPN3, which broadcast the Aviators' first TV contest from Patterson Field on June 6.
And while the Aviators didn't make the playoffs in their maiden season (at 5-9, they finished fifth in the Northwest Division), the team went 4-2 in its games at Patterson Field, and Miller is optimistic that the team will return to Oxy next year. "It's a really nice stadium," he says, "and it's also a pretty good location." 
Although being Aviators CFO isn't a 9-to-5 grind, "It's pretty close to being a second full-time job," Miller says. "I do all the financial and legal stuff and also try to set up sponsorships. It's more attuned to running a small business." And while his duties have eaten into his own ultimate playing time at the club level, "It's also made me a better player," he adds. "When I see how the professionals do it, it's stepped up my game."