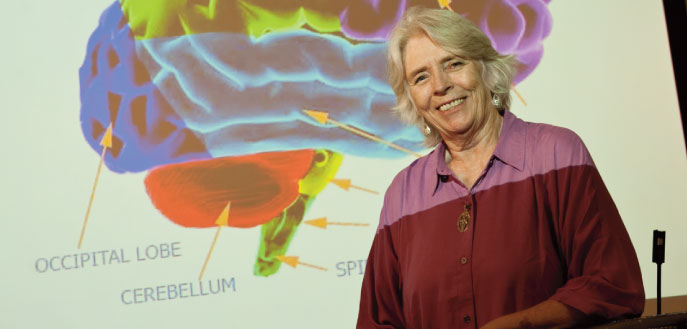 Retiring professor Diana Card Linden made the leap from biology to cognitive science, building a program into a department while being mindful of her students
For all her victories in competitive badminton doubles, professor of cognitive science Diana Card Linden never enjoyed much success playing singles. "I don't have the kind of personality that you need to be a winner at singles, in which you say, 'I have [my opponent] by the throat, and now I'm going to punish them,'" admits the longtime member of the Manhattan Beach Badminton Club. As a doubles competitor, "I was a really good cooperative player," she adds.
Logically enough, cognitive science figures heavily into sports: Athletes are forced to blend thought, learning, and organization in ways that allow them to withstand the pressures of competition. It also forms the bedrock of the liberal arts experience in that it tells a person not what to think, but how to think by harnessing disciplines ranging from linguistics and computer science to biology and philosophy.
That interdisciplinary nexus, Linden says, drove her approach on the court as well as in the classroom, from which she retired this spring after 35 years at Oxy. And while badminton wrecked her knees, both of which she's had replaced since December, her love for cognitive science endures.
Cognitive science became an academic discipline in the 1950s, when researchers started asking new questions: Are the mind and the brain the same thing? If they aren't, can it be shown? The field has since tried to develop models around the mind, both in terms of artificial intelligence and making predictions about human behavior. 
"The wonderful thing about cognitive science is there's no one answer," says Linden, who received her bachelor's, master's, and Ph.D. at UCLA. "So, you apply a lot of different disciplines, and all of it comes together to add something to understanding how the mind works."
Linden's road to cognitive science came about largely by happenstance. She was hired by the College in 1982 to teach courses in cell biology and developmental biology. Around 1996, a student approached her to share his enthusiasm for Occidental's nascent cognitive science program, created by Saul Traiger, professor of cognitive science and philosophy. 
By then, Linden's interests had broadened. In biology, her research focused on studying molecules at the neuromuscular junctions of frogs. "There are not too many people who are interested in that, and there are not a lot of problems you can solve in the world with that focus," she says. "I did enjoy it, but I started thinking, 'Why am I killing all of these frogs? Where is this getting me?' I decided it was too narrow. Cognitive science approached studying the brain from many different points of view."
After three years as director of Oxy's Center for Teaching and Learning, Linden became Oxy's first full cognitive science professor when the program became a department in 2002. Today, the department is home to four full-time faculty members. 
"I have taken neuroscience courses, and actually taught a psychobiology course before my time at Oxy," says Carmel Levitan, associate professor of cognitive science, who has co-taught Cog Sci 101 with Linden. One day in class, Linden "was lecturing about calcium channels and I suddenly got it," she says. "In the classroom, she is able to make neuroscience not only fascinating, but understandable."
"Diana is beloved among cog sci majors," adds Andrew Shtulman, associate professor of psychology and cognitive science. "Every advising session, I had students tell me they wanted to take classes with Diana either because they had heard great things about her from their friends or because they had taken classes with her already and wanted to take more."
Cognitive science major Pablo Romano '14, who took every class Linden taught, will enroll at Stanford Medical School this fall, and he's considering going into neurology. "Professor Linden helped me dramatically along the way," he says. "She was particularly helpful in helping me find balance, not only in the classes that I was taking, but also in my personal life. She certainly played an important part in why I found Oxy so special."
Many of Linden's students have gone into business careers. Others work in technology, where they act as an interface between programmers and program users. Her most popular course was Cog Sci 104, Introduction to Neuroscience, which drew Oxy students from across the spectrum of majors.
Perhaps Linden's biggest legacy is encouraging women to enter the field. Cultural stereotypes have limited female participation in STEM fields (science, technology, engineering, and mathematics). Research shows that women fill just 30 percent of the jobs in those fields.
Oxy's approximately 70 cog sci majors are mostly split evenly between men and women, in no small part due to Linden. "I think I appeal to students by being approachable," she says. "And when I have women in my classes who are struggling, either because it's a STEM class and they don't understand stuff, or they feel inferior to men, I basically say, 'What do you want to do? And why aren't you doing it?' And then we discuss it."
In retirement, the Sherman Oaks resident will continue running a private practice in educational therapy, something she's been doing since 2002. (She'll also make silver jewelry and tend to her drought-resistant garden.) While challenges can be due to learning disabilities or psychological problems, Linden's job is "to help people find where their weaknesses are and where their strengths are."
Linden's influence was evident in written notes left at her department retirement party: "Almost all of the comments said, 'You made a huge difference in my life. You made me ­believe in myself. Without you, I wouldn't be where I am,'" she says. "I think that's what students will remember about me—that I ­really cared about them."
Photo by Kevin Burke.