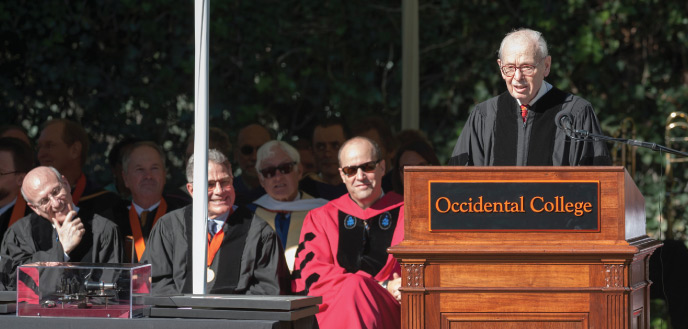 Friend, Mentor, and Model Philanthropist
The life of Eugene Lang, who died April 8 at the age of 98, was a classic rags-to-riches story. Born in New York City, the child of immigrants, he grew up in a tenement apartment. He was working in a Manhattan restaurant when a chance encounter with a Swarthmore trustee changed his life; a scholarship and a Swarthmore degree followed. A pioneer in technology transfer, licensing, and the marketing of intellectual properties, he became a very wealthy man—"the quintessential entrepreneur," as Forbes called him.
But for me, the most compelling part of Gene's life is not how he earned his wealth but what he did with it. As I learned during my tenure as dean of the Eugene Lang College at the New School in New York, his philanthropy was guided by a deep sense of personal responsibility. "Giving is not giving back," he once told The New York Times. "There is no quid pro quo. Giving is self-fulfillment."
Gene was best known for the promise he made in 1981 in a commencement speech to graduating sixth graders at P.S. 121 in East Harlem—his alma mater. His impulsive pledge to provide a scholarship to every member of the class admitted to a four-year college eventually led to the ­creation of his I Have a Dream Foundation, which has helped more than 18,000 low-income children from across the country succeed in school and enroll in college. It was his work with the foundation that led President Bill Clinton to present him with the Presidential Medal of Freedom in 1996.
Gene was also deeply concerned with what students learned after they got to ­college. His experience at Swarthmore had been a transformative experience for him, and he was an impassioned advocate for the liberal arts. It was a gift from him that established the New School's Lang School as an undergraduate college that combined the liberal arts and sciences with civic engagement. As he said at my Oxy inauguration in 2009, "Higher education has a primary obligation to include social responsibility and participatory citizenship among its essential learning values." Gene's evangelism had a powerful impact on me, and is one of the reasons why I jumped at the chance to submit my resume when Occidental was looking for a president almost a decade ago.
I was not the only person to fall under his spell. In pursuit of additional support for what quickly became known as his Dreamers, he persuaded an impressive list of high-profile New Yorkers to join him in sponsoring public school classes and playing a personal role in guiding students through school, as he did. Among his recruits were investment banker Felix G. Rohatyn and Reuben Mark, president of the Colgate-Palmolive Co. His was an expansive, participatory form of philanthropy, one that was deeply rooted in his belief in the importance of his responsibility to others.
At Oxy, we have been fortunate to benefit from a similar tradition of philanthropy, one that has moved alumni, parents, and friends to make a transformative Oxy education available to generations of students. Instead of Rohatyn and Mark, Oxy has its own impressive list of names during my tenure: Anderson, Berkus, Cannon, Choi, Crosthwaite, Edgerton, Hameetman, Hinchliffe, Kahane, McKinnon, Mullin, Payden, Samuelson, Selleck, and White, to name a few. These are among the donors that have made many of the College's most distinctive programs possible, from our one-of-a-kind United Nations program to our state-of-the-art career center that helps students translate their valuable liberal arts skills in the marketplace.
Gene was a visionary, but he also was a businessman with a very practical turn of mind who flew coach and took the subway. When I became dean of the Lang School in 2004, enrollment was small, morale was low, and fundraising was almost nonexistent. The school's relationship with Gene was, by his own acknowledgment, not everything that either side had hoped. Over the next five years, as we worked together to raise up the school, Gene served as an inspiring model of what effective philanthropy looks like: thoughtful, engaged, fully committed, always recruiting new partners, and above all, joyful in service to others. I continue to apply the lessons I learned from him today. He will be missed.
Jonathan Veitch
President