Apple vice president of marketing communications Tor Myhren '94 has "the best job in the world." (He just can't talk much about it.)
"The last time we talked, I was in New York," Tor Myhren '94 begins. At the time he was president and worldwide chief creative officer of Grey, one of the largest advertising networks in the world. "I was there for eight years and I loved it," he continues. "I never thought about leaving." He loved New York City. He and his wife, Tomoko, had their first daughter there. "I was certainly not looking for a job.
"But then Apple called."
After meeting with Apple Inc. CEO Tim Cook in 2015, Myhren had a conversation with Tomoko about moving to California. "We both immediately said if I get offered the job, I'm going to take the job. Because it seemed like a once-in-a-lifetime opportunity, which it has certainly been."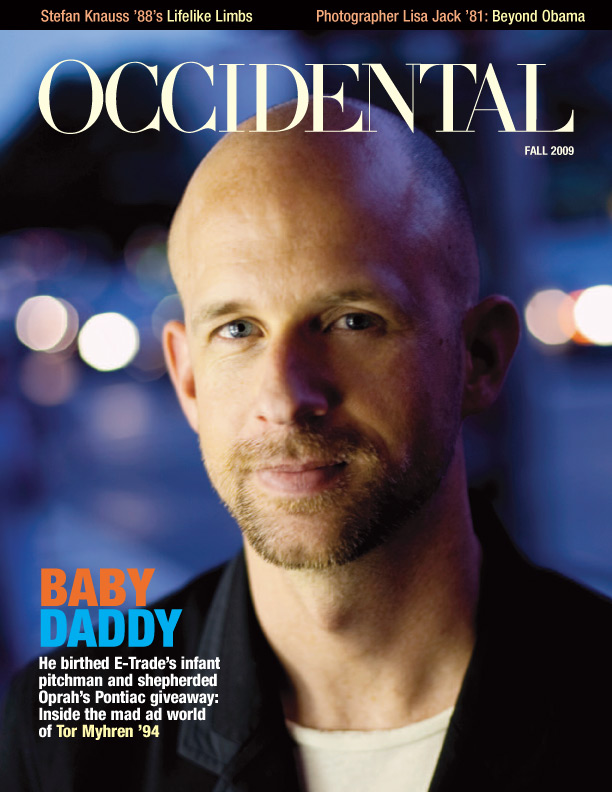 As much as he loved his job at Grey—overseeing a string of successes that included campaigns for E*Trade, DirecTV, the NFL, and Volvo—he never thought twice about coming to Apple because it "has influenced my creativity more than any company in the world," he explains. "To be able to come to work for that company in a very creative job is a dream come true." More than two years later, he says, "I think I have the best job in the world."
With his department's future headquarters at Apple Park in Cupertino still under construction, Myhren sits down in a conference room in Sunnyvale for only his third interview since joining Apple as vice president of marketing communications in March 2016. (Globally, he oversees a creative team of about 1,100.) In contrast to his freewheeling days running Grey—making a TED Talk about losing his virginity or a self-deprecating video set 35 years in the future—"There are certain things we don't talk about" at Apple, he admits with a smile.
Do you remember what your first day was like here?
I had lunch with Tim. I remember that very well. And as we went through various topics at lunch, immediately I realized it was a whole different world. It was very different than the conversations I had my last day in advertising. It was very exciting—and in some ways, a little bit intimidating—to understand the size of the organization and some of the ambition behind it.
Everything that comes out of Apple is scrutinized by the public. How does it feel to have that kind of focus on your work?
There's no way I could have prepared for the scale of what I was stepping into. It's so much bigger than I even thought. I learned really fast that when we put something out into the world, people are watching, and people are going to have an opinion. It's actually super helpful for us as a brand to know that people care enough to reach out to us when they don't like what we're doing. And when they love what we're doing we also hear from them. So it's kind of this constant feedback, which is pretty great.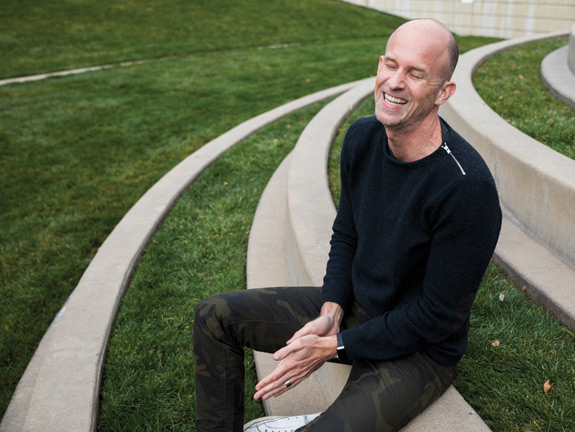 You've always existed with constraints on your creativity. Have you had to pivot in your approach to work at Apple?
This is the most creative job I've ever had, but that doesn't mean it's the exact same kind of creativity. I love the work we're putting out, but there's a very big difference between marketing and advertising. Advertising is a piece of marketing, and the full ecosystem of marketing is fascinating and challenging to me. Whether it's the media or the creative side, advertising, retail, or dotcom [Myhren's group builds the entire Apple website—in 98 languages], every single facet of the job is creative, and at the core Apple is a creative company. What drives and motivates Apple is creativity, and believing in the passion of creative people to change the world to make it better.
What were your goals coming in here?
To live up to the high bar that they set before I got here. I do believe that when you make work that becomes a part of the cultural conversation, that's good for the company. And that, to me, has always been the Holy Grail of advertising, because it doesn't happen all the time. So that continues to be a goal of mine, that our work inspires people and gets talked about and does all the things great marketing can do.
Historically, Apple has done the best advertising of any brand in the world. And as the media landscape has changed so much, how you as a person in the world consume these messages is different. I think I'm able to bring an understanding of the way that people are consuming these messages and apply it to this amazing brand. So that hopefully the message that you're getting surprises you—but where you're seeing it might surprise you as well. 
What's a typical day like?
My job is less about originating ideas and more about looking at and helping shape ideas. I would say that half of my day is sitting down with smart, creative people to make their ideas a little more simple, a little more clear, a little more Apple. What's really fascinating, and a little bit daunting at times, is that I'm the one deciding ultimately what we're going to put out there into the world. When I was on the agency side, you never had that pressure—it was never your decision.
Other than the scale of this job, what's been the biggest surprise about working at Apple for you?
The moral compass that the company has. I think that we do innovate for the right reasons, and we truly are creating things with a goal of making lives better. And that's unique. We don't follow trends—occasionally we create trends—but we look at the customer and innovate toward what is best for the customer. And that's what always drives decisions.
What was it that attracted you to Oxy to begin with?
My family is from Denver, and my older brother and sister both went to schools in California [USC and UC Santa Barbara, respectively]. So I think there was something like, "I've gotta go West." And the size of it was interesting to me—more individual attention, smaller classes, a smaller school. But one of the big things was the multicultural approach that the college took that a lot of colleges were not taking at the time. That was very different then. That attracted me a lot—having a multicultural student body and staff. 
You played basketball for Oxy, right?
Basketball was my true No. 1 passion—that and writing. I wanted to play basketball in college, and I wasn't good enough to play Division I and probably not good enough to play Division II. Then I visited Oxy, and I really liked the campus.
If you meet somebody on a plane or somewhere and you are inclined to strike up a conversation, and they ask you what you do, what do you tell them?
I was in a Lyft recently, and the driver said to me, "Where do you work?" And I said, "Apple." And there was this long silence and he goes, "Man, you Apple people—every time you say you work at Apple, then you don't say another word." Everyone here will tell you the same thing (laughs). 
Is there anything you miss about being in the advertising trenches or agency life?
I don't miss much about agency life. I was in it for 20 years and I loved every single year. It was constantly an invigorating place to be. So I don't regret that time at all—but being at Apple, I don't miss it.
Apple is my favorite company in the world. And it was before I ever worked here. When you work in advertising, you dream of working for a brand that you truly love— that everything you put into that brand is coming from the heart. As you can imagine, when you work at an agency, it isn't always that way.
I have so much passion for this brand. And if you think about the different categories that are covered with our products and our services, such as Apple Music and now a new content division [with original series from Steven Spielberg, Oprah Winfrey, Damien Cha­zelle, M. Night Shyamalan, the creators of "Sesame Street," and other luminaries], we are really in any category you'd want to be in. With Apple Watch, you're into sports and health now. With the iPhone, forget it—you're in almost everything.
A 2017 survey said that 64 percent of Americans own at least one Apple product and the average American household has 2.6 Apple products. What was the first Apple product you bought?
Probably the first one I owned was the Apple IIe [first introduced in 1983]. It was not mine—it was in our family. I've been such a giant fan of the company for as long as I can remember.
Do you talk to Siri? What kind of questions do you ask her?
Of course! I talk to Siri all the time. And Siri talks to me. Especially in the car because it's just so easy. No hands.
I ask Siri a lot of questions about music with the HomePod. I'll ask to play things and be constantly surprised by the playlists Siri comes up with and specifics around the music: Who's this? Who's the drummer? I love that Siri is a musicologist.
Do you have the time or the inclination to express yourself creatively outside of work? Is there a novel inside you—something that you are itching to do?
Not right now. Throughout my life there has been, like when I made my documentary (2010's City LAX: An Urban Lacrosse Story, with Blackfish director Gabriela Cowperthwaite '93), and I'm sure it will percolate up again, but I really love what I'm doing. But there will come a time. I started in journalism and have always been into creative writing, usually fiction. My wife is Japanese, so maybe I'll move to Japan and write a book.
Can you imagine a product that Apple might be able to do in your lifetime that is un­imaginable right now? Will we be teleporting one day with the touch of a button?
I've got to stay off that one. Because whatever I say will be interpreted as potentially coming soon, no matter how crazy it is. 
Tor Stories: "Dear Apple" and "Welcome Home"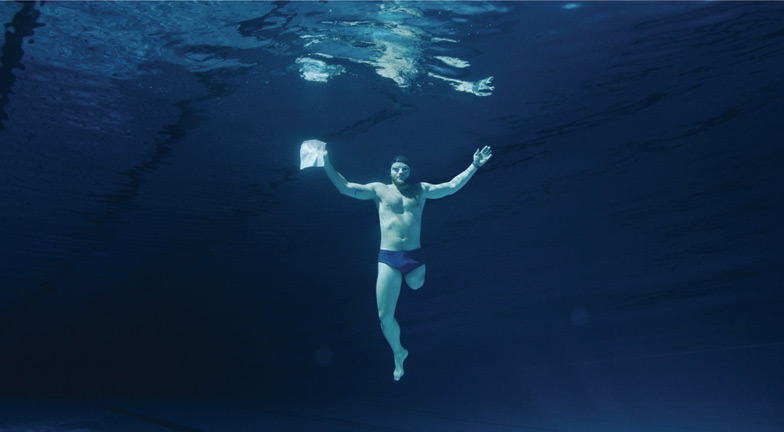 "Dear Apple," a 2½-minute spot unveiled last September, featured Apple Watch owners from around the world (among them a "Russian cyborg," a ballet dancer, a blind marathon runner, and a 99-year-old world traveler) reading their own letters to CEO Tim Cook about how the product changed or even saved their lives. 
"Some of the best ideas in the history of marketing are based on a simple truth," Myhren says. "And that is the truth: Tim gets these letters every day from people who own the Apple Watch. They were coming in at such a rapid pace and they were such amazing stories that we said, 'Let's tell that story.' It's the real people. They are real letters. And they're shot in a very beautiful way."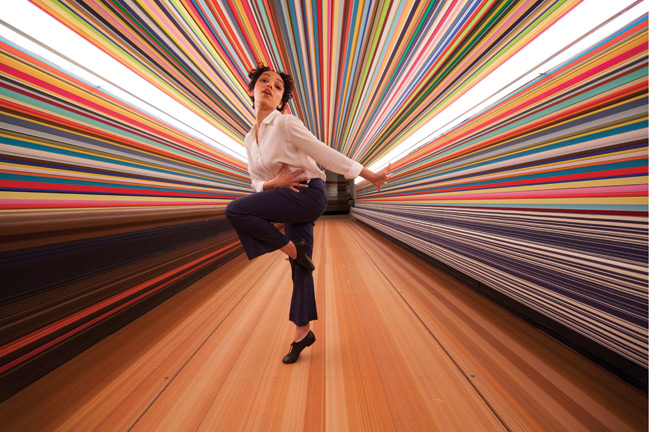 English musician and dancer FKA Twigs gives her all for director Spike Jonze in a 4-minute film for Apple's HomePod speaker titled "Welcome Home." Declared a "masterpiece" by Adweek and winner of the Grand Prix at the Cannes International Festival, the ad was trimmed to 60 seconds for TV and marked the fulfillment of a longtime wish for Myhren. 
"Without exaggeration, I had probably sent at least 50 boards to Spike Jonze. I'd never even gotten a 'No'—I'd never gotten a response. He's someone whom I have always admired as an artist, as a filmmaker. When we had the concept for 'Welcome Home'—the way that sound can expand the feeling of home, even your small apartment in New York—I felt like Spike was a person who would take that to a whole other level. He immediately loved it and went for it and got right back to us.
"When you're working with talent at that level, you have to give them a lot of space and some autonomy to go do what they do. And make sure that it fits with what Apple is all about."