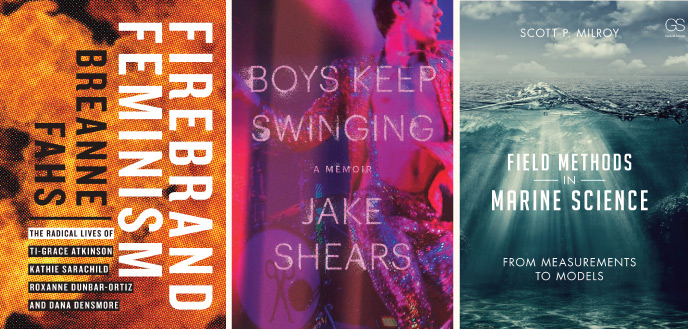 New books and research from Oxy alumni and faculty
Firebrand Feminism: The Radical Lives of Ti-Grace Atkinson, Kathie Sarachild, Roxanne Dunbar-Ortiz, and Dana Densmore, by Breanne Fahs '01 (University of Washington Press). Radical feminism bravely trans­formed the history of politics, love, sexuality, and science. In Firebrand Feminism, Fahs brings together 10 years of dialogue with four founders of the radical feminist movement. Taking aim at the selfishness of the right and the incremental politics of the liberal left, they defiantly and fiercely created a new kind of feminism in the late 1960s. Firebrand Feminism provides a historically rich account of these audacious women and their lasting impact of their words and work. Fahs is professor of women and gender studies at Arizona State University.
Toni Wolff & C.G. Jung: A Collaboration, by Nan Savage Healy '72 (Tiberius Press). Toni Wolff was Jung's primary collaborator during the formative years of his psychological investigations. From the start, their interests meshed, and they brought out the best in each other's thinking. Not afraid to challenge Jung's ideas, Wolff fueled his creativity. Her brilliant mind gave him focus, while her sensitive nature kindled his imagination. Together, they explored the uncharted regions of the psyche. Using personal letters, insights from Wolff's diaries, archival documents, im­pressions from her family, and more, Healy addresses many of the questions that the Jungian community has had over the years regarding the nature of their relationship, and overlays Wolff's life alongside what we already know of Jung's. Healy has published in the Jungian journal Psychological Perspectives and taught at the C.G. Jung Institute of Los Angeles. She lives in Studio City.
Don't Stop the Presses: Truth, Justice, and the American Newspaper, by Patt Morrison '73 (Angel City Press). From the broadsheets of the American Revolution to the age of street-corner newsboys to the advent of online news sites, newspapers are the voices of a nation. Veteran Los Angeles Times writer and columnist Morrison documents the impact of the medium with her trademark wit and wisdom, amplified by the histories of the papers, people, places, and events that captivated America and its front pages. In his foreword, New York Times executive editor Dean Baquet hails the moral and democratic imperative of newspapers: "It has never been more evident than in this year, when the glories of journalism have been on display, when the newsrooms Patt Morrison's timely book summons to mind woke up to find themselves once again vital to Democracy."
Boys Keep Swinging, by Jake Shears '00 (Atria Books). Jason Sellards came to Los Angeles with "fleeting dreams of being a filmmaker," he writes in his candid and frequently funny memoir, "but after trying to write a short story about frat boys taking a drug called 'fairy dust' that made them have sex and then kill each other, it seemed futile." After one year at Oxy, he moved to New York City, studied fiction writing at the New School in New York City, and cofounded (as Shears) the multiplatinum-selling glam rock band Scissor Sisters. Shears recently finished his debut solo album, which will be released later this year. He divides his time between Los Angeles and New Orleans. 
Embrace the Sun, by Marc B. Sorenson and William B. Grant '63 (available on Amazon). Touting the health benefits of sensible sun exposure, Sorenson and Grant make the case that sunlight in moderation can promote weight loss, reduce depression, and profoundly decrease the risk of many common diseases. Grant is an epidemiologist and founder of the Sunlight, Nutrition, and Health Research Center in San Francisco. Sorenson is founder of the Sunlight Institute.
Wedgie & Gizmo vs. the Toof, by Suzanne Selfors '86 (Katherine Tegen Books). Wedgie is a dog who thinks he's a superhero. Gizmo is a guinea pig who thinks he's an evil genius. Their adventures continue in the second book of Selfors' new illustrated series about the growing pains of blended families and the secret rivalry of pets (a third book, Wedgie & Gizmo vs. the Great Outdoors, will be published in September). A film studies major at Oxy, Selfors has written more than 30 books for young readers. She lives on Bainbridge Island, Wash.
Field Methods in Marine Science: From Measurements to Models, by Scott Milroy '91 (CRC Press). From experimental design to data analysis, Milroy details the methods most appropriate for field research within the marine sciences and provides an accessible introduction to the concepts and practice of modeling marine system dynamics. His textbook trains the next generation of field scientists to move beyond the classic methods of data collection and statistical analysis to contemporary methods of numerical modeling in order to pursue the assimilation and synthesis of information, not the mere recording of data. Milroy majored in biology (with a marine emphasis) and minored in chemistry at Oxy. He is associate professor of marine science at the University of Southern Mississippi.
By Oxy faculty: An article by professor of American studies Erica Ball in the Spring/Summer issue of WSQ: Women Studies Quarterly explores Southern black women's engagement with beauty culture, fashion, and style politics at the turn of the 20th century through the life and work of educator and community activist Mamie Garvin Fields. 
Ross Lerner, assistant professor of English, offers a new theory of the origins of religious fanaticism and a new way to interpret the fundamental role that religious fanaticism played in shaping the most important and complex English long poem of the 16th century in an essay published in Literature, Belief and Knowledge in Early Modern England: Knowing Faith (Palgrave Macmillan).
A special issue of the Journal of Contemporary History co-edited by professor of history Marla Stone looks at anti-communism trans­nationally and compares and contrasts the movements against communism globally.
Associate professors Mary Christianakis (critical theory and social justice) and Richard Mora (sociology) co-authored "College Men, Hypermasculinity, and Sexual Violence" in the new anthology Unmasking Mas­culinities: Men and Society (SAGE Publications).