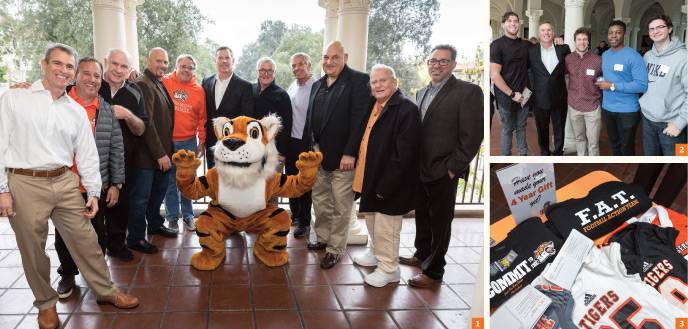 Generations of Oxy alumni rallied to save Tigers football from extinction. Now the hard work continues
By his own admission, the last 11 months or so have been "draining and exhausting" for head football coach Rob Cushman. "For all these years, I've been telling the athletes to persevere, to deal with adversity, to get up when you get knocked down," he says. "And if I can't model that, then I have no business sending that message to anyone."
"Amazing" is another word that comes to mind after an offseason like no other—one that began with the cancellation of the last four games of the 2017 schedule over safety concerns raised by an injury-diminished roster. Following a remarkable recruiting effort led by Cushman and an unprecedented fundraising effort that generated nearly $990,000 in gifts and pledges from football alumni in 11 weeks, President Jonathan Veitch announced Occidental's decision to play the 2018 football season at a meeting of the Board of Trustees on April 23.
The decision followed the recommendation last January of a 16-member football task force (composed of faculty, students, alumni, staff, coaches, and trustees) that Oxy continue to support a "safe and competitive" football program. The recommendation came with two conditions: that recruitment numbers reach their target and a new fundraising effort is successful.
Ten months after ending the season with fewer than 40 healthy players, Cushman is expecting a 53-man roster—28 first-year recruits and 25 returnees—to report for training camp August 11. "This group understands that they committed to a program to be part of the change," he says. "It's going to be difficult with so many young players, but I really like this class of first-years. This will be the foundation moving forward."
On the fundraising front, a volunteer team of football alumni led by Vance Mueller '86, who played five years of pro ball with the Los Angeles Raiders, worked closely with College gift officers to help support the program. On April 22—one day prior to the board meeting—they exceeded their first-year goal and had raised nearly 87 percent of their four-year goal of $1.14 million. 
"This is a true team achievement that deserves to be celebrated, as well as a potential inflection point for football and Oxy athletics more broadly," Veitch said in an announcement following the April board meeting. "It's my hope that we can take this model of alumni support and apply it to other Oxy sports."
Reflecting the fundraising drive's holistic approach to Oxy sports, 25 percent of the donated total has been designated for athletics' "greatest needs." That money has already helped facilitate the creation of two new positions: an assistant athletic director for strategic enrollment and engagement, who will aid in identifying student-athletes in all sports who meet Oxy's academic criteria; and an additional athletic trainer to work alongside head athletic trainer Joe Gonzalez. "It helps all sports," Cushman says.
As far as football's greatest needs go, the campaign's success has resulted in the purchase of about $40,000 in new equipment—from blocking sleds and tackling dummies to helmets, shoulder pads, and even practice jerseys with numbers on them. In terms of personnel, Eric Coleman has been hired as the Tigers' new offensive coordinator and "We were able to move some salaries around and improve the quality of our overall staff with one more part-time position we didn't have," Cushman notes.
While recruitment and fundraising results are justifiably cause for celebration, "We can't lose sight of the significant challenges that still exist," Veitch cautioned in his remarks. "The national conversation about the future of football shows no sign of abating."
There's also the challenge of reengaging with the Oxy community at large. "It's one more thing that we've got to work on to improve," Cushman says. "We do a blood marrow donor match every year, and we're working with Project SAFE and a variety of things that connect us with campus. I want to win football games, but I want our kids to be good students first and good citizens and be part of the community."
What's it going to mean to win a game this fall? "The first victory is getting back on the field," Cushman says. "I've had some nice victories over the years, but that first win will rank up as one of the highest. The scoreboard only measures one piece of an entire program, but that's a pretty important piece."