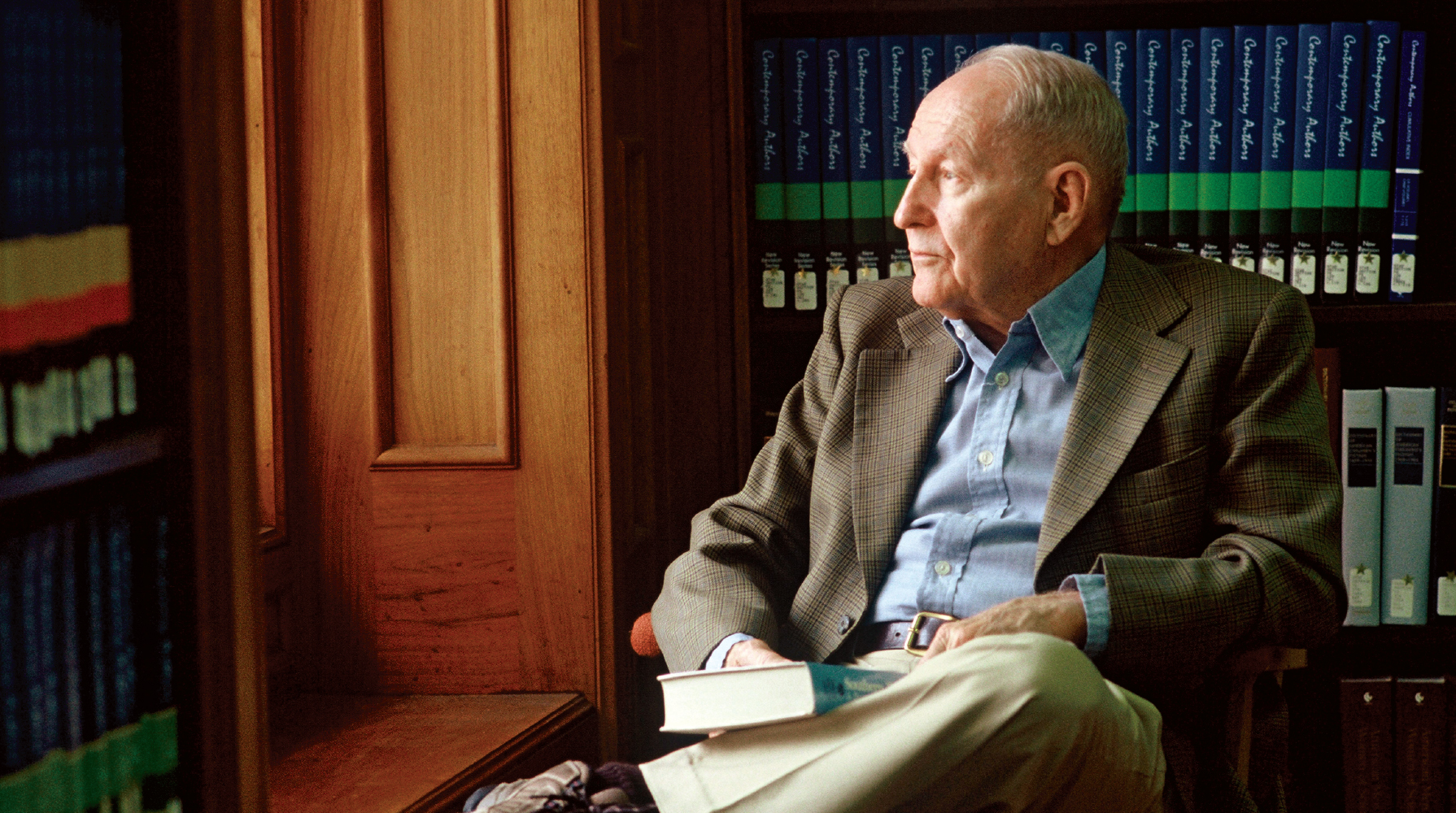 As prolific in the library as he was in the classroom, Andrew Rolle '43, who died in March, chronicled California, the American West, and Occidental with an honest and unflinching gaze
"I never thought I'd live this long," Andrew Rolle '43 confessed in the pages of Occidental magazine in 2004. He was 82 at the time, 16 years removed from the Occidental classroom but no less engaged in his research and writing. During his 36-year career at Occidental and in retirement, Rolle published more than 20 books on the history of California, the American West, ethics, and psychohistory—a bibliography worthy of the Robert Glass Cleland Professor of American History Emeritus.
Never shy with his opinions ("I've been called a curmudgeon, and you know, I don't mind that"), Rolle remained a faithful correspondent with the magazine and doubtless many other acquaintances well into his 90s. He died March 12 at his home in San Marino at age 98. Rolle is survived by his three children—John Wong-Rolle, Alexander Rolle, and Julie Rolle Mossel '80—and nine grandchildren. (His wife, Myra Moss Rolle, professor of philosophy and government emerita at Claremont McKenna College, died in 2016.)
A native of Providence, R.I., Rolle grew up in Altadena and graduated from what is today Pasadena City College before enrolling at Oxy. A Phi Beta Kappa history major, he enlisted in the Army after graduation, won a commission while serving in the Pacific during WWII, and later served on the faculty of the School of Military Intelligence in Washington. D.C. After the war, he served as U.S. vice consul in Genoa, Italy for three years and earned his master's and Ph.D. at UCLA before joining the Oxy faculty in 1952.
In 1948, while still in Italy, he published his first book, a collection of short stories titled Rivera Path. Eight years later, the Huntington Library published his first full-length manuscript, An American in California: The Biography of William Heath Davis, 1822-1909. In 1968, he wrote the first of several books addressing the challenges of Italian immigrants, The Immigrant Upraised (University of Oklahoma Press). The book won the Commonwealth Award for nonfiction and was translated into Italian (Gli Emigrati Vittoriosi) in 1972.
In the 1960s, Rolle became an enthusiastic proponent of psychohistory—a approach to history using psychoanalysis as a research tool. Oxy students in his "unique 10-week seminar read Freud, Jung, and Adler," Hal Leiren wrote in the Los Angeles Times in 1969. "They probe the private diaries, published notes, papers, and biographies of a list of 100 national figures," among them Abraham Lincoln, Ernest Hemingway, and Aimee Semple McPherson (a Pentecostal evangelist all but forgotten today but "a household name across America" in the 1920s).
"Psychoanalysis is not a science," Rolle told Leiren. "It is a tool the historian can use to illuminate his material but he must be on guard not to distort the evidence. I warn my students at the beginning of the course I am not interested in pop psychoanalysis."
In 1982, Rolle won the Graham Sterling Award at Occidental for distinguished teaching and research. His first history of Occidental, published in 1962 in conjunction with the College's 75th anniversary, was hailed by former Occidental librarian Andrew H. Horn in a review for
The Southern California Quarterly
. "Institutional commemorative histories are so frequently introverted, uncritical, or blatantly promotional that it is refreshing to encounter one which should be brought seriously to the attention of historians," he wrote. "Professor Rolle's account of Occidental College, 1887-1962, will please most of Occidental's alumni and friends; but it is also a record of importance in the educational and cultural history of Southern California."
"Traditionally, most college histories are bereft of controversy," Rolle wrote in the introduction to the expanded and revised 1987 centennial edition. "They tend to view the past as neat and uncluttered and avoid the clash of personalities, misunderstandings, and institutional turmoil. Sometimes candor, especially about living persons, may indeed prove hurtful; but, in a spirit of fairness and balance, I have sought to call attention to weaknesses as well as strengths in Occidental's development. Of course, not all of us would agree with each appraisal an author makes; but as an historian, I have also striven for honest judgments as well as to record incontrovertible names, dates, and what are usually called facts."
Outside of Occidental circles, Rolle is best known for his "engaging, colorful, yet unflinching account" (in his publisher's words) of California: A History, which he wrote and revised through eight editions spanning more than 50 years. With the publication of the original work in 1963, "Andrew Rolle joined the ranks of the foremost interpreters of the state," Richard Oglesby wrote in Pacific Historical Review upon the publication of the book's second edition in 1969.
After he retired in 1988, Rolle served as a research scholar at the Huntington Library, where he wrote both of his Oxy histories and most of his other works. The library was within walking distance of his home, and going back to his time at Occidental, "I'd teach an early class, then rush over here. I always thought of myself more as an author than a professor," he said in 2004. "The Huntington has made all the difference in my life."